Brooklyn's Public Pools Open for the Summer!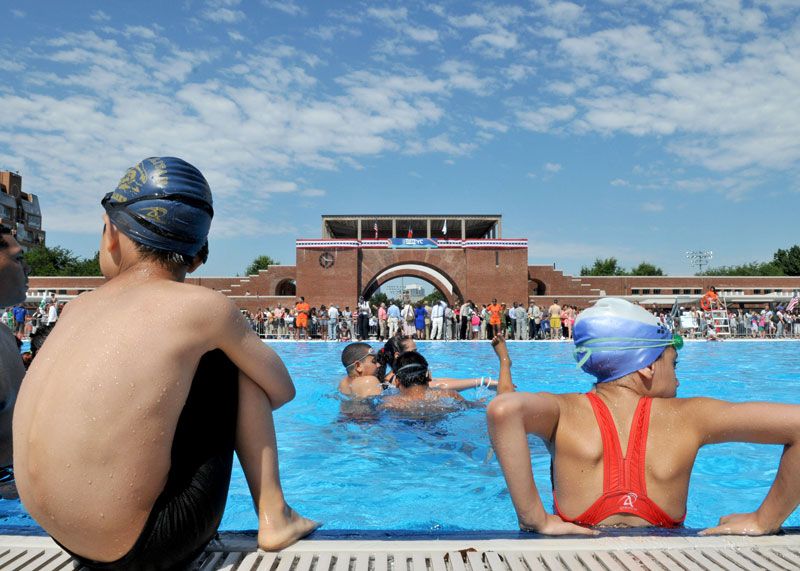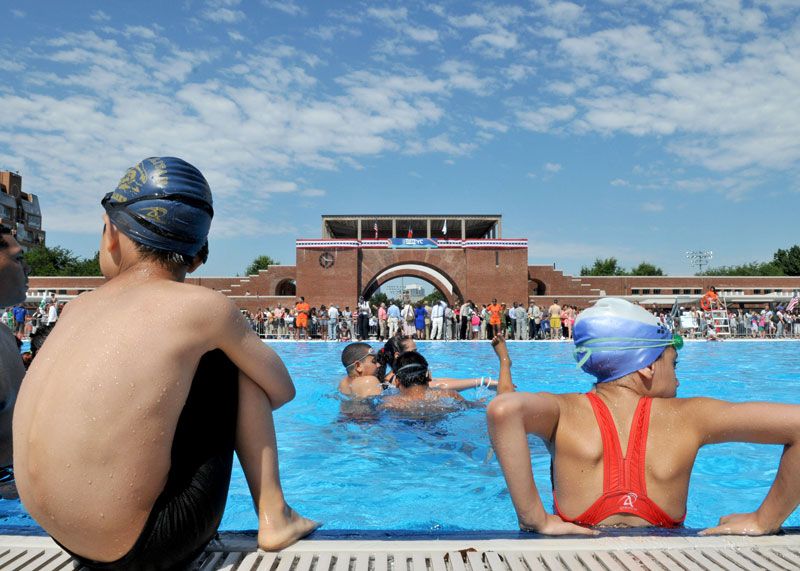 Get ready to swim! Brooklyn's outdoor public pools open for the summer on Thursday, June 27th. Thirteen of the borough's fifteen pools will be open to all through September 8. The Jesse Owens Playground—JHS 57/HS 26 Pool at 117 Stuyvesant Avenue is closed for construction this summer and the Brooklyn Bridge Park Pop-Up Pool has closed permanently.
Outdoor pool hours are from 11:00 a.m. through 7:00 p.m. each day, with a break for pool cleaning between 3:00 p.m. and 4:00 p.m. Pool hours are likely to end later on especially hot days, so check the NYC Parks Twitter for updates.
NYC Parks offers free swim programs, including Learn to Swim, an introductory swim class available for all ages. They also offer Adaptive Aquatics, aquatic exercise therapy for those with disabilities; Adult Water Exercise, water aerobics classes for all, including those who can't swim; Senior Splash and Senior Water Aerobics, water exercise and swim instruction open to those over the age of 62.
It's important to keep pool rules in mind before heading out to swim. Bathing suits are required at the pool, and sneakers and colorful shirts are not allowed on the deck. Electronics are also not allowed on the deck, so remember to bring a padlock to secure belongings in a locker.
Finally, if your child is under sixteen, they must be at least eight inches taller than the maximum water depth to enter the pool without adult supervision. A full list of rules can be found online—be sure to review them!
Brooklyn's Public Outdoor Pools
Betsy Head Pool
Boyland, Livonia & Dumont Avenues, 718-257-1635
Accessible via the 2/3 line
The pool is Olympic-sized, built originally as a WPA project in 1936, and was reconstructed in 1983 as a part of a $5.2 million rehabilitation of Betsy Head Park.
Bushwick Pool
Humboldt Street, Flushing & Bushwick Avenues, 718-452-2116
Accessible via the J and the L lines
This site has two pools, one mid-size and one for children to wade in. This swim spot is popular and crowds up quickly.
Commodore Barry Pool
Flushing and Park Avenues, Navy and North Elliot Streets, 718-243-2593
Accessible via the B57, B69, and B62
This site has a mid-sized pool and a smaller wading pool. This summer, the pool will unveil a makeover courtesy of NYC Parks' 'Cool Pools' initiative, including new paint, polar-themed art, new lounge furniture provided by West Elm, greenery, games, and more.
David Fox/PS 251 Pool
E 54th Street & Avenue H, Flatlands, 718-531-2437
Accessible via the the B6, B7, and B103
This mini-pool is part of a larger playground and is intended for kids.
Douglass and Degraw Pool
Third Avenue & Nevins Street, Gowanus, 718-625-3268
Accessible via the B37 and the Atlantic Avenue-Barclays Center Station
This mid-sized pool is a popular choice for locals on a hot summer's day. Fondly referred to as Double D, this site received new paint, poolside chairs, and umbrellas as a part of last year's 'Cool Pools' initiative.
Glenwood Houses Pool
Farragut Road & Ralph Avenue, Flatlands, 718-531–2480
Accessible via the B47, B103, and BM2
This mini-sized pool measures 40 feet x 20 feet x 3 feet deep.
Howard Pool
Glenmore & Mother Gaston Boulevard, Brownsville, 718-385–1023
Accessible via the A/C, J, and L lines
You can find a mid-sized pool and a wading pool at this location. Built in 1968, the larger pool can hold up to 180 bathers at one time, while the smaller pool can hold up to 24 children.
Kosciuszko Pool
Marcy Avenue between DeKalb Avenue & Kosciuszko Street, Bed-Stuy, 718-622-5271
Accessible via the G line and the B38
Boasting an Olympic-sized pool, a wading pool, and loads of shade, this site is a popular destination for Bed-Stuy residents.
Lindower Pool
E. 60th Street, Mill Road & Strickland Avenue, Mill Basin, 718-531-4852
Accessible via the B3, B100, and B41
This Mill Basin pool is another small-scale pool intended for children.
McCarren Park Pool
776 Lorimer St, Greenpoint, 311
Accessible via the L and G lines
This pool is popular for a reason—it's Olympic-sized and recently rehabilitated. Also, it's one of two Brooklyn pools with an Adapted Aquatics Program for people with physical ailments.
PS 20 Playground Pool
Clermont Avenue between Willoughby & Dekalb Avenues, Fort Greene, 718-625-6101
Accessible via the G, A/C, and the Atlantic Avenue-Barclays Center Station
Another mini-pool intended for children, this pool sits next to a playground and only a couple blocks away from Fort Greene Park.
Red Hook Pool
Bay & Henry Streets, Red Hook, 718-722-3211
Accessible via the F/G line and the B61
Yet another popular Olympic pool, this spot offers some shade to visitors during hot summer months. Originally built in 1936, the entire complex was designed to host more than 4,462 people.
Sunset Park Pool
Seventh Avenue between 41st & 44th Streets, Sunset Park, 718-972-2180
Accessible via the B35, and the N/R/W and D lines
This Olympic-sized pool has it all: all swim programs, including the Adapted Aquatics Program, and a park with a view of the city skyline.