Brooklyn's New Social Space: Ethel's Club Unapologetically Celebrates People of Color
BUSHWICK — One of Brooklyn's newest social, wellness and co-working spaces has been getting a lot of buzz. Ethel's Club in Bushwick provides a haven for people of color—the only one of its kind, as a giant wave of co-working spaces proliferate across the nation. What sets it apart is that young adults of color curated the space for other young adults of color.
Indeed, there's a high level of comfort and familiarity when entering Ethel's Club. Copies of Ebony and Jet–iconic African-American magazines–are laid out on a table in the reception area. Walking passed that entryway, Black and brown people easily mingle, as others wear headphones while tapping away on their laptop keyboards.
Bklyner stat down on Wednesday (Dec. 4) with the 28-year-old entrepreneur who founded Ethel's Club. Najla Austin opened the doors to the public one month earlier. So far, the club has granted membership to nearly 200 applicants with another 4,400 people on the waiting list, Austin stated.
After four weeks, the members range in age from 23 to 32. The majority (about 60 percent) identify as women. About 35 percent are men, and roughly 5 percent identify as non-binary. Austin said the company doesn't keep data on race or ethnicity because the membership process is color blind. The application, however, includes questions about whether the applicant would enjoy participating in a club that celebrates communities of color.
Austin started the company nearly one year ago and announced on social media that it would be a space where people of color feel safe.
"There was nothing like this out there," she recalled.
In her customer discovery process, Austin asked, "Where do you feel like yourself and let your guard down?" The response was typically at home, a family member's house or a house of worship. Many people of color don't feel accepted or welcomed in their workplace and public spaces.
Last year, The New York Times chronicled the wave of incidents, some of them caught on video, in which white people called the police to complain about black people doing everyday activities.
"At Ethel's Club, you can find community; you can find literature, art; you can find out that you love West African food and didn't know it before," Austin said.
The idea of creating a social and co-working space for a specific demographic is not new. Austin credits The Wing, a women-focused, members-only chain, for helping her to see the possibilities. The Wing was more of a roadmap to success than an inspiration. Austin analyzed what the club did well and where it came up short.
"What they've done well was to create an unapologetic brand (women's only). They understood their market," she explained. "But they did a mediocre job of being inclusive of all women."
Austin was referring to an alleged racist incident at The Wing's West Hollywood location in May that was mishandled by the staff. It resulted in several Black women canceling their membership.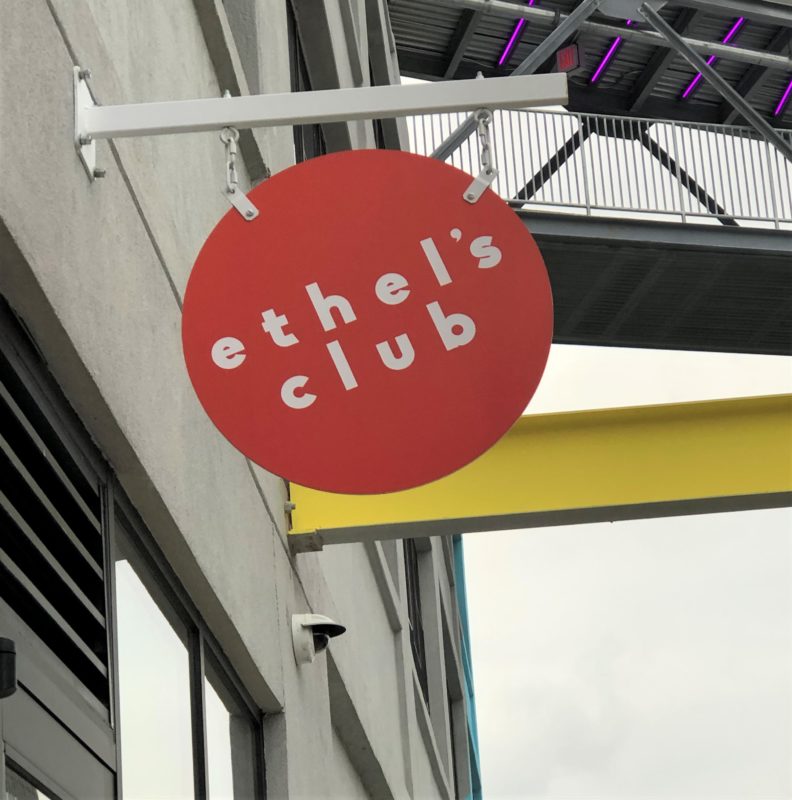 She tossed around the idea in her mind of opening a club where people of color "could thrive." Austin landed on designing a space reminiscent of her grandmother Ethel Lucas' home in New Jersey. It was a safe space where folks in the community gathered and felt at ease being themselves—from braiding cornrows to chatting about neighbors.
"When I see members all cozy on the couch, I say yes, that's what it should be like," Austin said, recalling how people would get comfortable on her grandmother's couch.
In creating the space, Austin turned to Black interior designer Shannon Maldonado who brought Austin's vision to life. Maldonado used bright colors "that make people happy," Austin said about the space that's designed to feel like a living room. Ethel's Club also features a podcast recording room, library, kitchen and an enclosed workroom for members who need a quiet place.
Helping members maintain good mental health is one of the club's missions. To that end, it offers a wellness studio where they could relax and meditate, as well as participate in therapy sessions.
After just one month, plans are underway to expand Ethel's Club. That's not surprising given the enthusiastic response it has received.