Brooklyn's First "Subway Cafe" Franchise Coming To Manhattan Beach

Manhattan Beach will be the site of the borough's first publicly-accessible Subway Cafe, a new upscale concept that blends together a sandwich shop and a coffee bar.
Subway's local franchisee signed a lease for 1613 Oriental Boulevard, the former site of Quick Break Deli just outside the gates of Kingsborough Community College (2001 Oriental Boulevard).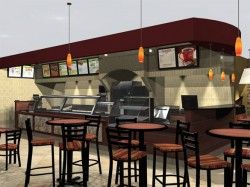 The 2,000-square-foot Subway Cafe will feature cozy couches placed before a decorative fireplace, free wi-fi, and a new line of espresso beverages and baked goods. There may also be outdoor seating.
"The cafe concept looks better than Starbucks, especially the way it will look in Manhattan Beach," boasted Daryl Meyers, Brooklyn development agent for Subway. "It's not like a Starbucks, but it's similar in what it offers – cappuccino, latte. It's actually Starbucks-branded coffee; it's Seattle's Best, which is owned by Starbucks."
Subway began testing out the cafe concept in 2008, and slowly expanded to just 15 locations nationwide by 2011. The Manhattan Beach location will be the third publicly-accessible one in New York City, with one in Queens and another in Midtown Manhattan. There's another location in Brooklyn that opened up around Labor Day weekend, but it's on the Long Island University campus and only accessible to students and faculty, Meyers said.
All of those locations, though, will pale next to the size and investment Meyers' team and the franchisee are putting into the Manhattan Beach location, though.
"This one is going to be much better," Meyers said. "[In addition to the traditional Subway offerings,] we're going to have dedicated staff for just the cafe, and the owner is dedicated to doing it properly … It has updated decor. Really, pretty nice."
The 10-year lease for the space was brokered by Arsen Atbashyan, the CEO of Commercial Acquisitions Realty Services, and includes two five-year options. The franchise sought the space for the cafe because the proximity to the school, the beach and nursing home provides a strong customer base for a cafe atmosphere, Meyers said.
"It's right across the street from Kingsborough Community College; there's a high school right there. There's a nursing home and the people in the healthcare industry tend to be some of our best customers. And it's right on Manhattan Beach, so all summer long, all those beach customers," Meyers said.
Subway Cafe is tentatively slated to open February 22.
Clarification (3:25 p.m.): Atbashyan adds that agent Shlomi Albagdadi also helped put together the deal.