Brooklyn's Aviators Hockey Team Comes To P.S. 195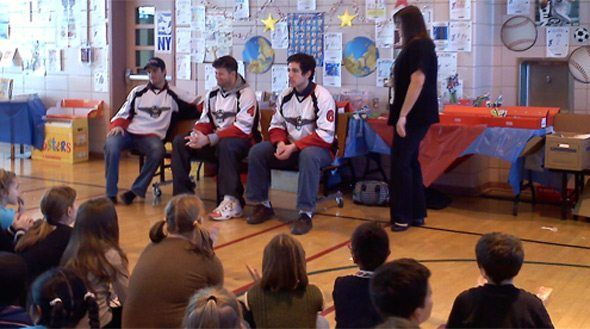 I received this letter yesterday from an ecstatic parent, gushing over an appearance by teammates of the Brooklyn Aviators hockey team. We wrote about the Aviators recently, and noted its rising profile as another great Southern Brooklyn pro-sports team. Read what the parent, Allison F.,  had to say:
We had three local hockey players from NY Aviators come to visit our kids in PS 195 today.  It was so nice.  They spent about an hour answering kids questions and signing autographs.  They gave out free tickets to one of their games for the kids.  Nicholas Kuqali #6, Jarrett Rush #4 and Michael Thompson #7.  Mr. Forman principal of PS 195 introduced them to the kids, who had a fantastic time asking questions and making "statements."  This was held in the gym at the school during the schools fund raising book fair.  After the Q&A the players spent time with the parent coordinators answering questions. One of the little girls from younger class, who was in a wheelchair was overheard by one of the players (Nicholas Kuqali) that she did not have any money with her to buy a pen she really wanted during the book fair, he took money out of his pocket and paid for the pen for her.  THAT WAS SO SWEET!!!!
Sweet indeed. Thanks to the Aviators for making a pit-stop (blade-stop?) in the neighborhood!