Are Brooklynites Tough Enough To Kick Axe Or Beat The Bomb?
GOWANUS/DUMBO – New York City's first axe throwing venue opens today in Gowanus—yes, you read that right, an axe throwing venue.
Axe throwing is a game of skill where players aim, then throw a dulled hatchet at a wooden bullseye. Kick Axe features ten ranges for throwing and expert axe throwing coaches—aka Axperts—who give participants 10-15 minute lessons beforehand and then stay with them to assist in their axe throwing experience. Anyone seven and up can participate as long as they are strong enough and coordinated enough to safely throw an axe as determined by the axperts.
Located at 622 Degraw Street (between 3rd & 4th Avenues), the 7,000-square-foot space, designed to feel like a "cozy lumberjack-style lodge," offers spare flannel shirts and faux hatchets for perfect Brawny man photo ops.
Kick Axe also serves beer, wine, and malt beverages. Those worried that booze and axes don't mix can rest assured that the Kick Axe team has TIPS certification—Training for Intervention Procedures, an educational program to responsibly serve, sell, and consume alcohol.
According to Kick Axe, the activity is perfect for groups of friends, team building, birthday parties, and more.
A 75-minute axe throwing session is $35 per person with an online reservation. Walk-ins pay $28 per person for an hour session.
Kick Axe
622 Degraw Street, Gowanus
Looking for another unique team building experience? Try Beat the Bomb, a high-tech game in which teams of two to six players don hazmat gear and try to disarm a paint bomb before it explodes—a true test of communication, coordination, and problem-solving skills.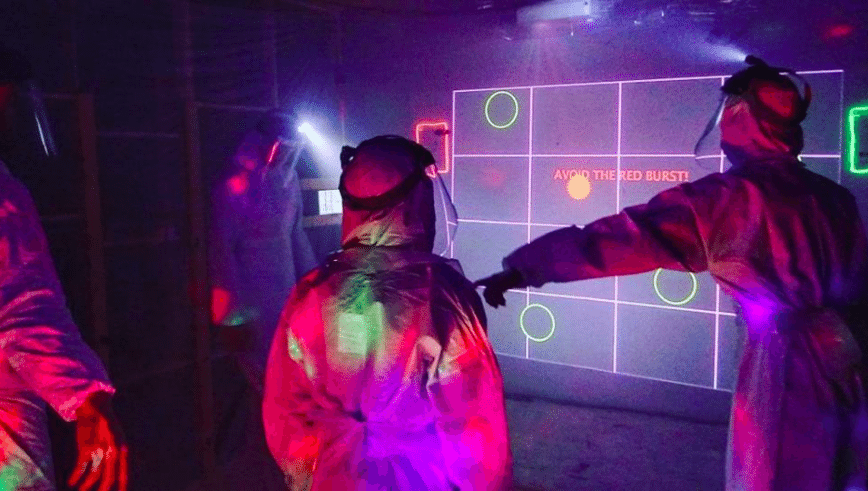 Participants are led through four separate rooms where they have to complete four different challenges that include creating patterns with their bodies on a laser grid and reproducing a sequence of sounds, according to Metro New York.
Successfully completing these challenges earns the players extra seconds for the final round—defusing the "bomb." If they fail, it detonates and blasts them with paint.
Beat the Bomb opened recently in DUMBO at 247 Water Street. The approximately 60 minute experience is $39 per person.
Beat the Bomb
247 Water Street, Suite 106, DUMBO