Brooklyn Underground Trade Show This Saturday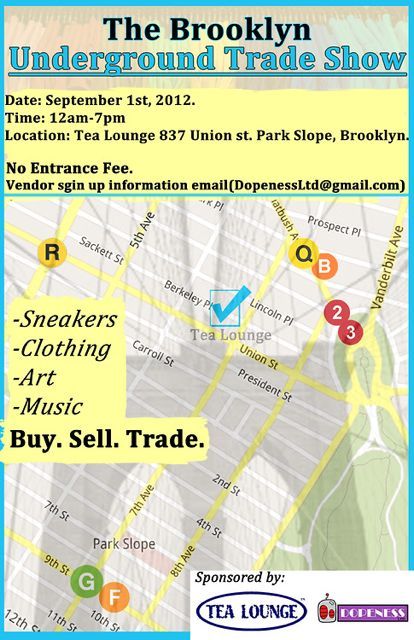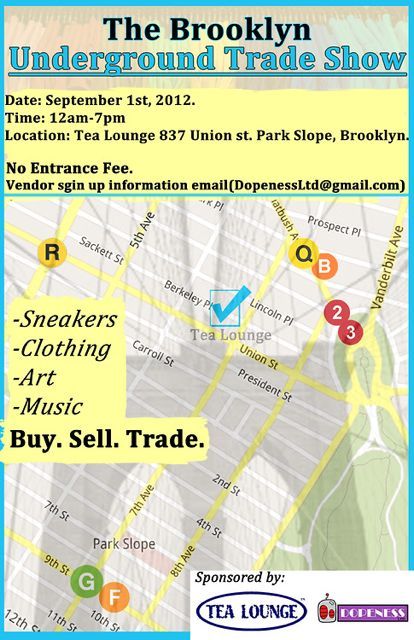 This Saturday is The Brooklyn Underground Trade Show, when up-and-coming/aspiring/alternative designers will descend upon Tea Lounge to showcase their wares.
Organized by the Brooklyn-based "limited edition apparel line" Dopeness LTD ( "created to cater to the exclusive art, music, and fashion audience steering away from the mainstream way of presenting a fashion line we have come up with a unique presentation for our clothing" — do with that what you can), the event is designed to expose new talent to the public.
Earlier this month, Dopeness issued a call for vendors "looking to showcase your artwork, clothing brand, sneaker collection, or something dope," and according to the event poster, there will indeed be sneakers, clothing, art, and music. Presumably also general dopeness.
The trade show begins at noon and runs until 7. What exactly will be there remains somewhat unclear (if the Dopeness' own wares are representative, it'll be heavy on screen-printed t-shirts), but there's no entrance fee, and enough hidden-gem potential to make it worth a swing-by.