A Guide to Brooklyn Toy Drives
Join a Brooklyn Toy Drive this winter to help families and their loved ones to celebrate the holidays this season! By joining one of these charitable drives you support children in need.
When: Friday, December 6, 6:00 PM – 10:00 PM
Where: 100 Kingston Avenue, Crown heights
Come and party for a good cause: collecting unwrapped toys at our annual Toy Drive event in conjunction with the Epsilon Chapter of Omega Psi Phi Fraternity, Inc. RSVP here.
When: Sunday, December 8, 8 am to 10 am.
Where: 2505 Emmons Avenue, Sheepshead Bay
Enjoy a family breakfast at Applebee's with a visit from Santa. Breakfast includes Eggs, Bacon, Pancakes, Hash Browns and, Juice, Coffee or Tea. Proceeds will benefit Toys for Tots. RSVP here.
When: Sunday, December 8, 3:00 PM – 6:00 PM
Where: 51 North 1st Street, Williamsburg
The North Brooklyn Chamber, in conjunction with STREB SLAM, will throw a performance followed by an all-ages cocktail party featuring drinks and snacks to help celebrate the holiday. A percentage of every ticket is donated to the Big Brooklyn Holiday Toy Drive. There will also be a toy collection box on site, consider bringing a new, unwrapped toy for a boy or girl (ages 4-14) on the day of the performance.
Tickets include popcorn and a drink before and during the show, and post-performance goodies with family, friends and Streb staff. Children 3 and under admitted FREE, however the child must remain on the caregiver's lap. RSVP here.
When: Sun, December 8, 2:00 PM – 6:00 PM
Where: 45 S 3rd Street, Williamsburg
Help wrap and deliver gifts for local children in need, while "wrapping" up your holiday shopping at this local designer market. Bring in a toy to donate and receive a free drink + discount on market purchases. Enjoy a DJ Set while there. RSVP here.
When: Sunday, December 8, 2:00 PM – 6:00 PM
Where: 913 Broadway, Bushwick/Bed-Stuy
Join the first Annual Toy and Coat Drive Brunch at The Crisis Bar, no cover charge. Bring a donation which can include: Toys, Coats, Sweaters, Winter wear ( Hats, Gloves, Scarfs ). Enjoy DJ sets, hookah, food, and drinks. All donation will be donated to the Thrive Collective non-profit. RSVP here.
When: Sunday, December 8, 2:30 PM – 5:30 PM
Where:Compass, 136 North 10th Street, Williamsburg
Come get your child's photo taken with Santa, bring an unwrapped toy to donate to Toys for Tots.
There will be cookies for the little ones and mimosas for the adults! RSVP here.
When: Tuesday, December 10 2:30 PM — 3:30 PM
Where: Shore Road Community Room, 91st Street (btwn Shore & Colonia Roads), Bay Ridge
When: Thursday, December 12, 6:00 PM – 11:00 PM
Where: Rustik Tavern, 471 Dekalb Avenue, Bed-Stuy
Join Alpha Upsilon Chapter / Brooklyn Omegas and Delta Rho Omega AKAs for a party with a purpose. Bring a toy, bring a friend, and let's celebrate our good fortune. RSVP here.
When: Friday, December 13, 7 p.m. to 2 a.m.
Where: Lot 45, 411 Troutman Street, Bushwick
As the community aims to create positive interactions between children and the NYPD, the event will be hosted by Gotham star J.W. Cortés, music will be provided by DJ Al Rojas and The NYPD Jazz. P.S. 65 will host their toy giveaway with 600 hundred kids in attendance. There will be face painting, bounce houses, games, arts and craft and 2 DJ's to provide entertainment for the kids. Tickets will be $35 with an unwrapped toy and $45 without a toy, RSVP here.
When: Saturday, December 14, 8:30 PM – 11:30 PM
Where: Bailey's Cafe, 324 Malcolm X Blvd, Bed-Stuy
The toy drive will be a donation-based game night. Come and hang out with the team for night filled with laughter and good times. Uno, Jenga, Connect 4 and more! Complimentary drinks will be served. The recipient of the toys will be Little Flower Children and Family services which cater to children and adults with developmental differences. Bring non-violent, unisex, new and gently used toys. RSVP here.
Truffle-Making Event to Benefit Children in NYCHA Housing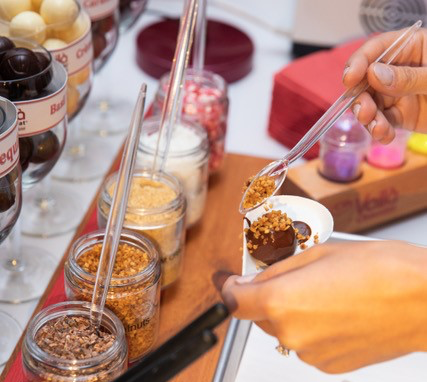 When: Sunday, December 15, 1 p.m. – 4 p.m.Where: 159 Bridge Park Drive, Brooklyn HeightsBrooklyn Heights Restaurant, Estuary, is partnering with  Councilman Stephen Levin for an Annual Toy Drive! Estuary will host a truffle-making event by chocolatier and pastry chef Christophe Toury alongside collecting toys to benefit NYCHA housing children. Residents, visitors, and local business owners are encouraged to bring one unwrapped and unused toy!
When: through December 16
Where: 410 Atlantic Avenue, Boerum Hill
Please drop off any unwrapped, unopened gifts for kids aged 8 months to 16 years old.
When: Ongoing through December 18.
Where: Central Library, 10 Grand Army Plaza, Prospect Heights
Brooklyn Public Library in collaboration with The Office of the Borough President presents a Holiday Drive collecting New Books and Pajamas for children living in family homeless shelters around the borough. Donations can be dropped off in the box located in the Grand Lobby of the Central Library.
When: Friday, December 20, 8:00 PM  — 9:00 PM
Where: 1165 Bedford Avenue, Bed-Stuy
When: Saturday, December 21, 2019 at 3 PM
Where: 156 Calyer Street, Greenpoint
The 5th Annual Operation: Blue Christmas Fill-The-Truck Holiday Toy Drive is proudly sponsored by IATSE Local 52, Movie Time Cars, Irene's Capri Lounge, NYPD Boxing and many more.
They will be collecting new, unwrapped toys to #FillTheTruck. All toys will be hand delivered to families in need on Christmas Day by uniformed, on-duty police officers from the NYPD.  Many festivities include music by DJ Overall, Raffle with cash and prizes, drink specials, and much more! Come on down and more details are soon to come! RSVP here.
When: Drop-off through December 15, Holiday Celebration Saturday, December 21, 1 PM – 4 PM
Where: 279 E 17th Street, Flatbush
When: Through December 17.
Where: Assemblyman Cymbrowitz's office, 1800 Sheepshead Bay Rd, Sheepshead Bay.
Drop off new, unwrapped toys!
When: Through December 13
Where: Bay Ridge, Dyker Heights, Bensonhurst, & more. See map here!
Donate new wrapped or unwrapped toys for children ages 0 to 18 years. Gift cards are welcome and can be from i-tunes, Game Stop, and Amazon.
To find more donation locations, you can check out Toys for Tots here.