Brooklyn Tech Teacher Receives Empire State Excellence In Teaching Award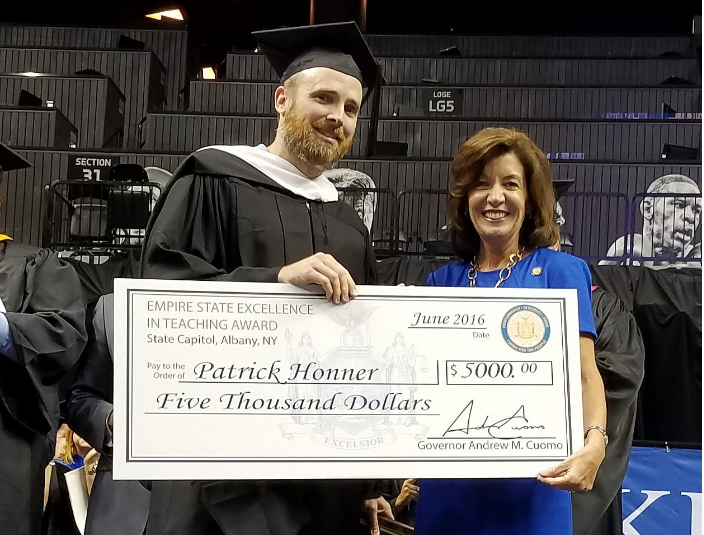 A Brooklyn Tech teacher has received the Empire State Excellence in Teaching award.
The award was presented by New York Lieutenant Governor Kathy Hochul to math teacher Patrick Honner during a graduation ceremony at the Barclays Center (620 Atlantic Avenue) on June 27.
"I'm proud to accept this award. I'm even prouder to have been your teacher," said Honner, who did not know that he would be receiving the award.
Winners of the Excellence in Teaching award receive a $5,000 stipend in addition to grant opportunities.
"To graduate as some of the smartest people in the country, you have to have great teachers. Brooklyn Tech is home to one of the teachers ranked highest in the State of New York, math teacher Patrick Honner," said Hochul.
Teachers from Pre-K through 12th grade are eligible for the award and can be nominated by anyone, including self-nomination. Finalists are asked to explain how they meet a series of qualifications, including:
Exemplifies the dedication, mission, skill, expertise, and talent of outstanding teachers
Inspires and motivates all children and makes learning exciting
Makes a difference in children's lives
Levels the playing field and creates a climate for learning where every child can succeed
Holds high expectations for every student and provides access to higher levels of learning for all learners
Is preparing children for a changing economic workforce and a lifelong journey of learning
The graduation ceremony was also marked by a speech from Brooklyn Borough President Eric Adams. Adams emphasized the impact of Brooklyn's pluralism on the graduating class, and stressed that these young adults be adventurous.
"Brooklyn Tech is one of the best high schools," said a beaming Dilshad Jiwani, mother of 2016 graduate Enara Roy.