Brooklyn Supreme Court Halts Construction Of Brighton Beach Bathrooms… For Now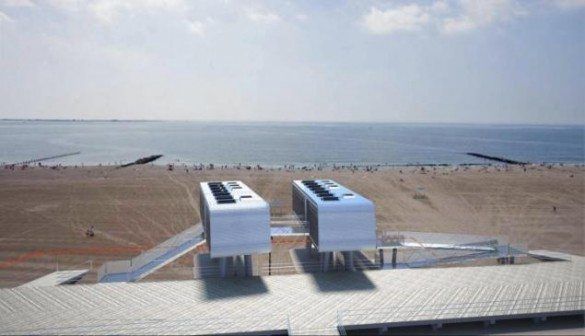 Opponents of the planned construction of the new public bathrooms in front of the Oceana luxury condo buildings (50 Oceana Drive West) scored a victory as the Brooklyn Supreme Court signed a preliminary injunction blocking the city from continuing construction, at least until a detailed environmental impact study has been conducted. In a press release, Assemblyman Steven Cymbrowitz hailed the decision as a "preliminary victory" for residents who do not want a bathroom blocking their ocean view.
When we last visited the bathroom saga, Cymbrowitz had demanded that the city just give up their plans to go ahead with construction altogether. The planned construction met controversy when Oceana residents initially complained that the bathrooms would be a hotspot for the homeless and rambunctious teenagers looking to cause trouble. Their complaints were ignored but the plans were halted when builders hit bedrock in their construction, forcing a reexamination of their plans. The delay in construction allowed Oceana residents to hire lawyers and petition political heavyweights including Senator Charles Schumer.
Cymbrowitz expressed hope that this preliminary victory was a sign that the bathrooms will never be built.
"After a long, hard battle, this preliminary decision marks a satisfying victory for Oceana residents as well as vindication that the city erred in not conducting the necessary environmental review before bulldozing the beach," Cymbrowitz said in the release. "There's still a long road ahead, but this is a promising first step."
Personally, I want this situation to be resolved, one way or another, so I can finally stop writing about rich people and their toilet problems.