Brooklyn Strand Community Workshops Come To Fort Greene This Week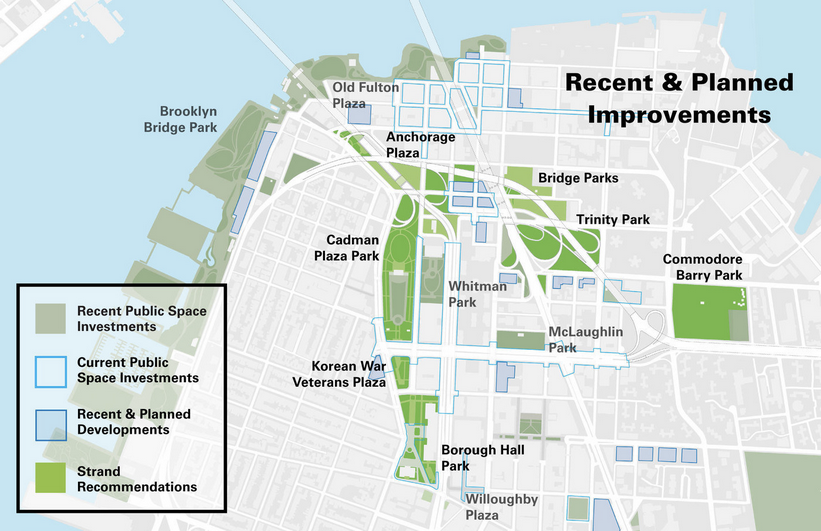 The public discussion about the Brooklyn Strand is coming to Fort Greene with three community workshops, the first of which is tonight (Tuesday, October 20) from 6-7:30pm at the Walt Whitman Senior Center at 105 North Portland Avenue.
The second workshop is next Monday, October 26 at 6:30pm at Ingersoll Community Center (177 Myrtle Avenue), followed by a workshop at Farragut Community Center (228 York Street) on Wednesday, October 28 at 6:30pm.
The Brooklyn Strand is a planned strip of pedestrian-friendly greenery — parks, plazas, and greenways — to connect Brooklyn Borough Hall and the Brooklyn Bridge Park waterfront. Most of the areas impacted are in Downtown Brooklyn and DUMBO, but parts of it extend towards the Farragut Houses, Brooklyn Navy Yard, and the area around the Flatbush Avenue Extension.
These public workshops are part of Phase Two of the planning process; the Phase One design phase began over a year ago and included dozens of walkthroughs and workshops with Downtown Brooklyn community groups.
Concerns brought up during that phase included questions about parking, pedestrian safety, traffic flow in the already densely packed infrastructure, and how bike lanes would fit in.
Suggestions addressing those concerns included traffic calming measures via one Manhattan Bridge off-ramp closure, widening sidewalks around Cadman Plaza and Jay Street, moving the Borough Hall parking lot underground, renovating the Brooklyn War Memorial to include a visitors center, building a covered cafe and outdoor event space next to Borough Hall, the installation of lighting and seating in the Brooklyn Bridge underpass, and public access — possibly including an outdoor market — under the Bridge anchors. rently closed to the public.
The Brooklyn Strand project is also connected to the project focusing on the Brooklyn Cultural District.