The First Annual Brooklyn School Gardens Crawl Is Happening This Weekend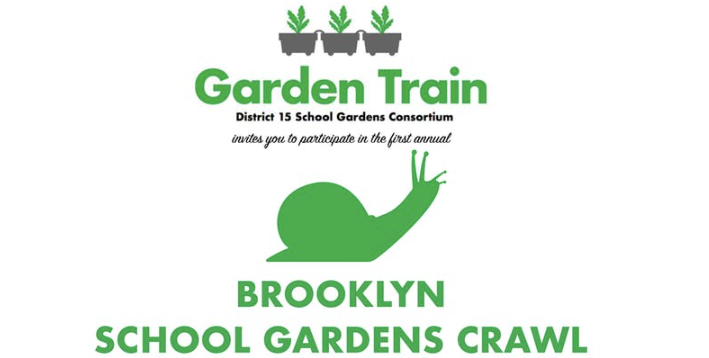 PARK SLOPE – Garden Train and Grow to Learn are hosting the first Annual Brooklyn School Gardens Crawl this Saturday, September 29, opening the gates to participating school gardens for a day of free, family-friendly activities.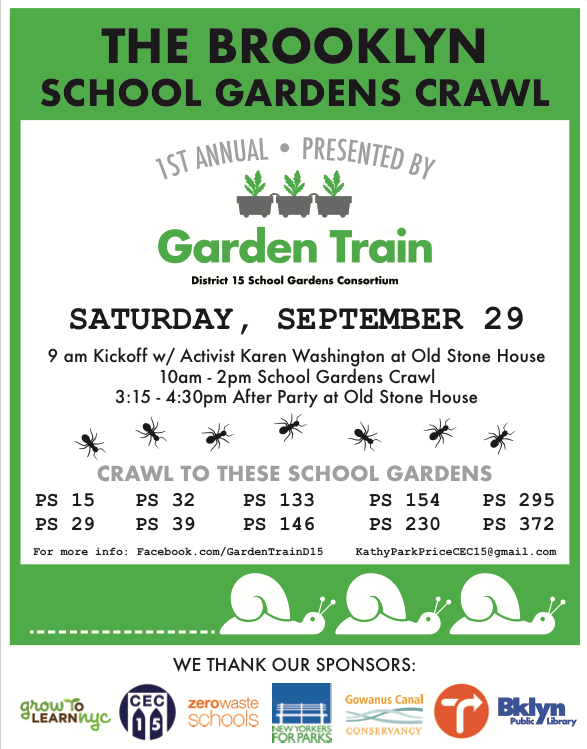 Participating schools are located throughout District 15, from Red Hook to Kensington, and include:
PS 15, 71 Sullivan Street (between Van Brunt & Richards Street), Red Hook
PS 29, 425 Henry Street (between Baltic & Kane Street), Cobble Hill
PS 32, 317 Hoyt Street (between Union & President Street), Carroll Gardens (to access roof garden, enter via main entrance)
PS 39, 417 6th Avenue (between 7th & 8th Street), Park Slope
PS 133, 610 Baltic Street (at 4th Avenue), Park Slope/Gowanus
PS 146, 610 Henry Street (garden on Rapelye Street between Henry & Hicks Street), Carroll Gardens
PS 154, 1625 11th Avenue (between Windsor Place & Sherman Street), Windsor Terrace
PS 230, 425 McDonald Avenue (at Albemarle Road), Kensington
PS 295, 330 18th Street, Det. Joseph Mayrose Park (garden just off Prospect Avenue at 17th Street & Calder Place), South Slope
PS 372, 512 Carroll Street (garden at Denton Place and 1st Street), Gowanus
The day will kick off at 9am with coffee and bagels at The Old Stone House (336 3rd Street) in Park Slope with community activist and "godmother of urban gardening and farming," Karen Washington, and remarks from Council Member Brad Lander, Assembly Members Robert Carroll and Jo Anne Simon, CEC15 member and District 15 parent, Mark Bisard, and School Gardens Manager for Grow to Learn, Arielle Hartman.
"The best way to foster the future of agriculture is getting children involved in their food system," Washington said in a release announcing the event. "Knowing where your food comes from is one thing, knowing the impact food has on our health and environment is important as well. I am honored to be this year's keynote speaker, to be able to tell my story on the importance of growing food and eating healthy to the next generation of eaters."
From 10am to 2pm participants can explore the ten participating school gardens, each featuring special activities throughout crawl hours. Participants who visit three or more gardens, and have their school gardens "passport" stamped, will be eligible for prizes at the event's afterparty.
The Old Stone House will host the afterparty from 3:15pm to 4:30pm, with entertainment, a family yoga session, and snacks provided by Grow to Learn.
"Teaching students about nutrition and healthy food options from an early age is critical, and involving them in every part of the process — from seed to harvest — is a wonderful way to educate students on the importance of making healthy food choices," Schools Chancellor Richard A. Carranza said in the release. "I'm excited for students, families, and staff participating in the District 15 Garden Train, and hope it can serve as an example for communities across the City."
"School gardens are truly unique and offer important learning opportunities for all students," District 15 Superintendent Anita Skop added. "Not only do they provide hands on experiences in an array of sciences and other curriculum areas, they enable all of our children to understand the processes of life and the need to nurture growth. This encourages empathy and caring and a respect for all living things."
Launched in Fall 2017, Garden Train is NYC's first and only district-wide school gardens network that works to build relationships between school garden leaders, schools, and communities.
Click here or visit Facebook for more information about the Brooklyn School Gardens Crawl, including a map, printable school gardens passport, and schedule of activities at each participating school.