Brooklyn Public Library Honored By FLOTUS At White House Ceremony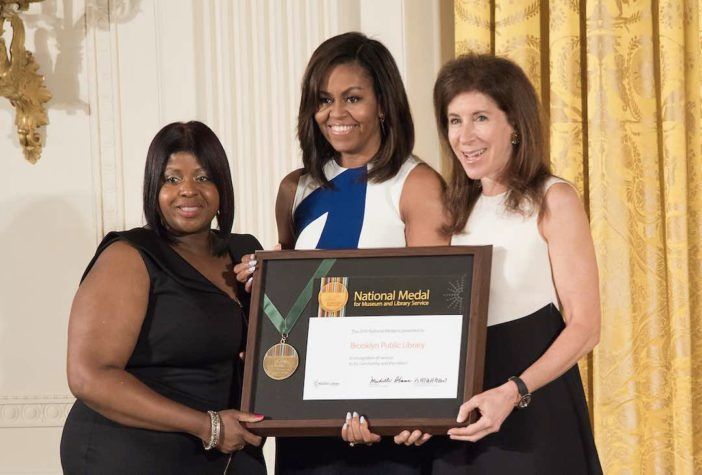 Brooklyn Public Library was honored by First Lady Michelle Obama at the White House yesterday as one of the ten recipients of the 2016 National Medal for Museum and Library Service.
The First Lady, along with Institute of Museum and Library Services Director Dr. Kathryn K. Matthew presented the award, which is the highest honor recognizing museums and libraries for service to the community.
The ten recipients were selected from a group of 30 finalists who have had a "significant impact our nation's libraries and museums can have on the community through excellent programs, services, outreach, and partnerships that go beyond what is expected," according to a White House press release.
The First Lady remarked that she has great admiration for the outreach programs at BPL:
"Brooklyn Public Library is a perfect example. They're one of the largest library systems in America, with 60 branches, almost 4 million books and periodicals and nearly nine million guests last year alone.
They've hosted tens of thousands of public events to reach folks at local senior centers and homeless shelters to provide literacy programs for new reads and young children and to mobilize a network of 2,000 volunteers who provide everything from computer courses to citizenship classes."
In addition, she recognized Prospect Lefferts Gardens neighbor Kim Best, who worked with BPL to receive her US citizenship.
The First Lady said:
"Now: some of us might not think of a library to take a course on citizenship. But luckily for a woman named Kim Best, someone else I met, very giggly, that's exactly how the Brooklyn Library system worked for her. Kim's family arrived in this country from Guyana in 1981. The year I went to college.
But: it took over 30 years for her to realize that even after her mother was naturalized Kim wasn't a citizen herself. Fortunately Kim had grown up in the Brooklyn public library system, so as soon as she found out they offered classes she signed right up.
She spent weeks drilling quest ions with her teacher and classmates and last October, Kim became one of our newest Americans."
Later this year, StoryCorps — the Brooklyn-based national nonprofit dedicated to recording, preserving, and sharing the stories of American — will visit BPL and other honorees to document stories from the community.
The entire ceremony is available for you to view below:
First Lady Michelle Obama Celebrates the 2016 National Medal for Museum and Library Service on June 1, 2016.