Brooklyn Pols Call on Albany to Fund MTA Repairs After Ceiling Collapse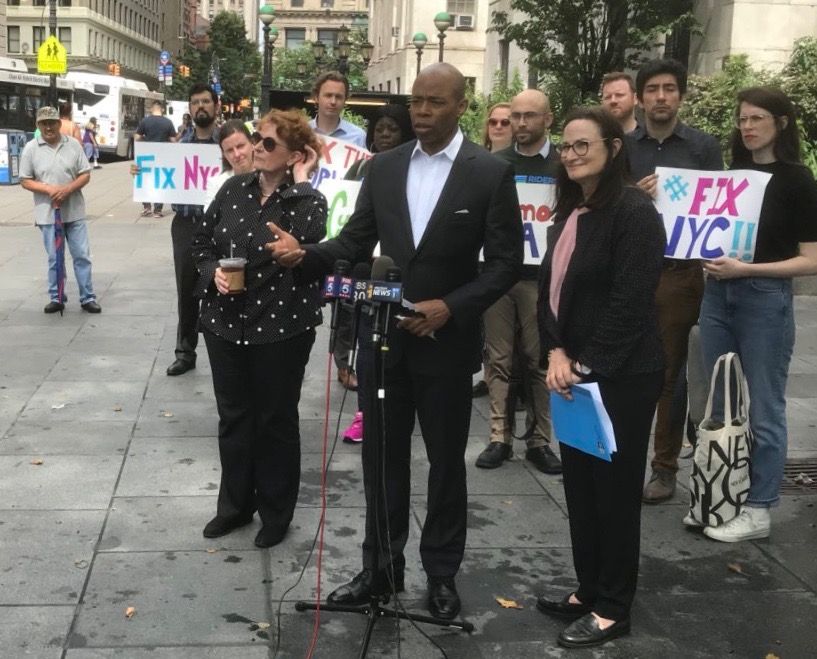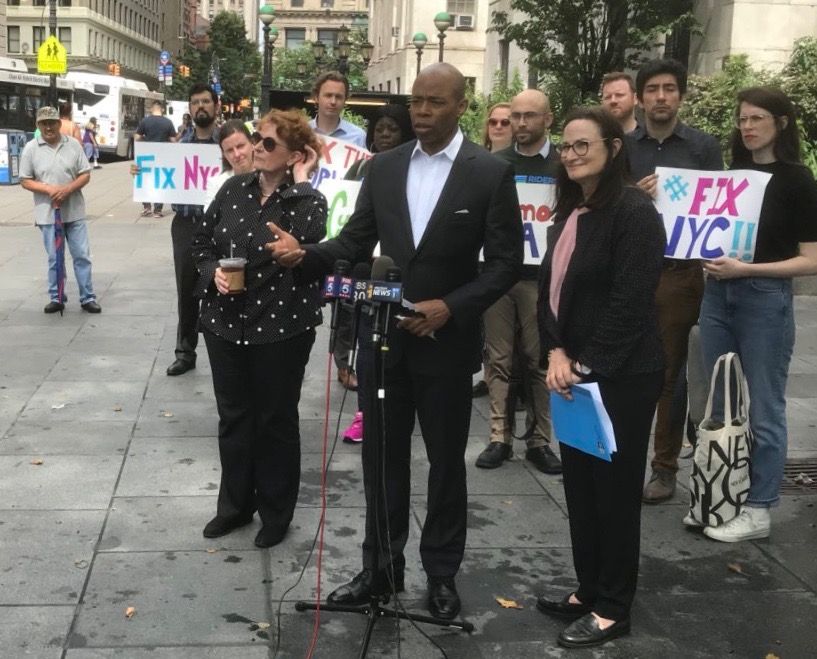 DOWNTOWN – After last week's ceiling collapse at the Borough Hall subway station, Brooklyn politicians and local leaders gathered today to call on state legislators to approve funding for the MTA's proposed Fast Forward plan.
Fast Forward is 10-year, multi-billion dollar upgrade of the NYC Subway system, which would modernize signals across the system, upgrade 50 new accessible stations and—most relevant to today's press conference—upgrade 150 stations to a "state of good repair."
Brooklyn Borough President Eric L. Adams spoke at the event and posted on Twitter, calling on Governor Cuomo and the State Legislature to convene a special session in order to fix the MTA.
Local Councilmembers like Stephen Levin and Brad Lander made statements of support, though some politicians spoke more directly about those responsible for the fix:
"We have a plan, we have the political will, and we have the support of virtually every New Yorker. The only thing missing is the money, which is bizarre given that Governor Cuomo has found the money for capital projects with half the support," said Councilmember Carlos Menchaca. "We must be proactive, rather than reactive, when it comes to transportation infrastructure. New Yorkers must see that we can repair infrastructure as basic as the subway without having to rely on a catastrophe. It's Cuomo's MTA – he must raise the funds now and fix it."
#CuomosMTA has been an oft-used hashtag in gubernatorial hopeful Cynthia Nixon's campaign, which has seized on every opportunity to attack Cuomo over the subway in the lead-up to the Democratic primary.
The Fast Forward plan is estimated to cost $19 billion over the decade it will run, which means serious money needs to be allocated.
"The MTA's Fast Forward plan provides a blueprint for the fixes we need, but the Governor, Mayor and State Legislature must agree on a funding plan that provides a dedicated revenue stream to the MTA of at least $1.5 billion annually to pay for them," said Assemblymember Robert Carroll. "Fixing and funding the subway must be our top priority and I will continue to fight for the legislature to adopt a plan like the Fix NYC Advisory panel proposal that was released earlier this year."
The MTA's video introduction of the FastForward plan can be seen below:
Whether or not Albany funds the current plan, Brooklyn will have its share of subway woes in the near future as borough gears up from the L-Train Shutdown next April. Hopefully, the ceilings at Brooklyn's other stations will stay up while that work is underway…