Brooklyn Nets To Unveil New Ad Campaign At Surf Avenue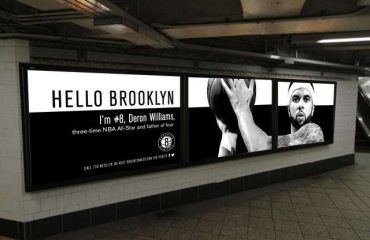 "The Nets," Brooklyn's newest sports franchise, are working hard to win over Knicks fans in the area with their new advertising campaign, aimed to create personal relationships with residents and players.
"Hello Brooklyn" is a marketing campaign featuring the faces of Deron Williams, Joe Johnson, Brook Lopez and Gerald Wallace on massive billboards throughout Brooklyn. Each one will also have a message about each player that gives fans some personal information about the teammate.
Examples of the ads include:
"Hello Brooklyn. I'm #8, Deron Williams, three-time NBA All-Star and father of four."
"Hello Brooklyn, I'm #7, Joe Johnson, six-time NBA All-Star and lifelong Razorback."
"Hello Brooklyn, I'm #11, Brook Lopez, 20-point scorer and Batman's biggest fan."
"Hello Brooklyn, I'm #45, Gerald Wallace, All-NBA Defender and offseason fisherman."
Billboards will be placed throughout the city with one landing at Surf Avenue.
Hello Sheepshead. I'm Laura, and I sometimes write about stupid ad campaigns.
See what I did there?