Brooklyn Neighbors Protest Eviction Of Errol's Caribbean Bakery In Flatbush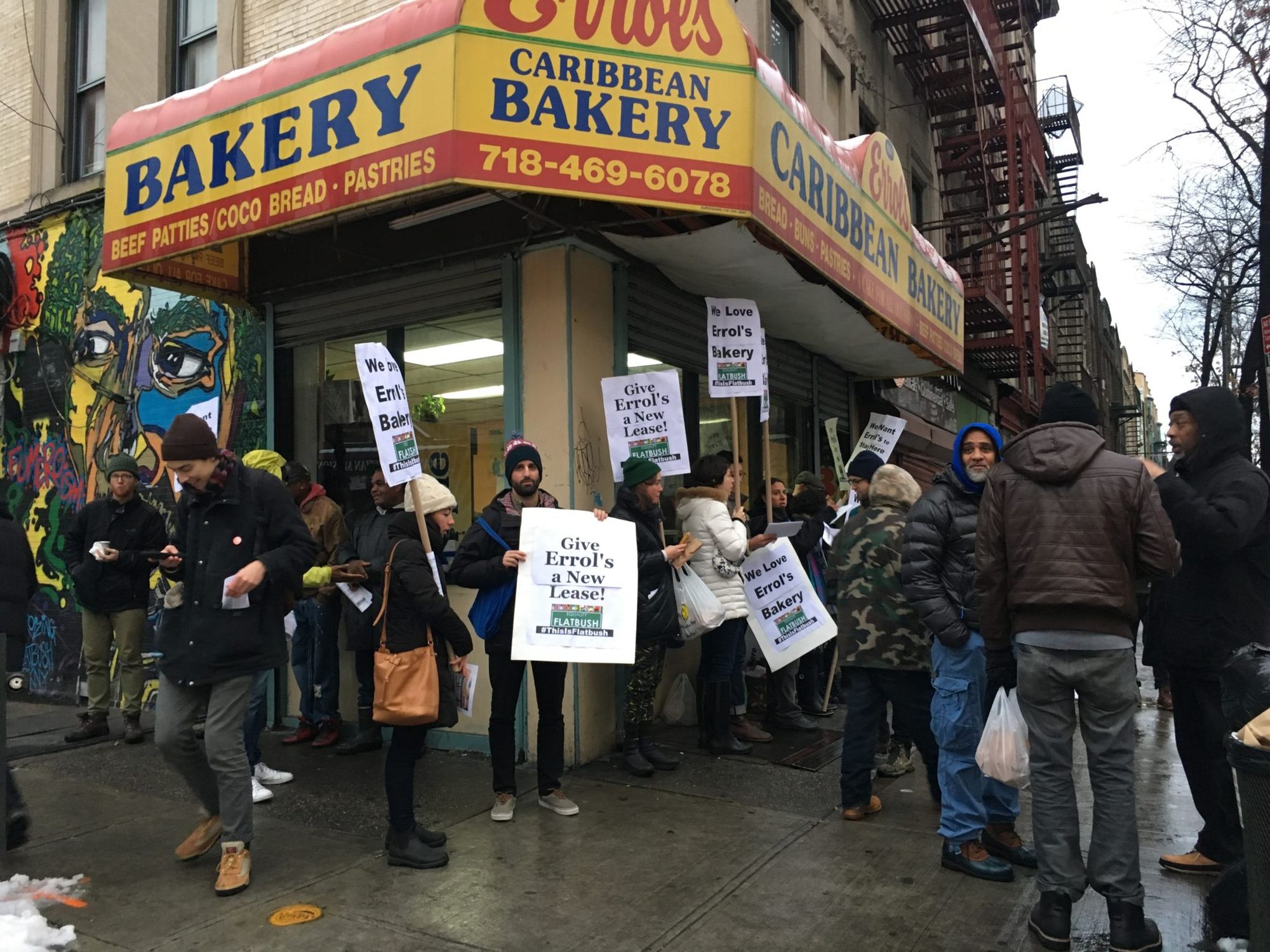 'Errol's bakery has to stay! Errol's bakery has to stay!' chanted 20 longtime and new neighbors, who trudged through the slush to protest the eviction of a beloved, 15-year-old Caribbean Bakery on Flatbush Avenue.
"Errol's is the kind of place that gives you an extra patty any time of the night," said Matt, three-year Flatbush resident, who said that evicting this family-run business is like "pulling the heart out of the neighborhood."
Errol Miller, the bakery's owner, is an immigrant from Jamaica who has worked in the neighborhood for 30 years. He told DPC that after his $3,500 per month lease expired in May, instead of renegotiating his lease the landlord sued to remove him from the property.
Following a battle in housing court, Miller and his landlord struck a verbal six-month agreement at a $5,000 per month rate (before water meter costs), but during that time the landlord ignored his (and his lawyer's) calls to renew the official lease, he told DPC while standing outside the shop.
Last week, a judge ordered Miller to evacuate the Errol's Bakery space by February 28, he said.
Miller believes that the landlord wants him out of the building in order to charge a new tenant $8,000 in rent, though he can't reach the landlord to confirm these rumors. "He wants me out," said Miller. "But I've never been late on a rent payment, not once in 15 years."
Miller said he was happy about the community's response. "It put a bright light out there for me," he said. When we asked what neighbors can do to help Errol transition into a new location, he said he could use help finding and fixing up a new space, applying for a small business grant, or "anything anyone can do."
"Everyone on this strip knows me," said Miller, who has been looking for a new bakery space in Flatbush. "But finding a new place here is very hard now," he said, citing increased rents on Flatbush Avenue.
"It's heartbreaking," said activist Jerry Campbell, noting that many West Indians in Prospect Heights eat at Errol's on Flatbush Avenue at Hawthorne Street, especially since Christie's Jamaican Patties closed.
But one 17-year Flatbush resident named Sunshine refused to let the dark outlook cloud her confidence or dampen her smile.
"I feel good, sugar," said Sunshine, between chants. "We're not going anywhere. We have to support Errol and keep him right there."
The bakery offers a variety of Caribbean baked goods and entrees from coco bread and beef patties to curried goat and chicken feet soup — which Sunshine said is a must-try.  "You don't know what you're missing," she said, when I admitted that I've never tasted the delicacy.
But protesters were lamenting more than the loss of their favorite patties, many are fighting a larger trend of corporate gentrification encroaching onto Flatbush. "Politicians [rezoning the city] don't care about low-income people, they just care about corporate sponsors and their paycheck," said Dinick Martinez, an LGBT activist fighting displacement in New York City.
"And don't think that [gentrification] is just happening here, it's happening worldwide," he said.
Camille Baptiste is a young, white newcomer to Flatbush, who has been concerned about her role in changing the neighborhood. "I'm seeing the effects of gentrification and worried that I'm contributing," she said, clutching a "Save Errol's" sign. "I'm trying to combat that by supporting local businesses."
But Equality for Flatbush organizer Imani Henry believes that gentrification is an issue that affects all residents. "We believe that long-time and new residents, communities of color and white communities, low-income and middle-class people, have a stake in the urgent struggle to save affordable housing and small businesses in Brooklyn," said Henry, who lived above the bakery in 2002.
"I think gentrification is complicated, I see how it pushes people out," said Jolene Halzena, a Bed-Stuy activist who works to combat racism and gentrification, which she says often go hand-in-hand. "The people that get pushed out are along class and race lines, which are so connected in this area."