Brooklyn Kids Celebrate Jackie Robinson Day At UA Theater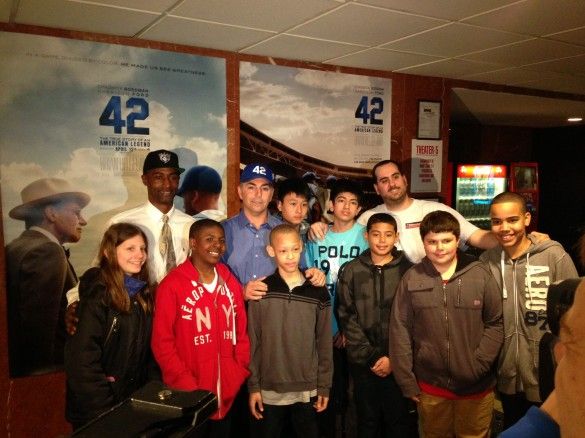 Over 200 students from an assortment of Brooklyn youth groups celebrated Jackie Robinson day Monday by meeting some ex-baseball players and getting a private screening of the new movie about Jackie Robinson, 42, at the Regal Cinemas in Sheepshead Bay, according to a press release.
The kids, who spent the day hearing stories from former ballplayers John Franco and Terry McFarlin, were culled from the Marlboro Housing Development, Millennium Development/Starrett City, and the Coney Island Communities youth groups. They learned about the groundbreaking heroism exhibited by Jackie Robinson in the face of intense hatred and bigotry as he broke baseball's color barrier back in 1947.
Franco and McFarlin, both products of Southern Brooklyn, also shared powerful words of wisdom with the children on hand.
"Stay focused on the goals you set for yourself and never stop working to improve yourself in a effort to achieve those goals,"  said ex-Met Franco.
"The more you put into something, the more you will get out of it. Always give 100 percent in whatever you do and more often than not, you will be successful," added McFarlin.
In honor of Jackie Robinson day Monday, every player in the major leagues wore the number 42. Jackie's number is also ceremoniously retired by every team in baseball.
The event was sponsored by the Municipal Credit Union (MCU) and the Brooklyn Cyclones, the New York Met Class-A affiliate.