Your Guide to Brooklyn Holiday Markets
'Tis the season! Support your local businesses and makers by choosing to shop at these Brooklyn holiday markets. Often, these markets represent voices left out of the mainstream consumerist trends, uplifting women, LGBTQ+, and people of color! When you shop local, you support your neighbor's livelihood.
This holiday season, join caribBEING for the third edition of their Caribbean Holiday Market Experience, this time at The Plaza at 300 Ashland in Downtown Brooklyn from December 4 to December 29, from 11 a.m. to 8 p.m.
A unique opportunity to shop for handcrafted and one-of-a kind items from several favorite Caribbean makers and artisans offers a range of food, beauty, jewelry, and hand-crafted goods from local and international artisans, and also features weekly "meet the makers" events and food samplings.
The best gifts are ones bought from your local merchants! Get your holiday shopping done and enjoy a variety of discounts and perks at the Court Smith "Holiday Shopping & Cheer" event. December 5 from 6 p.m. to 9 p.m. Find 30+ retailers, live music and refreshments! Start at Invisible Dog for treats and a map!
December 6 from 4 p.m.  to 9 p.m. join the special, one night only Fort Hamilton Holiday Market and Tree Lighting Spectacular event that features a tree-lighting ceremony, rides, pictures with Santa and a holiday market. Local craftspeople sell their creations, and there are lots of delicious food options as well.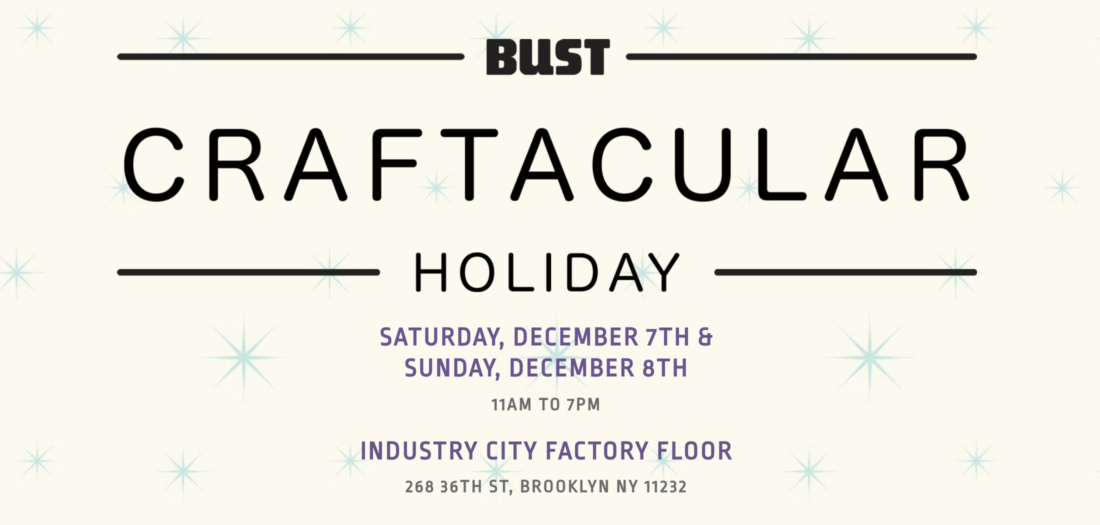 BUST Craftacular celebrates creative women. Shop over 150 exclusively women-owned companies, featuring a dazzling array of the best in handmade gifts. Plus, over 60 exciting workshops will be held throughout the weekend on topics such as crafting, wellness, cooking, sex, business, and spirituality.
The first 100 people through the door each day will get a fun goody bag!
December 7 and 8, from 11 a.m. to 7 p.m. Entrance is free; workshop tickets may be purchased here.
On December 7+8 and 14+15 from 11 a.m. to 7 p.m. FAD Market (Fashion Art Design Market) will be transforming Downtown Brooklyn's City Point into a festive, holiday bazaar, featuring 120+ of the region's most talented makers, designers and independent food brands. A rotating roster of 60+ makers per market will set up stalls packed with the perfect handmade gifts for all your friends and family. Come shop a curated selection of impeccably crafted jewelry, apparel, bath and body care, tableware, artisanal food items, home furnishings and more.
On December 7+8 and 14+15 from 11 a.m. to 6 p.m. FAD Market is also bringing the holiday spirit to Boerum Hill's The Invisible Dog Art Center. Each holiday market will feature a rotating roster of over 50+ of the region's most talented makers, designers and artisanal food brands offering a highly curated selection of impeccably crafted jewelry, apparel, bath and body care, tableware, handmade food items, home furnishings and more. Come discover unique gifts and one-of-a-kind stocking stuffers!
Find the Brooklyn Holiday Bazaar on December 8 and December 15 in Gowanus from 11 a.m. to 5 p.m. with the best of local makers. Their 7th edition will be packed with fine handmade goods, delicious food & drinks, music, and craft activities!
Enjoy "The Nutcracker" themed festival of local shopping from a curated selection of 60+ independent makers and crafters from brooklyn at the Greenpointers annual Holiday Market! There will be a full day of free fun activities and their take on the magical Land of Sweets brought to North Brooklyn inside the gorgeous Greenpoint Loft! Find them December 8, from 1 p.m. to 7 p.m.
Bushwick's social justice bar and event space will be hosting Dyke Bar Takeover's first annual holiday market. Dyke Bar Takeover is a group of artists and activists formed in 2017 who are dedicated to creating and supporting Queer spaces for self-identified womxn, transgender, and non-binary people of all races. Expect local queer makers showcasing handcrafted goods, on December 7 from 6.30 p.m. to 9 p.m., RSVP here.
This year's Holiday Market at the yard will feature a create-your-own gift section which includes cookie decorating, ornament engraving, and screen printing on bags and prints. With over 30 vendors ranging from home goods, fashion and accessories, to art and design pieces, and food and wine tastings!
December 7 and 8, from 12 p.m. to 6 p.m., entry is free.
Africaboutik offers a curated selection of Africa-inspired fashion, fashion produced on the African continent, accessories sourced from local artisans, as well as designs handmade at their home base in Brooklyn, NY. Find these unique and beautiful goods on December 8, from 11 a.m. to 6 p.m. at the Brooklyn Museum.
On December 7 from 12 p.m. to 6 p.m., find local makers and crafters at Space Ninety in Williamsburg. You'll find beautiful gifts plus treats by Ovenly + Wine by Archer Roose.
Bushwick's Mayday is both a neighborhood resource and a citywide destination for engaging programming, a home for radical thought and debate, and a welcoming gathering place for people and movements to work, learn, celebrate and build together. Among vendors you will find POC, immigrant, queer, femme, low-income, longtime local Bushwick residents, and/or are donating proceeds to a range of causes as part of broader grassroots movements and the solidarity economy! Food vendors, festive activities, and family-friendly. Find them December 14, from 12 p.m. to 5 p.m. and December 15 from 1 p.m.to 6 p.m.
The Brooklyn school invites all to a unique shopping experience this holiday season on December 14 from 11 a.m. to 3 p.m. The best of local vendors and community members will sell: Handmade crafts, popular kitchenware, makeup and more! Children's activities and tables of information of interest to families are available, as well. RSVP here.
Bushwick's Drag Show extraordinaire Bushwig is throwing a holiday market at the queer bar, the 3 Dollar bill on December 14 from 1 p.m. to 10 p.m. With over 20 iconic vendors peddling apparel, costumes, vintage clothing, jewelry, sunglasses, cats in drag and everything in between, you'll also find a drag show, DJs, and special holiday drinks at the bar!
RSVP here, entry is $5 but no one is turned away due to lack of funds.
This holiday market is on December 15 from 1 p.m. – 10 p.m and presented by record labels Mexican Summer and Anthology Editions. The pop-up will feature record vendors, zines, books, art, plants and DJs. After you're done shopping for gifts, you can cozy up with a hot rum cider in their listening lounge.
There's a lot of markets in Brooklyn, we are sorry if we missed yours. Please add it to our calendar here!