Brooklyn Half-Marathon: Road Closures, May 18

The Popular® Brooklyn Half will kick off at 7am on Saturday, May 18 with more than 25,000 runners sprinting from the Brooklyn Museum all the way down to Coney Island.

Runners will start the 13.1-mile trek near the Brooklyn Museum, race by the Brooklyn Botanic Garden and around Grand Army Plaza before entering Prospect Park. Following a loop through the park, runners will exit the green space at the southwest corner onto Ocean Parkway then head south to the finish line at the Coney Island boardwalk. The Brooklyn Half After-Party will take place at MCU Park where runners can enjoy food, music, and celebrate.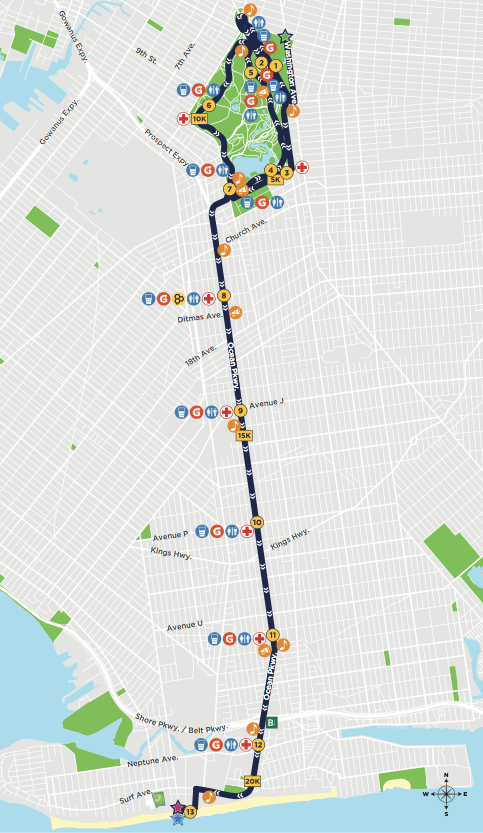 If you're planning on driving Saturday, take a look at the Department of Transportation's list of road closures for the half-marathon. These streets will be closed at the NYPD's discretion between 3am and 12pm, according to AM New York.
Eastern Parkway between Grand Army Plaza and Bedford Avenue
Washington Avenue between Eastern Parkway and Empire Boulevard
Empire Boulevard between Washington Avenue and Flatbush Avenue
Flatbush Avenue between Empire Boulevard and Grand Army Plaza
Grand Army Plaza (Entire Circle)
Ocean Avenue between Flatbush Avenue and Parkside Avenue
Parkside Avenue between Ocean Avenue and Park Circle
West Lake Drive between East Drive and South Lake Drive
South Lake Drive between West Lake Drive and East Lake Drive
East Lake Drive between South Lake Drive and East Drive
West Drive between East Drive and West Lake Drive
Park Circle between South Lake Drive and Ocean Parkway Entrance Ramp
Ocean Parkway between Ocean Parkway Entrance Ramp and Surf Avenue
Surf Avenue between Ocean Parkway and West 19th Street
West 10th Street between Surf Avenue and Boardwalk
West 15th Street between Surf Avenue and Boardwalk
Go to New York Road Runners for more info. Click here for the route map.