Guitar School Pioneers Sheepshead Bay Music Scene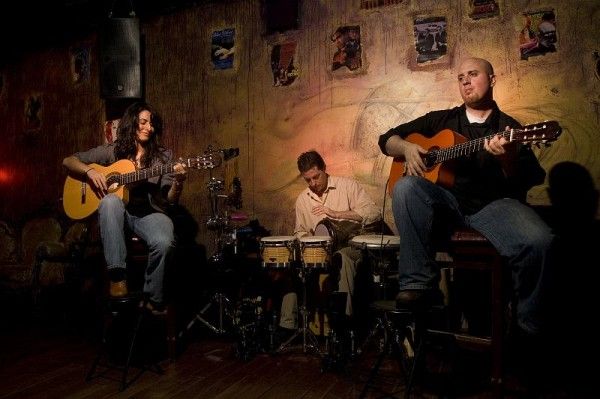 Thanks to Jason Hochman and his performing partner-slash-wife, Elysa, Sheepshead Bay now has its very own incarnation of Rodrigo y Gabriela mere feet from Emmons Avenue's piers, harking to a blossoming music and art scene on Brooklyn's south coast.
Brooklyn Guitar Academy opened its doors in October, specializing in Spanish flamenco and rumba, alongside a rhythmic range from classical and rock to funk and reggae. Familiar faces at local venues, the Hochman's now offer beginner to advanced classes and private lessons from their 2770 East 16th Street location, and they have separate classes for kids, teens, and adults.
Compared to locales like Williamsburg or Park Slope, Sheepshead Bay isn't exactly bursting at the seams with musicians and venues, but this guitar school is the latest pioneer on the vanguard of a Southern Brooklyn cultural scene.

Jason and Elysa perform Tempestad live
Jason and Elysa were already performing at cocktail hours, in restaurants, and at private parties and weddings. They were making decent money with it. Enough to inspire a a great plunge into a new career.
"Why not make my life all about guitar?" Jason says.
Like all artists in the early days of a burgeoning mecca, the Hochmans opened shop in Sheepshead Bay based on pragmatism. Reasonable rent was a deciding factor, and when Elysa recently became pregnant, the desire to be home with family pushed Jason to bail on his day job as a production artist at an advertising agency.
And so the school was born. With instructors like Jason and Elysa, who have been studying guitar since 12 "and a half" and 14, respectively, the enchanting rhythms of flamenco are sure to permeate. But their love of Latin ritmo defies a broad personal history that spans genres.
Elysa began playing popular songs from The Beatles and others before moving on to classical guitar. She studied with Melissa Morris until she was 18, then entered into a study abroad program in Spain with Jason. She later switched gears and pursued business before deciding to make music her full-time career. She recently received her MA in Music Education from Columbia University's Teachers College.
Jason grew up on Gen-X fare like Alice in Chains, Pearl Jam, and Nirvana before taking up funk, reggae, and afrobeat. The moment that changed his life completely, though, was borrowing his father's car at 19 and listening to The Best of the Gypsy Kings.
While the duo continue to jam out in local haunts like Vodka Gallery, Downhouse, and Anyway Café, they're also aggressively marketing the Brooklyn Guitar Academy and a second school they own in Manhattan (guess what that one's called!). So far they've picked up a few students, some of whom travel from as far away as the Bronx, and are training a new generation of local bards to flood Sheepshead.
Care to join them? The Brooklyn Guitar Academy offers 10-week courses for $250 for both beginners and advanced guitarists, and they also offer private lesson packages. Kid and Teen classes start as low as $89, and private lessons are available for that as well. Brooklyn Guitar Academy is located at 2770 East 16th Street (off Emmons Avenue). You can contact the school at (646) 539-1390 or by e-mail.