Calling All Bookworms! Brooklyn Book Festival Returns Sept. 10-17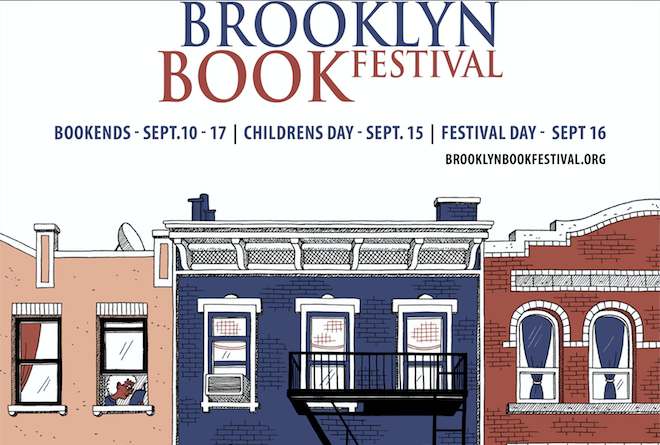 Book lovers will be thrilled next week when the 13th annual Brooklyn Book Festival (BKBF) returns with a litany of literary events across the city that lead up to the Festival Day & Literary Marketplace next Sunday (September 16) featuring more than 300 authors and 250 booksellers.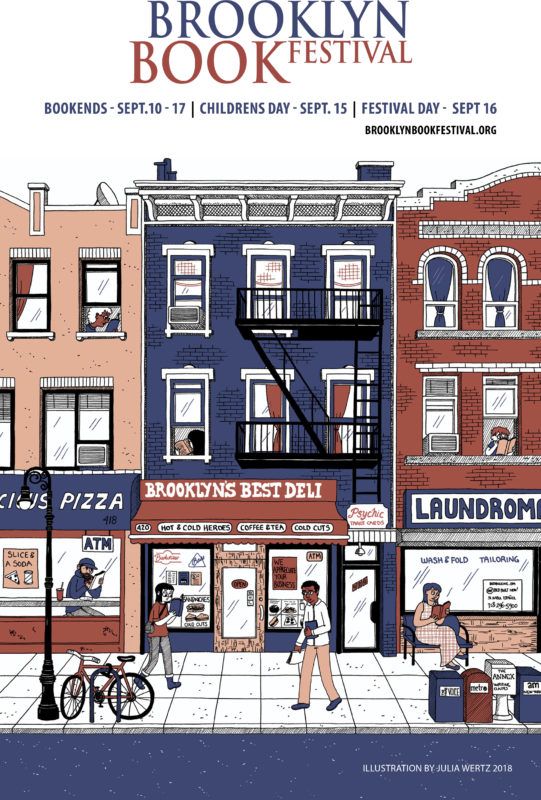 Starting on Monday, September 10, the BKBF's Bookend Events will offer more than 50 special events that showcase NYC's literary diversity and include:
Brooklyn Book Festival Kick-Off Party at Pioneer Works – Sept. 10
Memoir Monday at PowerHouse Arena – Sept. 10
Literary Death Match Brooklyn at Littlefield – Sept. 12
Watery Words: Reading Niedecker on the Gowanus at Dawn on the Carroll Street Bridge – Sept. 12
Thoreau in New York at The Old Stone House – Sept. 12
Grabbing Pussy: Karen Finley at Issue Project Room – Sept. 12
Words@ Weeksville presents An Evening with Joan Morgan – Sept. 13
Puerto Ricans Writing: One Year After Maria at the Leonard Library – Sept. 14
Annual Brooklyn Indie Party at Greenlight Books – Sept. 14
McSweeney's Issue 53 Release Party at Invisible Dog Art Center – Sept. 16
Jennifer Egan on Manhattan Beach at the Brooklyn Public Library's Central Branch – Sept. 17.
Events in Manhattan include: LitProv (Sept. 13), Literaoke (Sept. 13), Poetry World Series (Sept. 13), Should I Stay or Should I Go? New York Stories (Sept. 17), and much more! See the full schedule of BKBF Bookend Events here.
BKBF Children's Day
On Saturday, September 15 at MetroTech Commons, BKBF will host Children's Day from 10am to 4pm. The day will be filled with authors and illustrators of picture books, chapter books, and graphic novels, reading, drawing, and performing to bring their books to life.
Along with music, performances, and a live-action drawing contest, the Gray Lady will host The New York Times for Kids, an interactive event featuring BookReview 101 with the paper's children's books editor Maria Russo; live crossword puzzling with the digital crossword editor Joel Fagliano; and an edition of the Style section's Social Q's for kids.
BKBF Festival Day
The main event—Festival Day—takes place on Sunday, September 16, with 14 stages presenting free literary events featuring more than 300 writers participating in readings, panels, and performances.
Festival Day will take place at Brooklyn Borough Hall (and vicinity) from 10am to 6pm and will include an outdoor Literary Marketplace hosting more than 250 independent booksellers and publishers.
The themes of this year's Festival focus on the modern American family, immigration, innovation, "building queer legacies, and the role of food and drink for nourishment and renewal in cultures."
Just a few highlights of this year's Festival Day include:
Activist Athletes (1pm), a discussion led by writer/activist Shaun King with former NBA player Etan Thomas, Olympian Ibtihaj Muhammad, and The Nation's Dave Zirin
Best of Brooklyn (3pm), a conversation with BKBF's 2018 BoBi honoree, N.K. Jemisin
Passage of Time (5pm), a discussion with authors Martin Amis and Dubravka Ugresic
Tayari Jones and Jennifer Egan in Conversation (4pm).
This year's Festival is also honoring five Brooklyn-based writers as its bookmark authors, offering collectible bookmarks of each at branches of the Brooklyn Public Library, the New York Public Library, and select bookstores. This year's bookmark authors are novelists Tayari Jones, Jennifer Egan, children's author Tad Hills, and poet Gregory Pardlo. Science fiction writer N.K. Jemisin is also a bookmark author as well as this year's recipient of the BKBF BoBi award.
Launched in 2006, the Brooklyn Book Festival is the largest free literary event in New York City. Learn more about the Brooklyn Book Festival and see the full schedule of this year's events at brooklynbookfestival.org.