Bronx Bomber Legends Trade Bats For Bait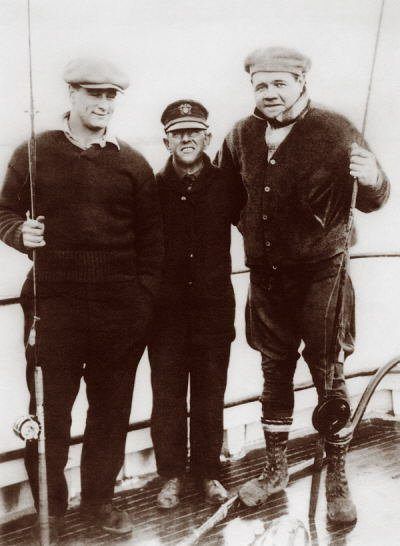 Robert Fernandez of "The Bite" recently got me interested in perusing through some of the local groups on facebook, such as "11229" and "You know you're from Sheepshead Bay when……" in which members often write posts such as (for example) "Anyone remember 'The Flame' on Gerritsen and U" or post photos of long-gone neighborhood hotspots such as Beefsteak Charlie's (yes, we know Ned… it was your favorite) or, my two favorites, Seniors and The Sizzler.
In the aforementioned group, "You know you're from Sheepshead Bay when……," I stumbled upon the above gem of a photo, posted on August 3, 2010 (one year and two days ago) by Lincoln High School graduate Howard Glatter, with the following caption:
Lou Gehrig and Babe Ruth codfishing out of The Bay – 1927. Check out the "knuckle-buster" sidewinder reel on the Babes rod.
Me being ever the skeptic, I wondered how on earth Mr. Glatter knew that the image was captured in Sheepshead Bay, but a little intar-webby research proved he was correct. From Mels-Place.com on "Mike's Maritime Memorabilia" page comes the following description of the above photograph:
After the historic [1927] baseball season concluded, both Gehrig and Ruth took advantage of the off-season to enjoy some of the fine codfishing offered by the Sheepshead Bay party boat fleet. This incredible and rare photo was taken on November 10, 1927 aboard the Sheepshead Bay party boat "ELMAR II". Standing from right to left are Lou Gherig, Captain Gus Rau of the "ELMAR II" and Babe Ruth. They spent the day fishing for cod at the Cholera Bank, and we are sure these two members of the Yankee's 'Murderer's Row' were true to their nickname and dropped a few fish on the deck.
Well, butter my buns and call me a biscuit — I am no Yankees fan, but seeing old Babe and the "Iron Horse" hanging out in the waters off Emmons in Brooklyn Dodgers territory, well…it brings a tear to this Mets fan's eye.