Brighton Beach And Bensonhurst Healthcare Workers Caught Up In Massive "Free Sneaker" Medicaid Fraud That Preyed On Low-Income Victims
UPDATE 2/13/17: This story has been updated to remove a name of an individual against whom all charges have been dismissed as of November 30, 2016.
Several Bensonhurst and Brighton Beach healthcare professionals were indicted today following a massive undercover healthcare fraud investigation.
The 199-count indictment, which names 23 defendants – including nine doctors – alleges they lured "patients" from low-income neighborhoods, homeless shelters, and welfare offices to corrupt medical clinics for unnecessary tests with the promise of free footwear like sneakers, shoes and boots, District Attorney Ken Thompson revealed at a press conference today.
"These defendants allegedly exploited the most vulnerable members of our society and raked in millions of dollars by doing so. The many poor people who were allegedly targeted at homeless shelters, welfare offices and soup kitchens and referred to as 'guinea pigs' by the defendants were exploited for hours, if not days, just because they needed a pair of shoes," said Thompson. "That so many doctors allegedly participated in this elaborate scheme to defraud a health care system designed to help the poor is truly disgraceful."
More than $6.9 million was fraudulently charged over the period covered by the indictment in a scheme in which recruiters went out to low-income areas and approached people on the street and offered them free sneakers if they could produce a Medicaid card and would agree to have their feet examined at a medical clinic, according to the indictment. Eight fraudulent medical companies were also named in the complaint, including two clinics in Trump Village, Coney Island.
The District Attorney identified Upper West Side resident Eric Vainer, 43, as the alleged mastermind and leader of the scheme, and his mother, Polina Vainer, 66, who is from Staten Island, as his second in command.
Vainer and his mother owned a durable medical equipment business, West 5th Medical Supply, located at 496 Neptune Ave – in Trump Village – which worked with the bogus clinics to carry out the fraud, said Thompson. Polina Vainer also allegedly help her son manage the entire operation, overseeing the billing and payroll departments for several of the clinics and medical professionals. Vainer allegedly maintained relationships with podiatrists, a vascular surgeon, cardiologists, pain management specialists, psychiatrists, and others.
One healthcare practitioner from our area named in the indictment is Dr. Henry Sardar, DO, a 39-year-old pain management doctor from Gravesend – who also practices in East New York and Ridgewood, Queens – who allegedly paid the younger Vainer a monthly fee for patients steered to his offices.
The investigation also names five podiatrists, including Nemaan Ghuman, DPM, a Bay Ridge resident who operates a clinic in the Bronx. The podiatrists allegedly saw patients, fabricated symptoms and created false diagnoses, then allegedly prescribed unnecessary DME and vein or artery tests. In some cases, the patients were referred for psychiatric care or pain management. These referrals would then generate recurring visits for which they could bill.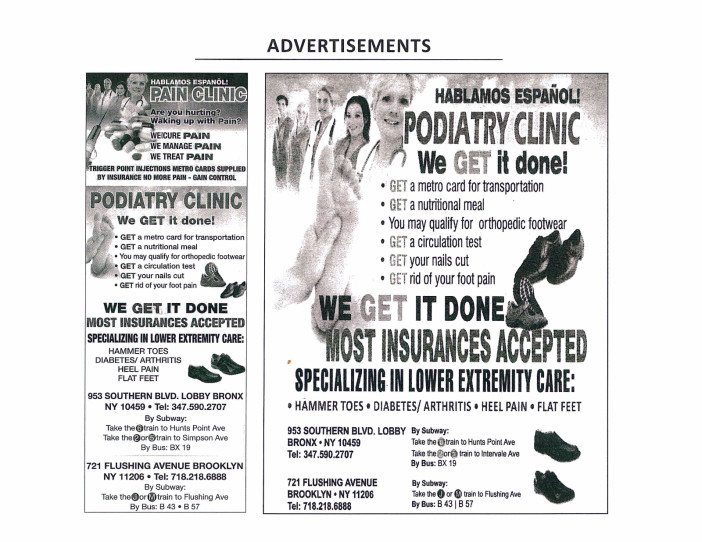 The operation also utilized the services of vascular surgeon David Glass, MD, and cardiologist Joseph Grossman, MD, who either billed Medicaid and other insurance carriers for medical services never performed or for reviewing medically unnecessary vein and artery ultrasounds performed by technicians at Vainer's clinics, prosecutors claim.
Glass was the owner of New York Vein Center, also located in Trump Village (2989 Ocean Parkway). Yelena Korsunskaya, who is from Bensonhurst, was his office manager and the alleged liaison between Glass and Vainer. Prosecutors accuse her of tracking the number of vein tests Vainer and other members of the enterprise sent to Glass for review, and the payments Glass sent to Vainer. Although she worked for Glass, her salary was paid by both Glass and Vainer.
Two other Southern Brooklyn residents named in the indictment are Kirill Shakhov, 26, of Bensonhurst, and Marina Vargas, 49, from Brighton Beach, though it was not immediately clear what their roles were in the alleged scam.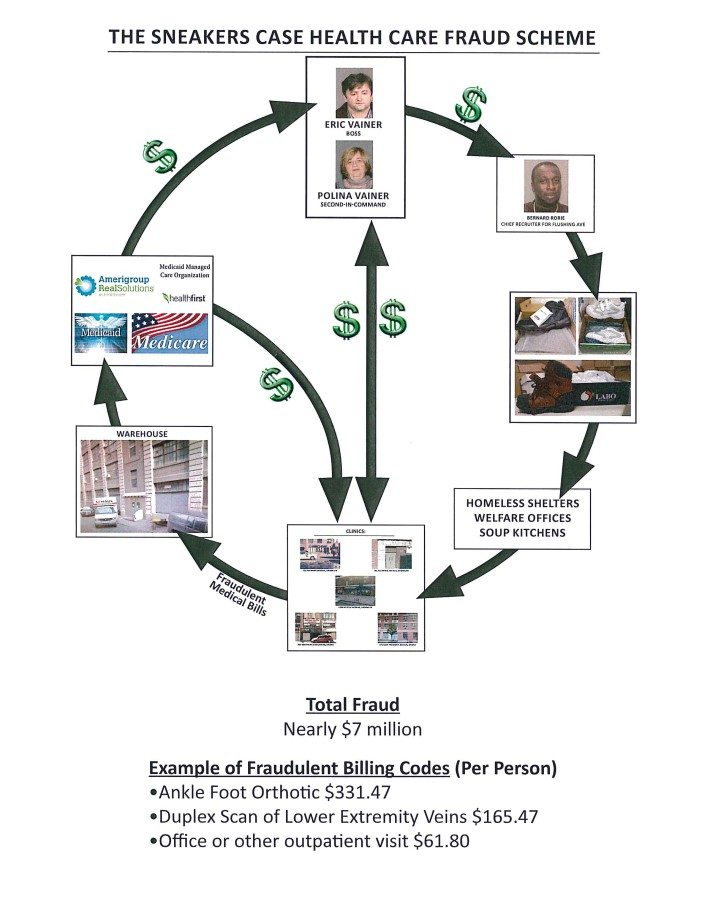 The investigation began in July 2012 after a Brooklyn resident reported her concerns to the District Attorney's Action Center. She said she was approached by recruiters and taken to one of the clinics, where she met with a podiatrist and was given a knee brace and sneakers, according to the DA. When she said she did not need the knee brace, she was told she had to take it to get the sneakers.
An undercover investigation found that between October 1, 2012 and September 30, 2014, the defendants engaged in a criminal enterprise by intentionally participating in a pattern of criminal activity through the fraudulent operation of medical clinics and the submission of fraudulent claims to Medicaid and Medicare, according to the indictment. In addition to doctors, the defendants include nurse practitioners, physician's assistants, technicians, office staff, recruiters, managers and billers.
The recruiters operated throughout the City, including in the Bronx; Richmond Hill and Jamaica, in Queens; a Men's shelter in Chelsea; and in Brooklyn, in Bushwick, Brownsville and East New York, among other places.
Eric Vainer allegedly decided what medical tests, procedures and durable medical equipment would be ordered, dispensed and billed, and sometimes, even, how the medical providers would be compensated.
It is alleged that some of the medical providers paid Vainer a kickback and others split with him the money generated from insurance billings. Vainer allegedly ensured that he was properly compensated by tracking the number of patients seen by the different doctors by computer and daily reports from office managers.
Some of the defendants were arraigned before Brooklyn Supreme Court Justice Danny Chun this morning on an indictment in which they are variously charged with enterprise corruption, first-degree money laundering, first-degree scheme to defraud, first-degree health care fraud, first-degree falsifying business records, first-degree offering a false instrument for filing, fourth-degree grand larceny, fourth-degree attempted grand larceny, fourth-degree conspiracy, social service law, petit larceny and attempted petit larceny.
United States Attorney's Office has obtained warrants to seize 13 bank accounts into which payments from the defrauded federally funded programs could be traced. The defendants are ordered to return to court on May 19, 2015. If convicted, they face up to 25 years in prison on the top count.