Brighton Beach's Bright N' Green Energy Efficient Condos Hit The Market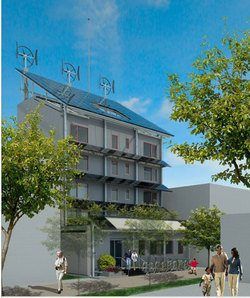 If you happen to be in a contest that measures who is the city's greatest yuppie, plopping down $795,000 on a freshly completed Bright N' Green condo unit (67 Brighton First Lane) might score you some huge points in your quest. Well, except for the fact that you're in Brighton Beach, and not Park Slope.
According to a press release, the futuristic and environmentally-conscious pads are finally ready to take in owners looking to enjoy the luxuries of solar panels, wind turbines and insulated panel walls. The $795,000 price is for a two-bedroom loft with outdoor space, and prices go down as low as $295,000 for a studio. There are six units in total.
As we previously reported, the eco-friendly building was developed by Robert Scarano, an architect once banned by the Department of Buildings for submitting false and misleading paperwork. Despite Scarano's sketchy reputation, the new building does seem very impressive, featuring the aforementioned solar panels, wind turbines on the roof and also a geothermic-based heating and air conditioning system.
If you are interested into moving into this novel new structure, the press release laid out the amenities:
The environmentally-friendly building has four duplex lofts and two flats, all with clean lines, contemporary finishes and recycled wood floors. The apartments' light-maximizing windows are composed of triple-glazed Krypton-filled solar thermal treated glass and installed inside double-sealed, air-tight insulated window frames. Kitchens feature custom-designed, blond-wood cabinetry with state-of-the-art electric appliances, including super-efficient induction cook-tops. The porcelain-clad bathrooms have stainless-steel hardware and dual flush, low-flow toilets. In addition, each unit has a combination washing machine and dryer. Building amenities include a bicycle room accommodating up to two bicycles per apartment, and furnished, landscaped roof deck with hot tub, barbeque, birdhouses for migratory species, and ocean views. All apartments, public spaces, mechanical rooms and commercial spaces are supplied with energy-efficient LED lighting.
Scarano himself expressed his belief that the building is competitive with market rates and will be a boon to the community of Brighton Beach.
"The timing is perfect for a market launch because our asking prices are better than competitive and the environmental benefits of this building are unparalleled. We've created an apartment mix that spans starter to family-size to ensure a community-oriented building. We even plan to lease the 1,000-square-foot, ground-level commercial space to a progressive type of tenant such as a yoga center or preschool, to benefit the neighborhood, overall," Scarano said in the release.
They had me at triple-glazed Krypton-filled solar thermal treated glass. Good luck trying to arrest me now, Superman. Mwahaha!
Photos of the units have been hard to come by, but we did find this interior rendering thrown into a very fast-moving animation on their website. It kind of reminded me of one of the proposed New York City micro apartments.