New Breastfeeding Initiative Unveiled at Brooklyn Public Library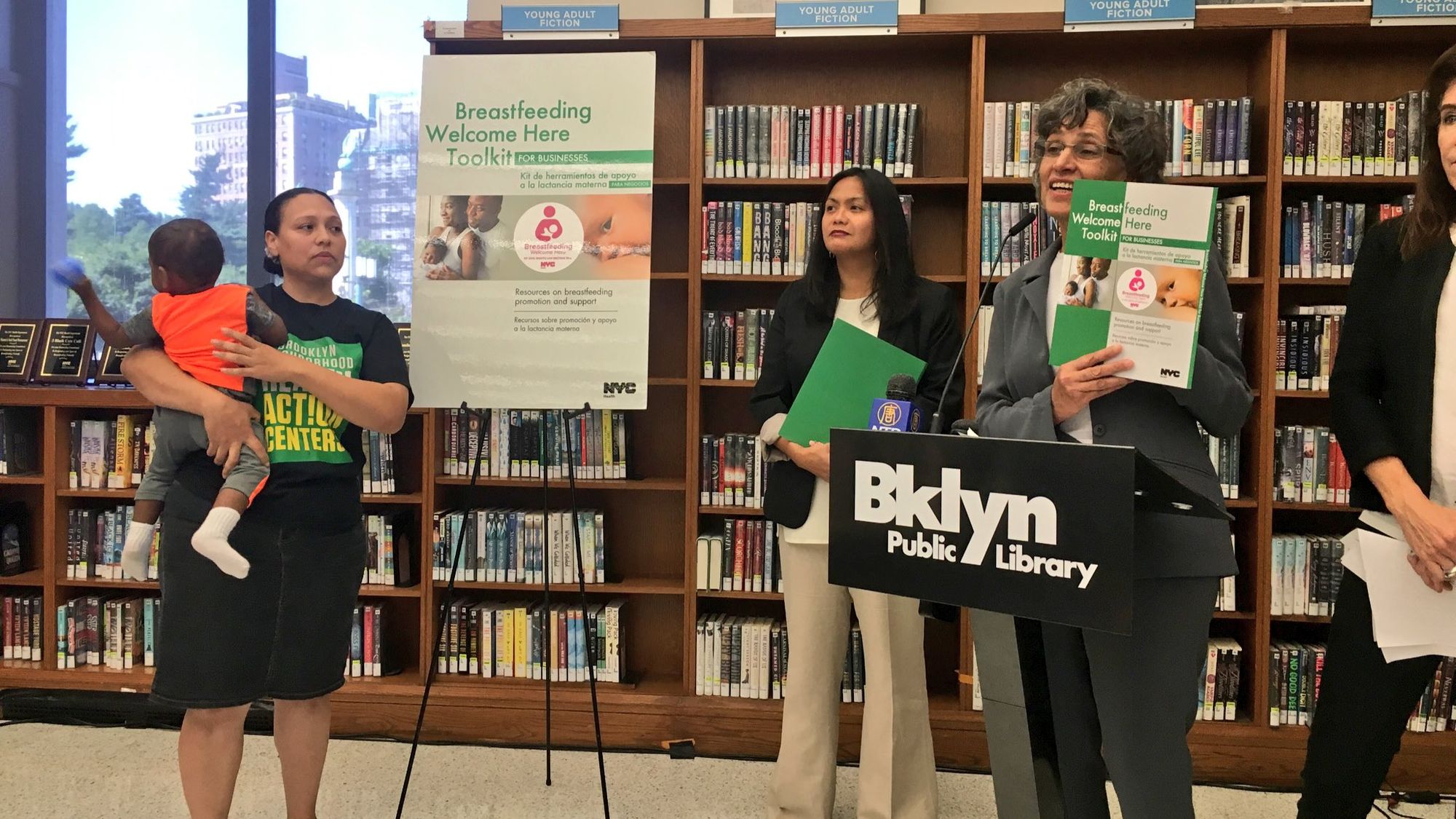 Today, the Health Department's Center for Health Equity announced it would be opening a new Baby Café at the Neighborhood Health Action Center in Brownsville, as well as creating toolkits for local businesses about breastfeeding.
Announced at the Brooklyn Public Library this morning, the new program coincides with National Breastfeeding Month.
The toolkits created by the department include information on New York's breastfeeding laws, a "Breastfeeding Welcome Here" decal for the business and examples of family-friendly policies regarding breastfeeding.
In Brownsville, the Baby Café at the Neighborhood Health Action Center will connect pregnant and breastfeeding mothers with staff lactation consultants as well as other parents in an effort promote breastfeeding in a neighborhood with the lowest rate of breastfeeding in Brooklyn.
"Far too many mothers are still without adequate information and support regarding their rights and what resources are available to them, should they choose to breastfeed," said Councilmember Laurie Cumbo. "I applaud the Health Department for their critical efforts in launching a breastfeeding toolkit and highlighting breastfeeding-friendly spaces."
During the announcement at the Brooklyn Public Library, the Health Department recognized ten small businesses, offices or public spaces that allow and encourage breastfeeding:
3 Black Cats (3 Belmont Avenue)
The Office of Assembly Member Walter T. Mosley (55 Hanson Place)
Bed-Stuy Provisions (563 Gates Avenue)
Brooklyn Borough Hall (209 Joralemon Street)
Brooklyn Public Library (10 Grand Army Plaza)
The Office of Council Member Laurie Cumbo (55 Hanson Place, Suite 778)
The Office of Council Member Robert Cornegy (1360 Fulton Street, Suite 500)
Life Wellness Center (376 Tompkins Avenue)
Manna's Soul Food Restaurant (478 Rockaway Avenue)
Sincerely Tommy (348 Tompkins Avenue)
"There's nothing more beautiful than the love between a mother and her child, and that's why I'm proud to have created a lactation room at Brooklyn Borough Hall, which served as a catalyst for our legislation to advance breastfeeding-friendly facilities in public buildings across our city," said Borough President Eric Adams.
"It is critical that we continue to support Brooklyn's mothers and their families by providing comfortable and safe spaces to breastfeed in public and places of business, and the expansion of this initiative through the new breastfeeding toolkit and Baby Cafés is a great step in that direction," he said.
In 2016, Adams was a supporter of the breastfeeding bill Cumbo helped to pass in the City Council, which required public buildings to provide space for breastfeeding.