BREAKING: Two Sheepshead Pharmacies Busted In Medicare Sting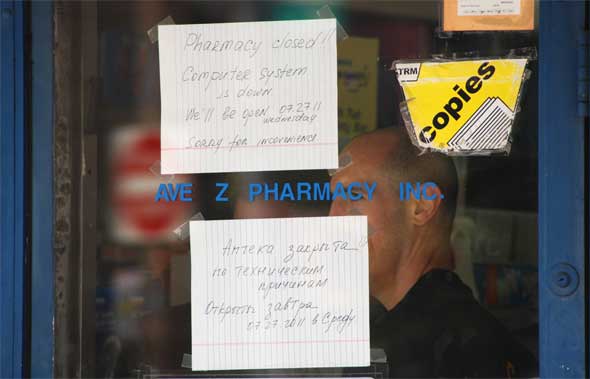 Federal agents raided two Sheepshead Bay-area pharmacies early this morning and arrested their former owners as part of a multi-million dollar Medicare bust.
(UPDATE: A newer version of this story, with details from the Department of Justice, has been posted.)
Authorities are still on the scene at Monica's Pharmacy (1324 Sheepshead Bay Road) and L&A Pharmacy (394 Avenue X), and agents told Sheepshead Bites that the former owners were arrested for fraudulent billing practices. According to the agents, the investigation focuses at least partially on Medicare prescription drug coverage, alleging that the former owners may have billed for far more pharmaceuticals than they dispensed. Though they did not give an exact number, they said it was in the millions, and that investigators were tipped off when records showed the two mom-and-pop stores were billing the taxpayer-funded program for more than the local retail pharmacy chains like CVS and Duane Reade were collecting.
The raids occurred at approximately 7:00 a.m. this morning, following the arrest of the individuals. The agent said the pharmacies were both recently handed off to new owners, and the raids are to obtain records from the computer systems operated by the former owners. It was unclear if the owners of the two stores were connected in any way, but the agent added that they live very close to one another.
The individuals arrested are expected to appear before a judge later today.
As of 11:00 a.m., agents are still on scene at Monica's Pharmacy. The store is closed for business, and a sign in the window tells customers that it's because the computer systems are down. The agent said it's likely that the pharmacies will be able to reopen as soon as tomorrow.