BREAKING: Truck Accident Sparks Fire On Avenue S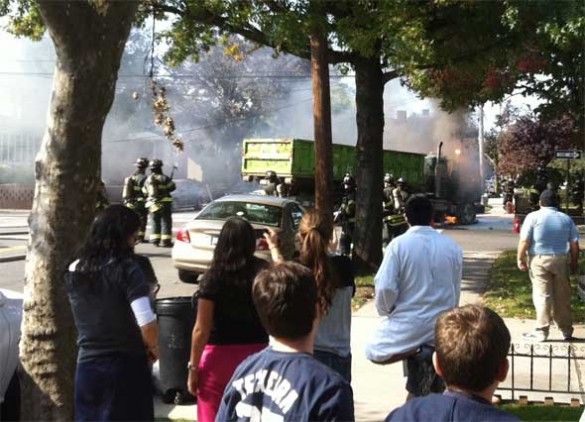 Reader Shadowlock just informed us of an accident on Avenue S, between Bedford Avenue and East 24th Street, that occurred shortly before 11:30 a.m.
A large truck was traveling west on Avenue S, when it suddenly struck a car then veered off into a utility pole. A fire then broke out, though it's not clear whether the truck was on fire or the utility pole, with Shadowlock telling us that there were sparks coming from the utility pole.
Firefighters are still on the scene as of the time of this posting (11:50 a.m.). It is not yet clear if anyone was harmed in this accident.
UPDATE (12:18 p.m.): It looks like it's the utility pole that's on fire. Shadowlock sent this video, which he begins to narrate and act all reporter-like, until a loud burst scares the heck out of him and every other rubbernecker at the scene. In the video, you can hear the pops and electrical buzzing, and see the smoking mechanical box, which firefighter begin dousing with water.
UPDATE (12:23 p.m.): Here's another video from Shadowlock that shows exactly where the pops are coming from. It looks like one of the electrical wires may have came down and landed underneath the truck.
And here's another one, this time 7-minutes long. My favorite part is at 6:05, when even the firefighters seem to have a "WTF" moment.
This is a breaking news story and may contain inaccuracies. We will update it as more information becomes available.