BREAKING: Police Car Collision On Ave Y And East 13th Street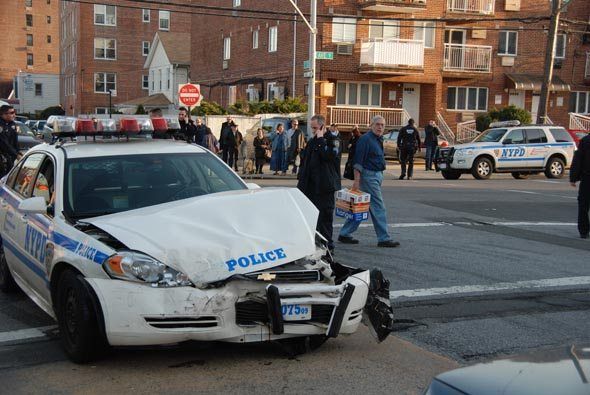 Moments ago, at around 6:25 p.m., a police car collided with another vehicle on Avenue Y and East 13th Street, leaving the car "wrecked" according to a witness.
"It sounded like a gunshot, I think the whole neighborhood heard it," said a Sheepshead Bites reader who witnessed the accident.
According to witnesses, the police car was traveling east on Avenue Y, speeding with its lights on. The officer did not sound his siren, and a car that a witness said was speeding came into the intersection, going north on East 13th Street. The two collided, wrecking the front of the police car and causing damage to the front driver side of the civilian vehicle.
No one was seriously injured, though the civilian driver – a senior citizen with handicap plates – was complaining about minor pains.
Police, FDNY and other emergency services are arriving on the scene as we write, and Avenue Y was closed off from East 12th Street to East 14th Street.
This is breaking news and will be updated as we receive more information.