BREAKING: Pedestrian Struck, In Critical Condition, On Ave S And East 15th Street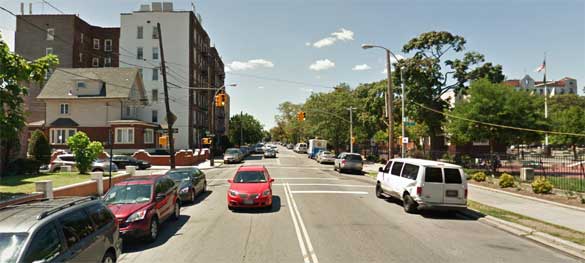 UPDATE (1:29 p.m.): Flatbush Scoop is reporting that the victim was an elderly woman, and has passed away from her injuries.
Original post:
A pedestrian was struck by a vehicle on Avenue S and East 15th Street, leaving the victim in critical condition, according to police scanner reports that came over just minutes ago.
The pedestrian is still on scene, suffering from traumatic arrest. Traumatic arrest is a condition in which the heart has ceased to beat due to trauma to the chest area that involves the heart.
Emergency responders including NYPD Highway units are en route to the scene.
This is a breaking news story and may contain inaccuracies. We will update it as more information becomes available. If anyone has more information or additional photos, please send them to tips (at) sheepsheadbites (dot) com.
Correction (12:51 a.m.): Due to a lack of coffee, my brain somehow originally identified this as Midwood for whatever reason. The above post has been amended.