BREAKING: Fire On Emmons Avenue And Lake Avenue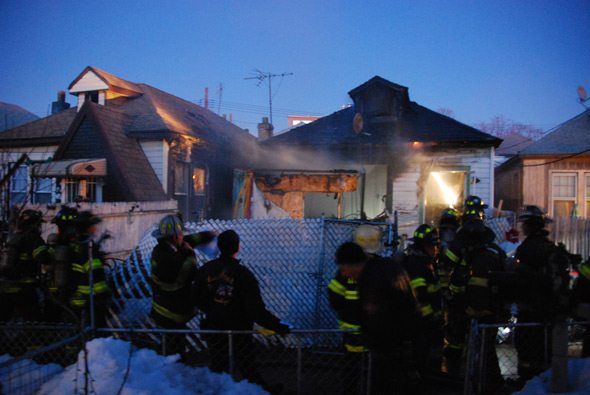 UPDATE (7:15 p.m.): This one's a doozie. The important details: two homes were involved – 8 and 9 Lake Avenue. The fire originated in 8 Lake Avenue, destroying the house, and doing massive damage to the home next door. Firefighters were able to extinguish the majority of the flames in about 20 minutes, but spent the next two hours eliminating any other potential risks.
No one was hurt, though there did appear to be a tremendous amount of property damage.
There's a lot more to this story that Sheepshead Bites will bring you tomorrow morning, including photos, video and neighborly feuding. But, for now, I've stood out in the cold, destroyed my sneakers, and most of my clothes smell of the fire. I've earned a break.
Original post (5:23 p.m.):
We've just received word of a fire at Emmons Avenue and Lake Avenue. We're told it's a two alarm fire, and is affecting two buildings.
This location is the site of tightly-packed bungalows, and if it is deep in the "colony" it may be difficult for firefighters to tackle the blaze. We'll update with more information as it becomes available.
This is a breaking news story and may have inaccuracies. It is subject to change. If you have information, photos or video, please e-mail us at nberke [at] sheepsheadbites [dot] com.
Thanks to Dan Cavanagh of GerritsenBeach.net for tipping me off to the fire, and then persistently annoying me to credit for said tip.