CONFIRMED: Maksim Gelman Kills Again – Girlfriend And Her Mother – East 24th St. And Ave. Y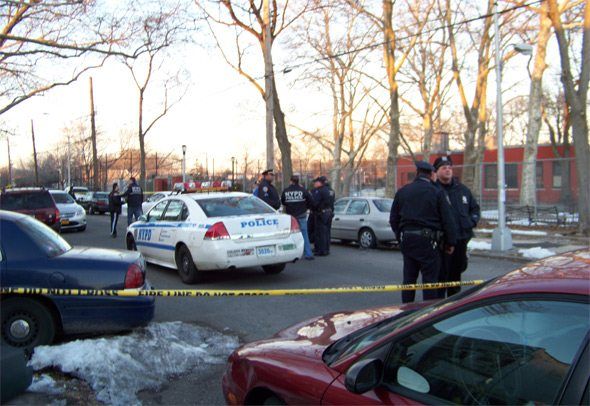 When it rains it pours! Sheepshead Bites just received word of a double
shooting
stabbing at East 24th Street and Avenue Y, across from Bill Brown Park. We are sending someone to the scene and will have more information as it becomes available.
UPDATE (5:05 p.m.): We've confirmed that there is an NYPD Level 1 Mobilization in effect at East 24th and Avenue Y, a response reserved for incidents such as shootings, bank robberies and special category missing person.
UPDATE (5:10 p.m.): Now hearing two dead, one transported, stabbing and carjacking. This is unconfirmed.
UPDATE (5:40 p.m.): Our reader on the ground told us that he heard that the perp in this crime exited a silver Lexus and stabbed two people before taking their car. We're beginning to think this is related to the murder this morning in which Maksim Gelman stabbed his stepfather to death before fleeing in a silver Lexus.
UPDATE (5:57 p.m.): Confirmed homicide and carjacking. Police now searching for a green 1995 Pontiac Bonneville with plate numbers KJX189. Perp fled in an unknown direction. If you see this car, call 911 immediately! Perp remains armed and dangerous, so seek safety.
UPDATE (6:08 p.m.): CONFIRMED! It is the same Maksim Gelman as this morning's murder. He is now wanted for the stabbing deaths of three individuals. In addition to killing his stepfather this morning, he is now suspected of killing his girlfriend and her mother. He took their car, the green 1995 Pontiac Bonneville, and fled. Then he struck a female pedestrian at Ocean Avenue and Avenue R, leaving her in critical condition.
Call 911 if you have information on the wherabouts of MAKSIM GELMAN – M/W/23, 6'00 170 LBS – last seen wearing a white shirt and black hat, driving a green 1995 Pontiac Bonneville. HE IS ARMED AND DANGEROUS!
This is a breaking news story and may have inaccuracies. It is subject to change. If you have information, photos or video, please e-mail us at nberke [at] sheepsheadbites [dot] com.