BREAKING: 4 Hospitalized In 'Bloody' Car Wreck On Nostrand Avenue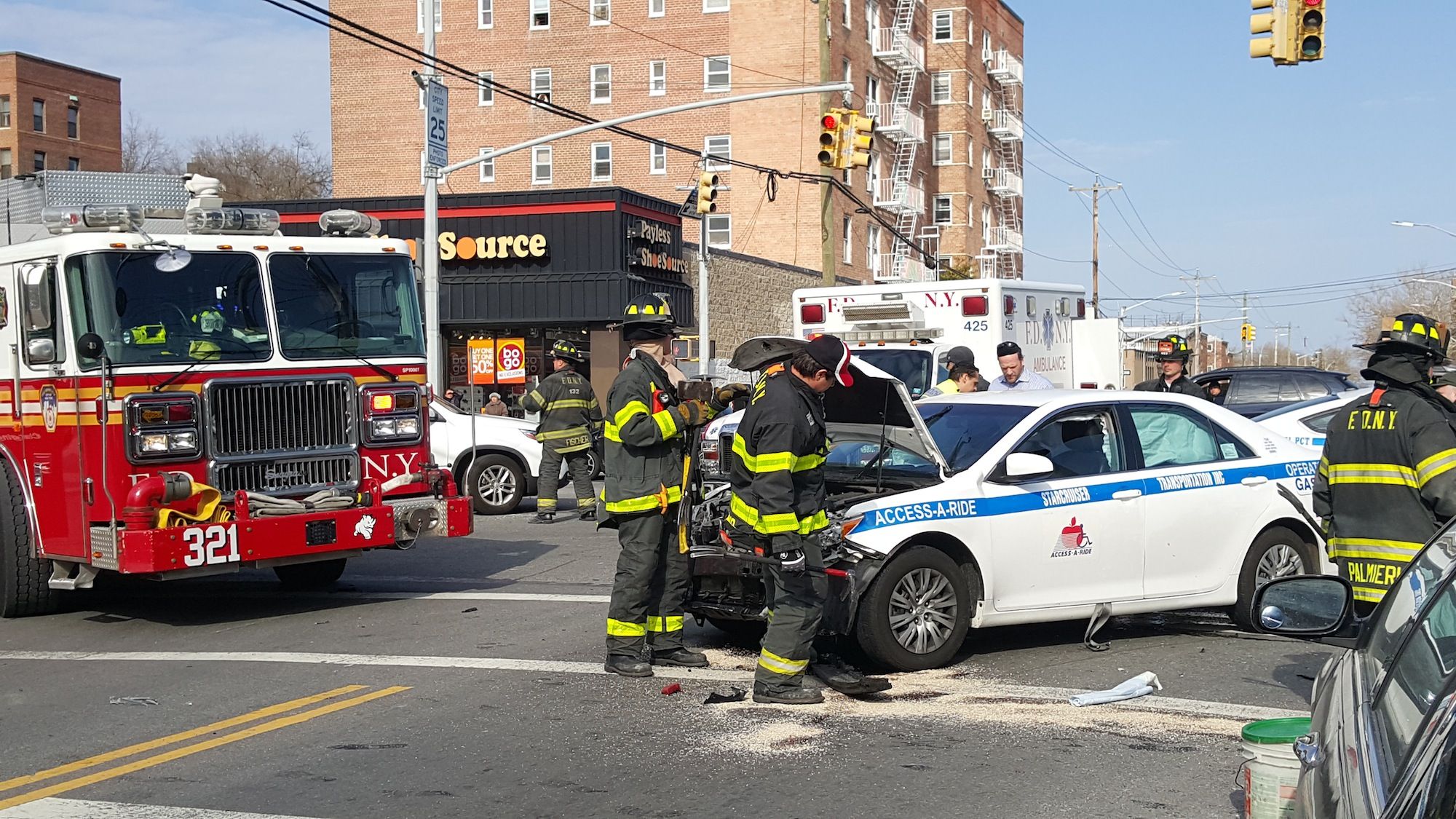 Four people were hospitalized this afternoon when an Access-A-Ride slammed into another vehicle near the corner of Nostrand Avenue and Avenue Y, according to a witness.
Neighbor Stacey Kraus, who sent photos of the crash, said the Access-A-Ride plowed into a grey Scion sedan — throwing the vehicle into an elderly man walking on the sidewalk.
"This is one if the worst accidents I've seen," she said. "There's blood running down the sidewalk. It's a total mess."
Authorities had limited information to provide. The FDNY says the crash occurred just before 4:30pm. Four people were injured, one seriously, and were taken to Coney Island Hospital. Police reported the accident involved two cars and that a man injured at the scene is now in stable condition.
Kraus' photos show the front of the Access-A-Ride completely crumpled, with twisted shards of metal from the bumper flung around the street. Meanwhile, the Scion is resting on the sidewalk with its passenger-side caved inwards and the front airbags ballooned out of the dashboard.
We'll update this story when authorities provide more information.
Update [April 12, 1pm]: Police tell us the driver of the Scion was traveling north on Nostrand Avenue when he made a left turn onto Avenue Y. His view was obstructed by a southbound MTA bus, he told police, and he didn't see the Access-A-Ride behind it. The two vehicles collided at the intersection, throwing the Scion to the sidewalk, where it struck a pedestrian, according to the NYPD.