Brannan endorses Max Rose for Congress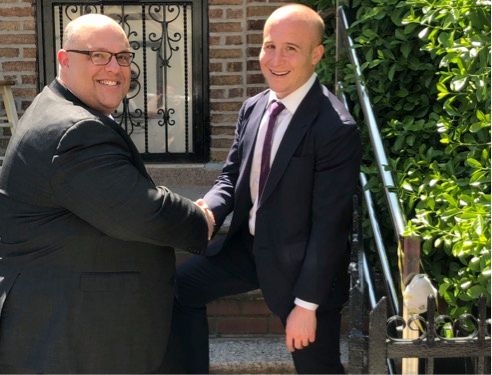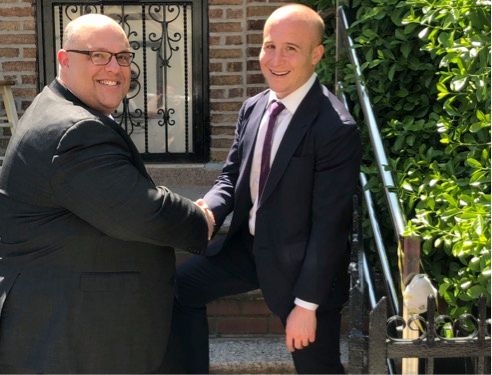 Both of their significant others are named Leigh, and now these two Southern Brooklynites are looking to share the same district.
In his very first endorsement as an elected official, City Councilmember Justin Brannan of the 43rd Council district is throwing his support behind the Democratic front-runner for NY11, Max Rose.
"This year, I am laser-focused on doing everything I can to help take back the House, said Brannan. "That's why we need people like Max Rose. Max has the guts to take on special interests and the backbone to fight like a beast for the middle-class day in and day out."
Rose is looking to unseat U.S. Rep. Dan Donovan, a Republican, serving the 11th congressional district. In a valiant Democratic effort to "flip the house," Rose faces five other Democratic candidates in an upcoming June primary.
The NY11 candidate is an Army veteran, who during a yearlong tour in Afghanistan earned a Purple Heart and Bronze Star. After military service, Rose worked as Director of Public Engagement and Special Assistant to the former Brooklyn District Attorney, Ken Thompson.  In that position, Rose helped develop programs such as Begin Again, which helps in resolving low-level offenses for thousands of New Yorkers.
"I first met Max many years ago when he was working for my dear friend, the late Ken Thompson," said Brannan. "I knew then that Max was like me – an independent guy who doesn't take no for an answer when it comes to helping everyday people make ends meet."
"Max won't take a cent in corporate PAC donations because he refuses to be bought off like everyone else in DC these days," added Brannan.
In December, Rose released a press release vowing never to take Corporate PAC contributions. The 31-year-old claimed that for decades, large corporations have bought influence in Washington D.C.
"Max's only priority will be fighting for our fair share of the resources we need and deserve to improve public transportation, defeat the opioid and heroin epidemic, and keep our kids safe from gun violence. I hope you'll join me in supporting Max Rose for Congress and taking back NY-11."
Prior to running for office, Rose served as chief of staff for Brightpoint Health, a not-for-profit healthcare organization that responds to the health needs of underserved New Yorkers. There the candidate said he learned to navigate complex issues involving the community and their healthcare – a formidable attribute for Staten Island and Southern Brooklyn residents plagued by the nation's opioid crisis.
"Councilman Justin Brannan exemplifies what it means to be a public official and I am looking forward to working with him to overcome the challenges we face in the 11th Congressional District," said Rose.
"Congress has ignored our crumbling infrastructure, raised our taxes, and won't even debate how to keep our kids safe from gun violence. We deserve better. We need leaders with that same kind of commitment to put country and results over petty politics and that's the kind of Representative I will be if elected," added Rose.