BP Eric Adams Offers Award To Nab Armed Suspect Preying On Elderly Women In Park Slope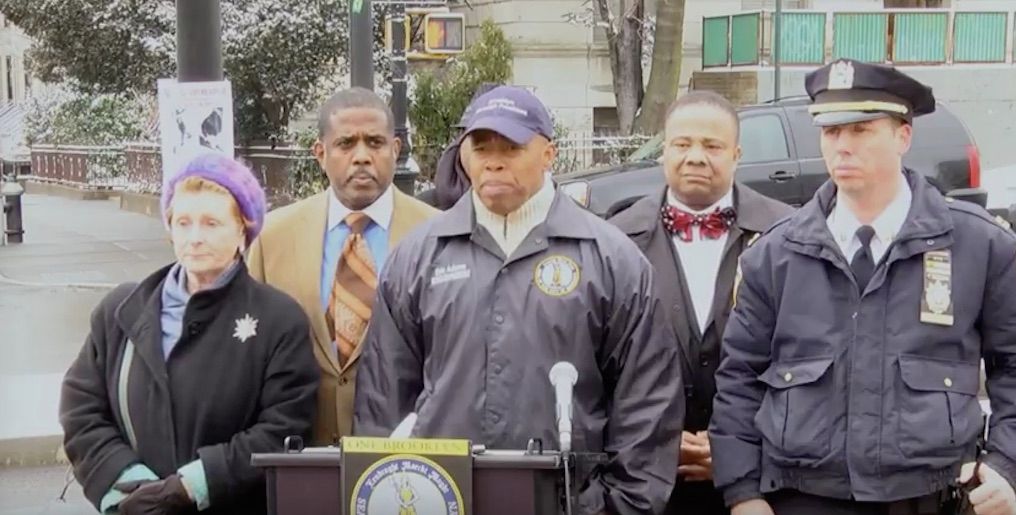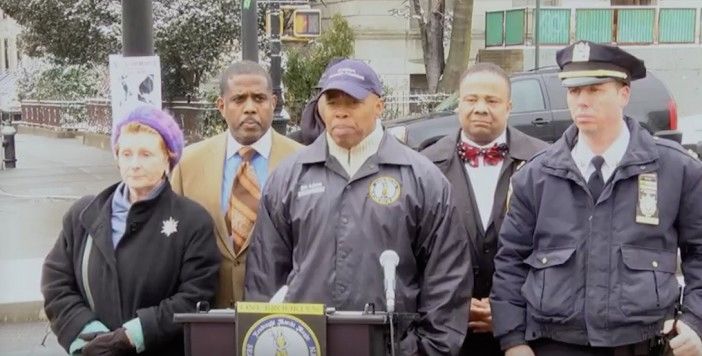 Standing across the street from 551 9th Street, where Elizabeth Gioino, the 91-year-old woman was assaulted at gunpoint and robbed on Wednesday of this week, Brooklyn Borough President Eric L. Adams and other community leaders appealed to the community-at-large to help find the man responsible.
"[This is] a 250-pound brut who used physical force and a gun that sends a terrible, chilling message in a community which isn't known for violent crimes of this magnitude," Adams said.
The police have offered a $2,500 reward for information about the attacker, which Adams has added an additional $1,000 from his personal account. Adams also wrote a personal check for $175 that will go directly to Gioino to cover what was taken from her in the incident.
Gioino is the second elderly woman to be assaulted and robbed in the area. On February 11 at approximately 2:30pm, the same suspect entered the home of a 71-year-old woman, struck the victim in the head with a handgun, and then demanded money. That incident took place in the vicinity of 6th Avenue and Prospect Place, cops say.
"When you are of 90 plus years, losing $175 through a crime of this magnitude not only traumatizes you emotionally, but it traumatizes you financially," Adams said. "This is a bad person that needs to go where bad people go, which is jail."

Courtesy of the Office of BP Adams.
When asked how elderly people in the area could protect themselves, NYPD 78th Precinct Commanding Officer Frank DiGiacomo urged people to be proactive in protecting elderly people who may be targeted.
"You see a 90-year woman getting followed, we need the community to help out," DiGiacomo said. "If you see an elderly woman getting followed, call the police."
Video via NYPD
Adams said that they already do a series of lectures to senior centers dealing with public safety, but they will be enhancing their efforts in the Park Slope area within the next few days. There is also an initiative that will be unveiled within the next few months which will enlist local businesses to use cameras in order to enhance safety.
Adams praised the 78th Precinct for keeping the area safe, emphasizing he does not believe this is the beginning of a new crime problem.
"We have a bad guy carrying a weapon and we're going to have the good guys apprehend him so we can continue to have a safe community," Adams said.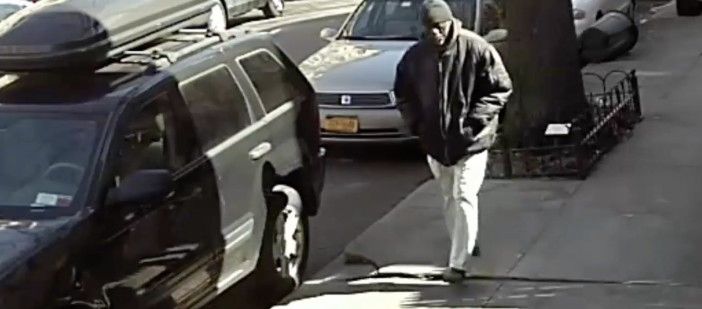 The suspect is described as a male, black, 40-50 years old, 5'10"-6'0″, and weighing approximately 250 pounds. Cops say he was last seen wearing a dark-colored hooded sweater, a black jacket, a black wool cap, black gloves, light-colored pants, and dark-colored shoes.
Anyone with information is asked to call Crime Stoppers at 1-800-577-TIPS (8477) or for Spanish, 1-888-57-PISTA (74782). The public can also submit tips by logging onto the Crime Stoppers website or by texting your tips to 274637 (CRIMES) then entering TIP577. Police say all calls are confidential.