BP Adams Honors Sea Gate Cops Who Saved Choking Baby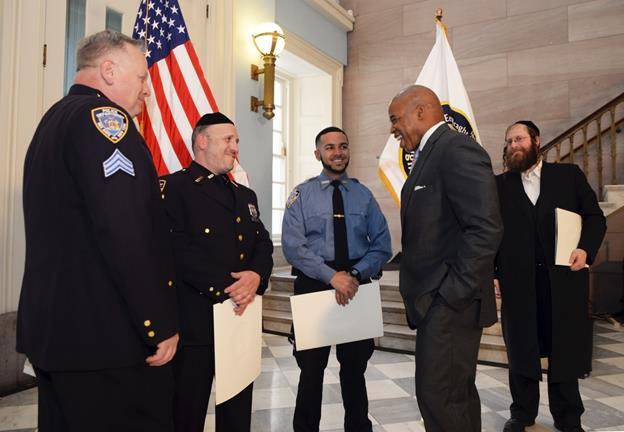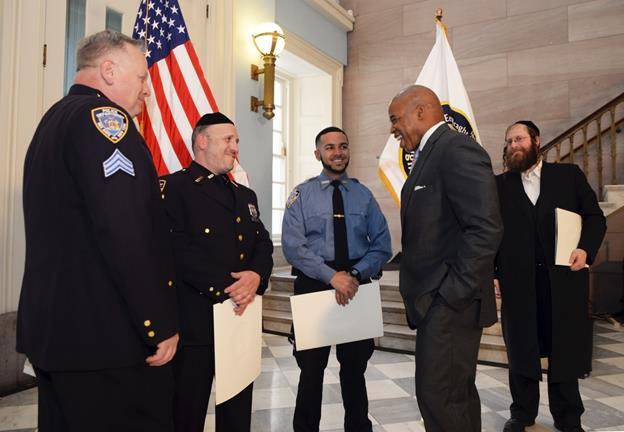 Borough President Eric Adams on Thursday honored members of the Sea Gate Police Department who rescued a choking newborn earlier this year.
Sergeant Fredrick Manney, Officers Vinny Giardiello, Joseph Pascone, Nuchem Schwartz, and Thomas Schulz, and Cadet Elijah Santos of the Sea Gate Police Department were declared "Heroes of the Month" for March during a ceremony at Brooklyn Borough Hall.
The BP's office reports that Manney, an army veteran, received a call on January 25 about a five-month old baby named Mikaela Tatarkina having trouble breathing. When he arrived, the child was unresponsive. Manney called an ambulance and began administering CPR. He also placed an ice pack under the child, which helped revive her. The other officers cleared Neptune Avenue to allow the ambulance to arrive. They also gathered all the food and medication the baby had consumed so the tests could be performed at the hospital. The baby girl has since recovered, the BP's office announced.
"The work of the Sea Gate Police Department to save the life of Mikaela personifies public service," Adams said in a press release. "These individuals used all of their training to answer the call of duty and to prevent a tragedy."
Williamsburg resident Shloime Kohn was awarded April's "Hero of the Month" for rescuing a woman attempting to jump off the Brooklyn Bridge.
"Our latest 'Heroes of the Month' have demonstrated their superlative commitment to the protecting the life of another individual," said Adams. "Their stories should inspire all of us, whether we wear a blue uniform or blue jeans, to become heroes in our own lives and answer the call when our neighbors are in trouble."