Boys Will Be Boys, But Sometimes It Takes A Lady To Get A Job Done (a.k.a. More On Toll Relief)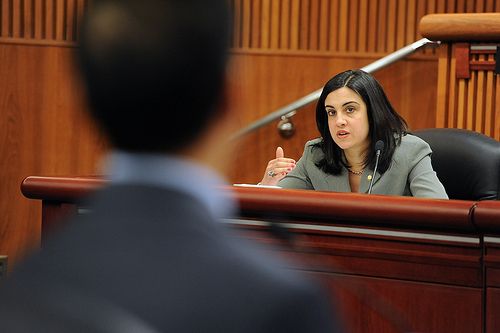 Following our post yesterday about toll relief on the Verrazano-Narrows Bridge and the who-said-what-first sniping that's popped up between State Senator Marty Golden, his Democratic opponent Andrew Gounardes, and Councilman Vincent Gentile (who, it appears, actually said it first), Republican Assemblywoman Nicole Malliotakis rang in today with her own bit of mischievousness.
"If the three of them could get along, maybe they can get a carpool discount," she told Bensonhurst Bean.
Regardless of the discount, we would love to have a seat in that car, too. The exchanges would have to be better than whatever cruddy reality shows are coming out of Brooklyn these days (we're looking at you, Brooklyn, 11223).
Jokes aside, Malliotakis also took issue with Gounardes' assertion that "Golden is asleep at the wheel" when he failed to fight for Brooklyn drivers to be included as part of the three-bridge deal in Staten Island.
"We made sure when we did get that deal for the three bridges that it would also extend into Brooklyn," Malliotakis said. "When he sent out this release saying that Staten Island is getting it and Brooklyn is not, he's actually wrong."
Under the deal, which Malliotakis and other legislators announced this month, the toll for enrolled E-Z Pass users with non-commercial plates shall be $4.75 per trip after three trips are completed within a calendar month at the Goethals Bridge, Outerbridge Crossing and/or the Bayonne Bridge. The change should take effect by September at the latest.
Golden, Gentile and Malliotakis were all among the local elected officials who asked the governor to extend the deal to Brooklynites after it was first announced for Staten Island.
All three, and Gounardes, are now demanding a similar deal for the Verrazano-Narrows Bridge.