Borough President Unveils Memorial Honoring The 266 Brooklyn Residents Lost On 9/11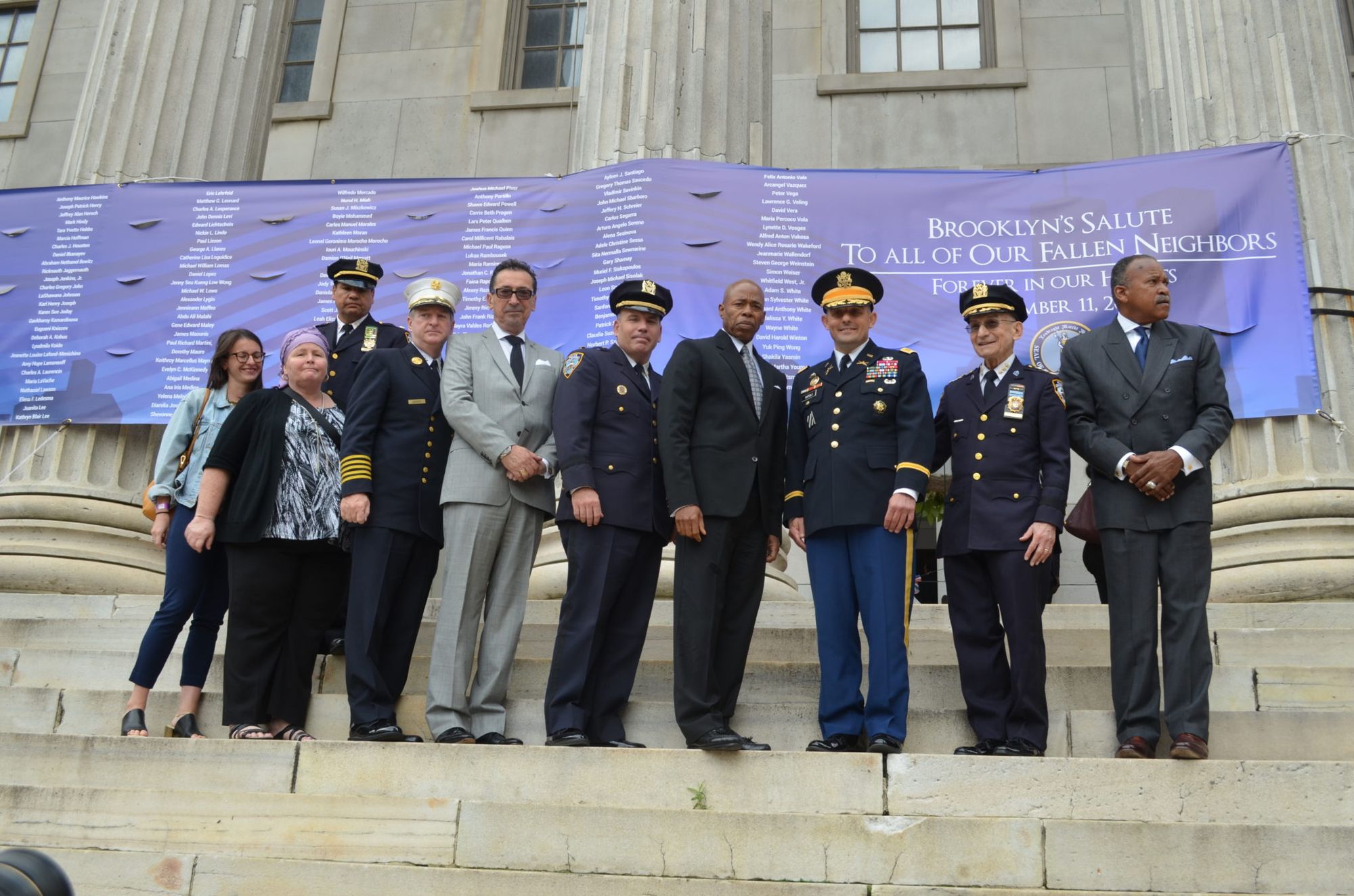 DOWNTOWN BROOKLYN – Brooklyn Borough President Eric L. Adams unveiled a banner this morning at Brooklyn Borough Hall featuring the names of all 266 Brooklyn residents who lost their lives 16 years ago during the 9/11 attacks.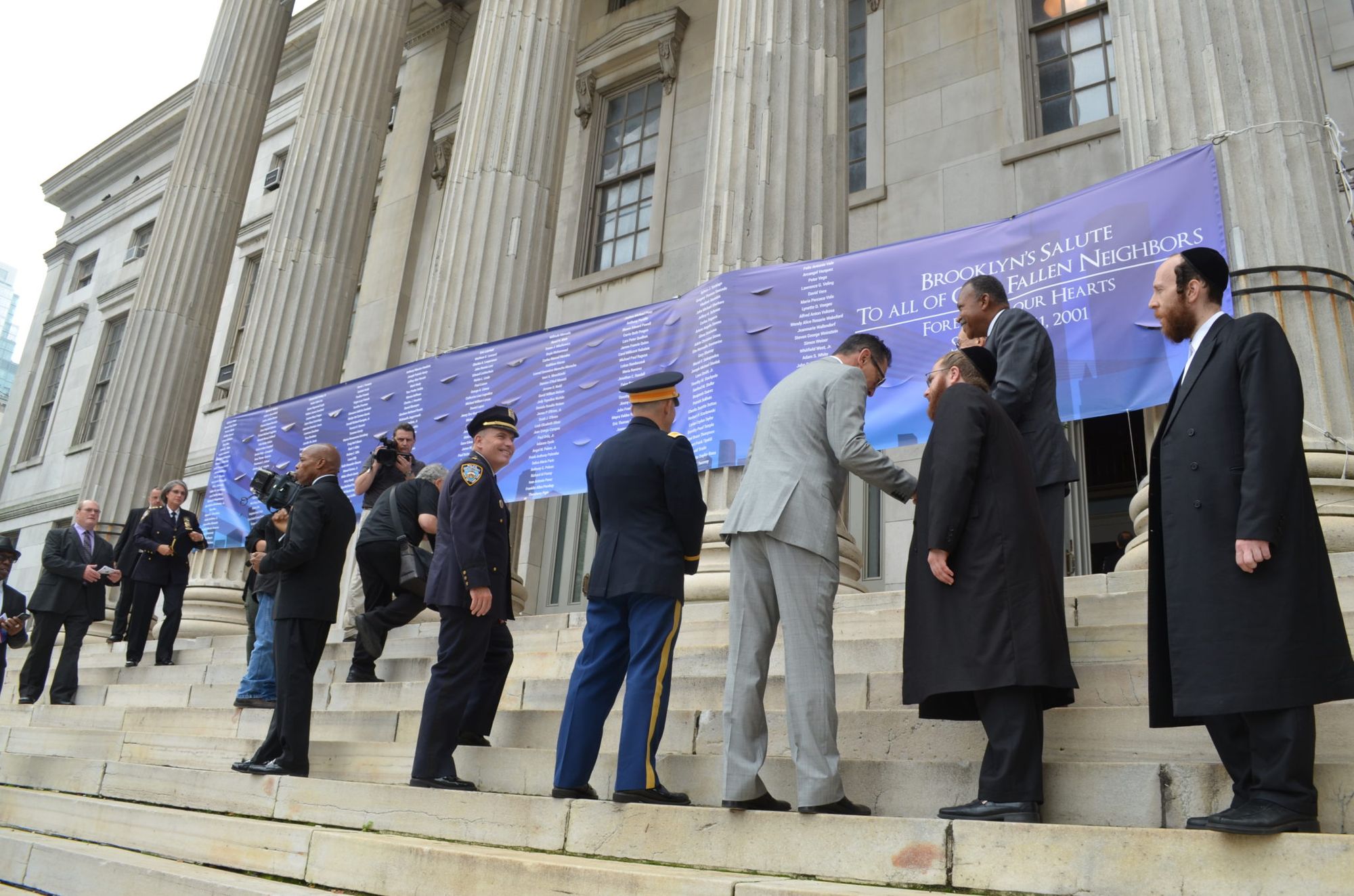 Adams was joined by the families of victims and first responders at the third annual Brooklyn 9/11 Remembrance Ceremony, unveiling the memorial banner at the top of the steps of Brooklyn Borough Hall. The banner will remain on display from Thursday, September 7 to Monday, September 11, and will serve as a permanent memorial that will be displayed annually, allowing Brooklynites to pay their respects each year.
Thursday's event featured interfaith prayers, readings, and tributes by surviving family members, as well as selections performed by the Brooklyn Conservatory of Music.
The banner of names was unveiled just before 9:59am, ahead of the first moment of silence which coincided with the time of the South Tower collapse. The American flag atop Brooklyn Borough Hall was lowered and a remembrance wreath was laid outside the building by Adams and victims' families. A second moment of silence was held at 10:28am to coincide with the time the North Tower collapsed.
NYPD Commissioner James O'Neill, FDNY Commissioner Daniel Nigro, NYPD First Deputy Commissioner Benjamin Tucker, US Army Colonel Peter Sicoli, and FDNY Chief of Department James Leonard also spoke at the event.
During the ceremony, Borough President Adams presented a check to Irene W. Smith who founded the Leon W. Smith Jr. Foundation, a scholarship named for her only child, a Brooklyn native and FDNY Firefighter, who heroically lost his life saving others on that tragic day.
Adams presented Smith a check for $5,000 for the scholarship fund "on behalf of the 2.6 million people of Brooklyn," he said. Adams lauded Smith for "turning [her] pain into purpose."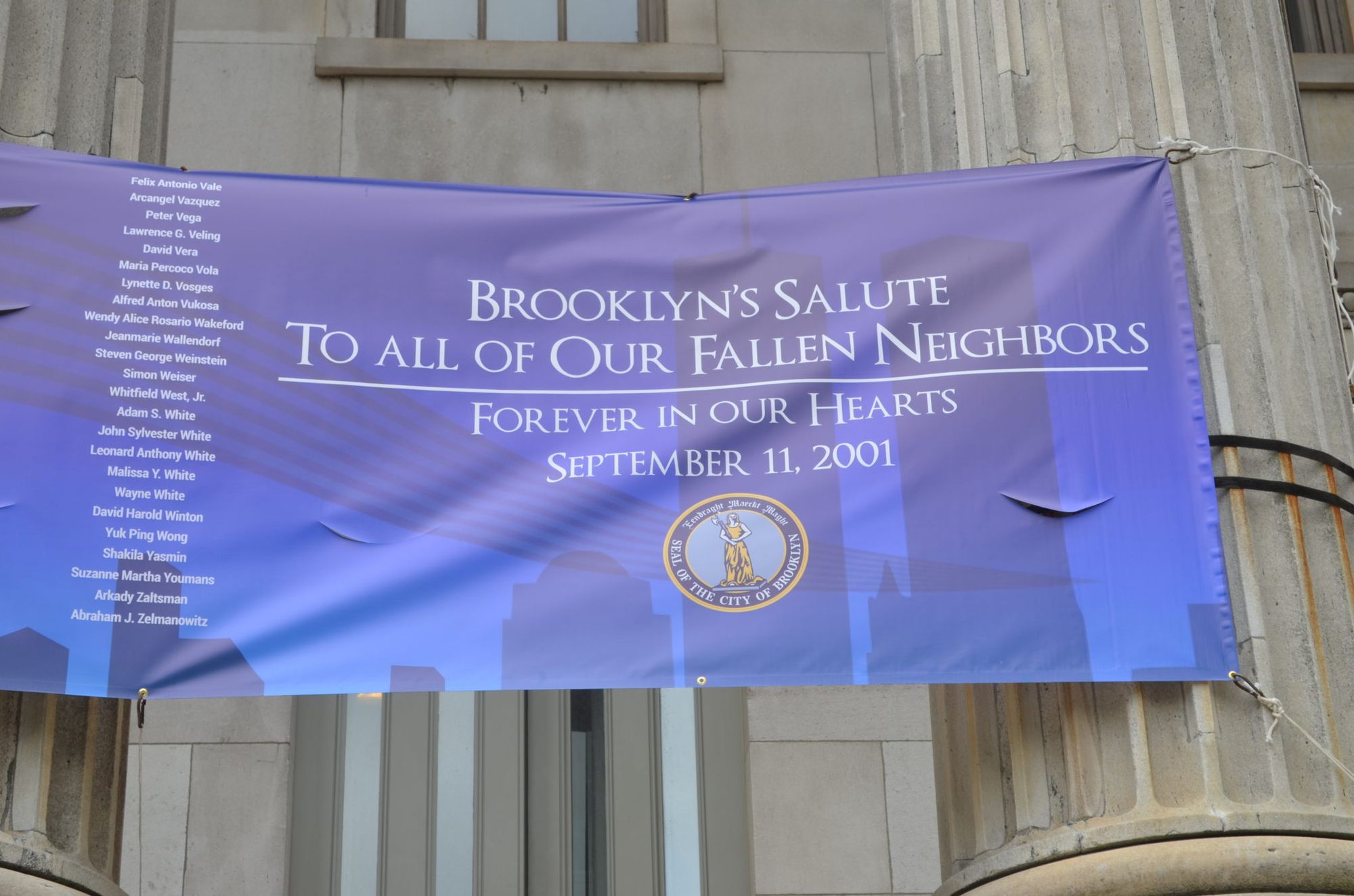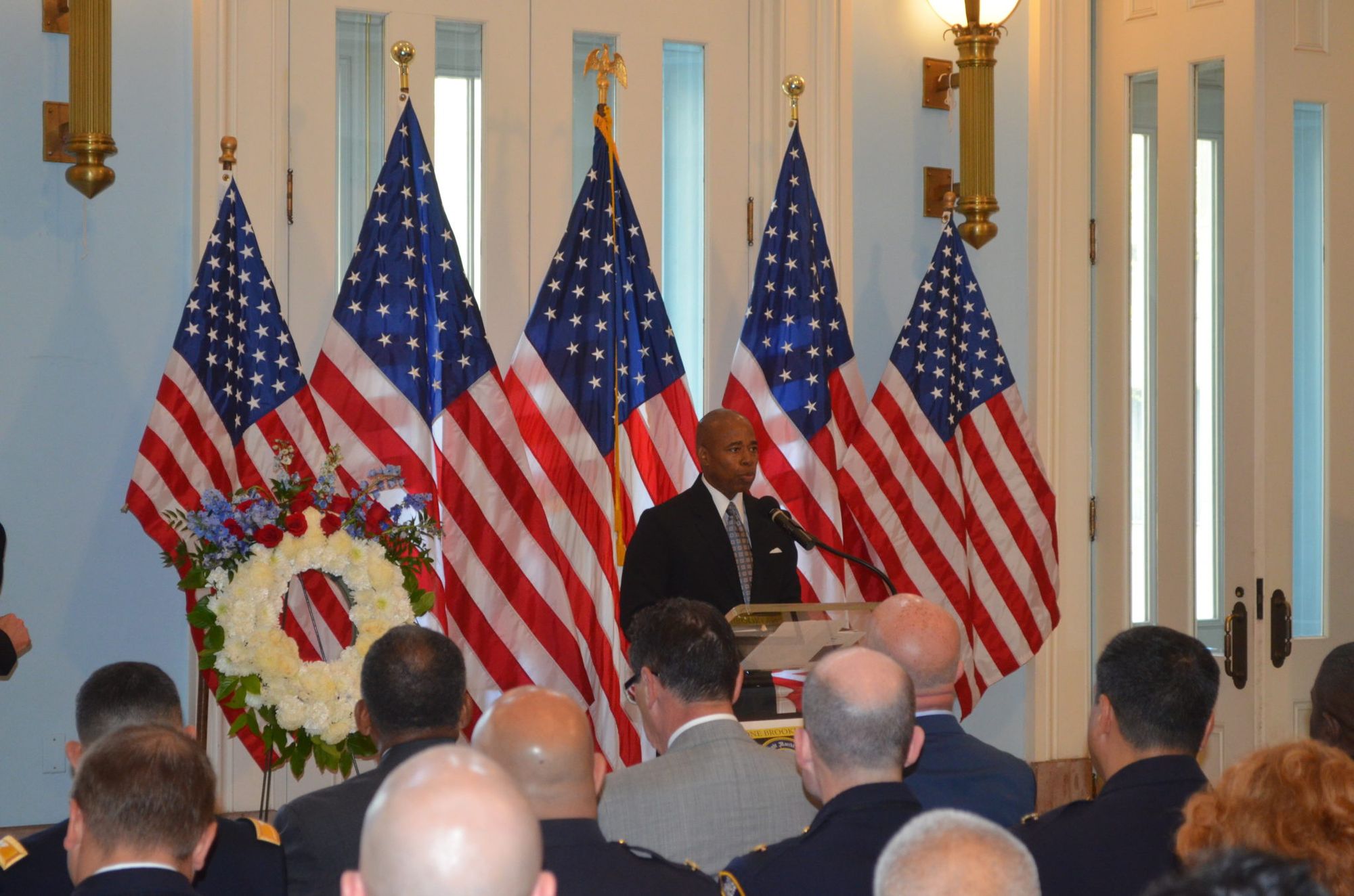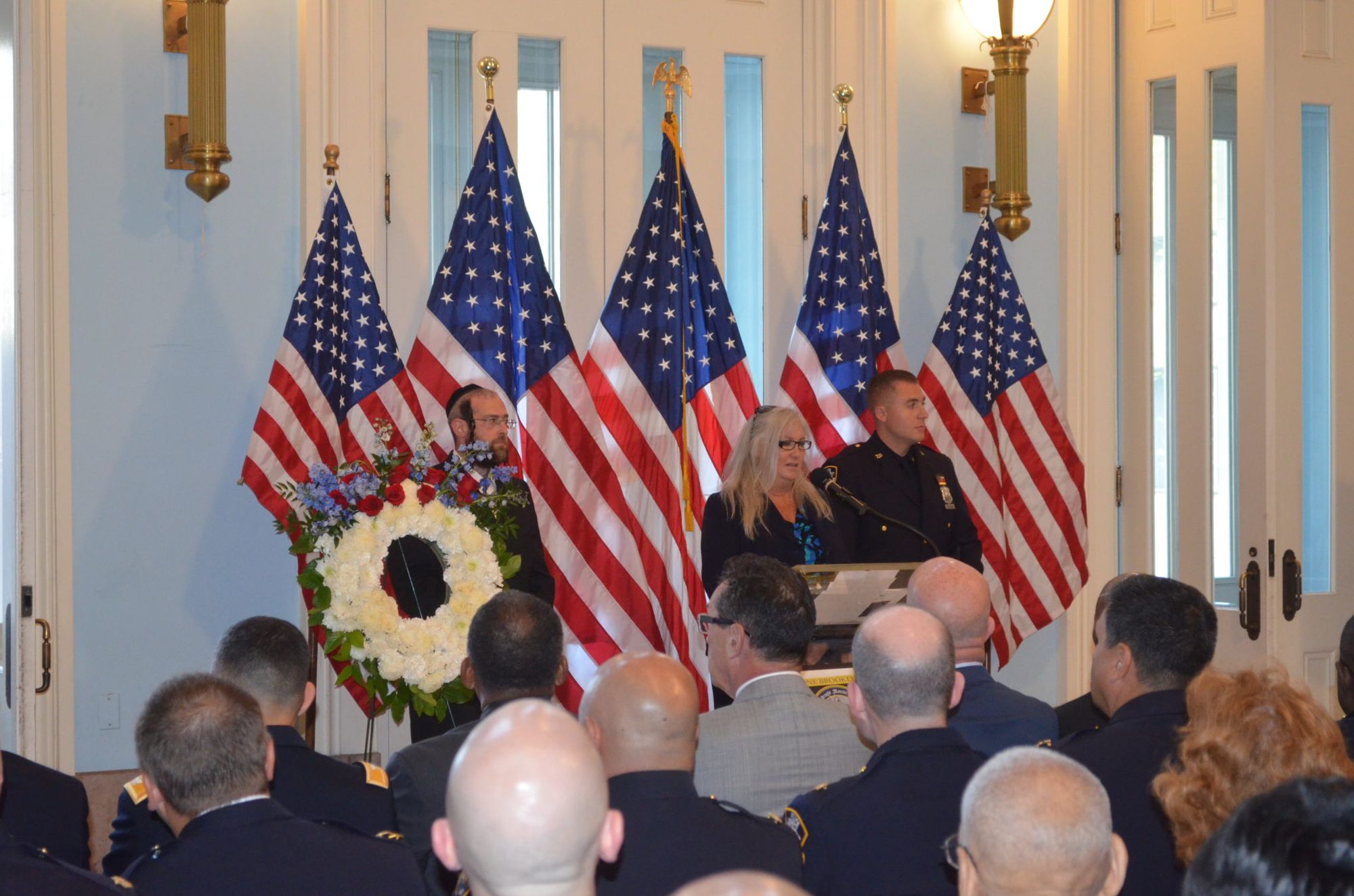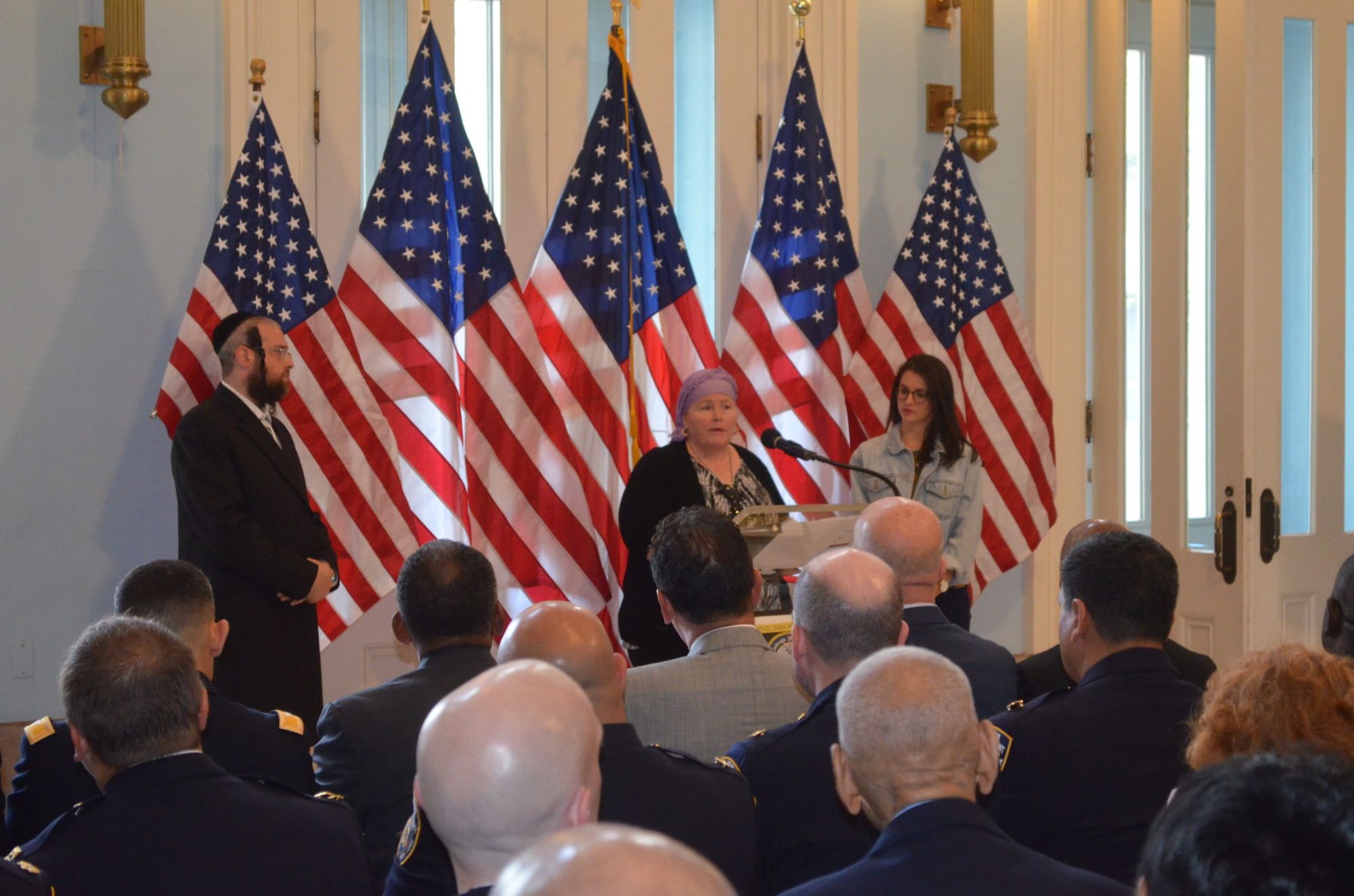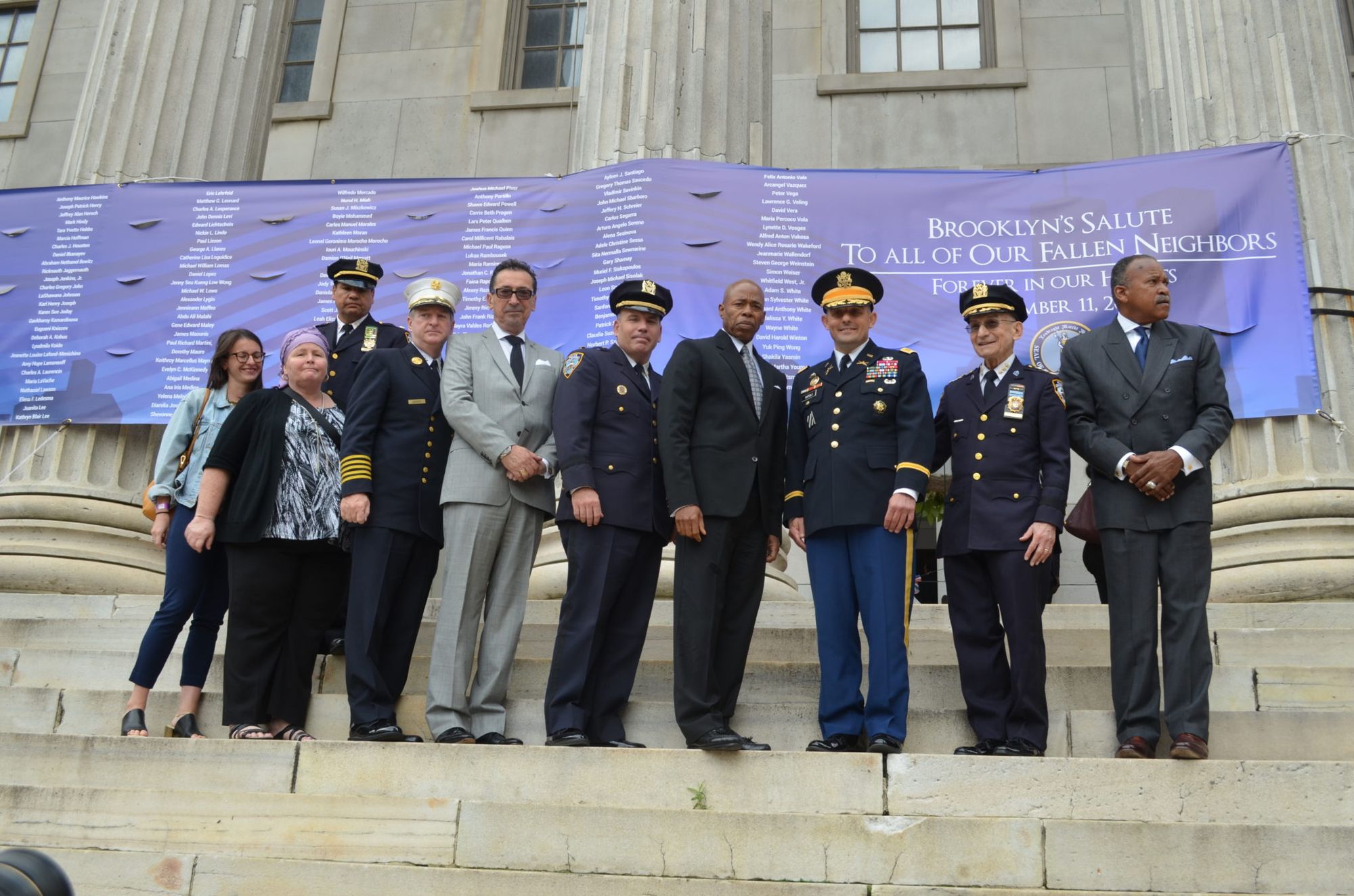 Additional Ways to Honor The Victims of 9/11 in Brooklyn
September 11 was designated a National Day of Service and Remembrance in 2009. You can mark the 16th anniversary of the tragedy by reflecting and serving the community.
Repair the World NYC has a number of volunteer projects taking place across the city from September 9 to September 11 that allow you to commemorate this historic day by assisting others. Learn more here.
The 9/11 Memorial & Museum website has a list of memorial sites around Brooklyn that you can visit and pay your respects. Cllck here to see the list. The website also has a list of volunteer opportunities around Brooklyn.
The Brooklyn Wall of Remembrance located at MCU Park at 1904 Surf Avenue in Coney Island will host the annual Candlelight Ceremony on Sunday, September 10 at 7:30pm.
Three 30′ x 12′ granite walls display laser-engraved images of the 346 Firefighters, 37 Port Authority Officers, 23 NYC Police Officers, 3 NYS Officers, 1 Fire Patrol, First Responders, and one K-9 Rescue dog named Sirius, who sacrificed their lives while helping others on September 11, 2001. Learn more here.
Bargemusic (Brooklyn Bridge Park, One Water Street) is performing two free Memorial Concerts on Monday, September 11 at 7pm and 8:30pm. Music by Bach, Barber, Beethoven, Brahms, Bottoms, and Copeland will be performed by Mark Peskanov (violin), David Bottoms (piano), and Rita Sloan (piano). More info at Bargemusic.org.