Booze & Movies: The Best Film Events In Brooklyn This Week
It's cold. It's wet. Perfect weather to stay in and watch old movies, or hunker down in an arty theater and watch critically-acclaimed ones.
To fuel your week, we've put together a list of top film events in Brooklyn, with a couple places to get drinks and dinner beforehand. If you have an event to share, please email us at editor@bklyner.com.
Restaurant Week
When: January 23 through February 10
Where: Various locations
What: Enjoy some of the borough's best restaurants during Restaurant Week Winter 2017. See a list of participating restaurants here.
How Much: 3-course lunch ($29) and dinner ($42)
Katra Film Festival
When: Wednesday, January 25, various times.
Where: Alamo Drafthouse Cinemas at 445 Albee Square West
What: Filmmakers (many of them local) face off for the final grand prize in this acclaimed film festival hosted at the Alamo. Get some sneak peaks with trailers here.
How Much: Ticket prices vary.
Whiskey Tasting
When: Wednesday, January 25, 6-7pm
Where: Misdemeanor Bar (in the lobby of NU Hotel), 85 Smith Street
What: Whiskey and Cocktail Tasting featuring whiskeys from Red Hook's small batch distillery, Van Brunt Stillhouse. Catch a movie afterward at the nearby Court Street theater.
How Much: Free
Amnesty International Film Festival
When: Thursday, January 26, 6-8pm
Where: Made in NY Media Center By IFP, 30 John Street
What: A human rights film festival hosted by Amnesty Brooklyn focusing on films about women's rights, refugees, and incarceration.
How Much: Free
In Cold Blood
When: Thursday, January 26, 7pm
Where: Brooklyn Historical Society, 128 Pierrepont Street, Brooklyn, 11201
What: A screening of the 1976 film adaptation of Truman Capote's true-crime novel.How Much: Free
Gary Lucas: Too Much Johnson
When: Friday, January 27, 8pm
Where: Roulette, 509 Atlantic Avenue
What: Guitarist Gary Lucas performs a live score for the 1938 Orson Welles silent film, "Too Much Johnson."
How Much: $20
Bonus: Okay, this one isn't film, but it sounds so great we couldn't leave it out. Plus, some local celebrities will be there!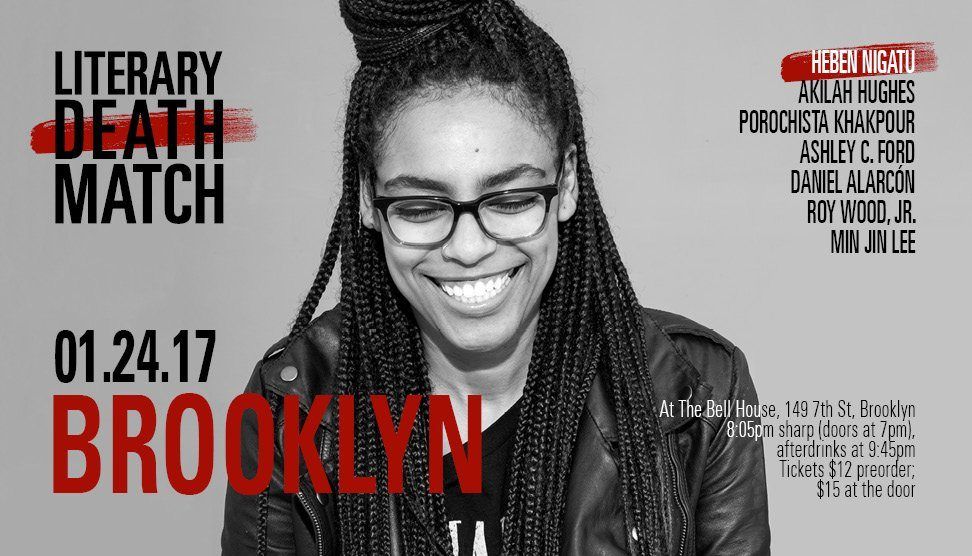 Literary Death MatchWhen: Tuesday, January 24, 8pm
Where: The Bell House, 149 7th Street
What: Reading series pitting authors against one another before judges Heben Nigatu, Akilah Hughes, and John Leguizamo.
How Much: $12 in advance, $15 at door