Local Youth Baseball Team Needs Your Help To Compete In 2016 Championships
Two Bonnie Youth Club champion baseball teams have earned themselves spots in the coveted 2016 AABC World Series tournaments — but in order to attend, our neighborhood players need your help.
The Bonnie Youth Club has started a fundraising website to help the Bulls (13-year-old players) and the Seals (11-year-old players) get to the championship in Rockford, Illinois. The funds raised will help pay for tournament fees, room and board, a bus for the players, and more.
Jose Castro, the current manager of the Seals, told DPC that because the championship was supposed to be held in New York City this year, they are having a hard time collecting funds quickly enough to send every player to Illinois. "It's going to be hard," he said, "when you have a group that's been together for such a long time, you always want to carry them."
Castro has been working with the Bonnies since 1984. He's seen many generations of players grow up, and come back years later embodying the lessons they learned on the field.
"I love helping the kids develop their ability to reason," Castro said, "like stealing a base, catching a pop up, or problem solving." Castro also weaves in lessons on bullying prevention and dealing with anxiety. "I tell them 'step back, take a deep breath, and ask yourself is worrying going to help.' Then, go back in there and try your best,'" he said.
If you decide to lend a hand, you'll be supporting boys who live in our community and are students in our neighborhood schools — as well backing an incredible organization that has, for more than 60 years, provided sports opportunities for boys throughout our community.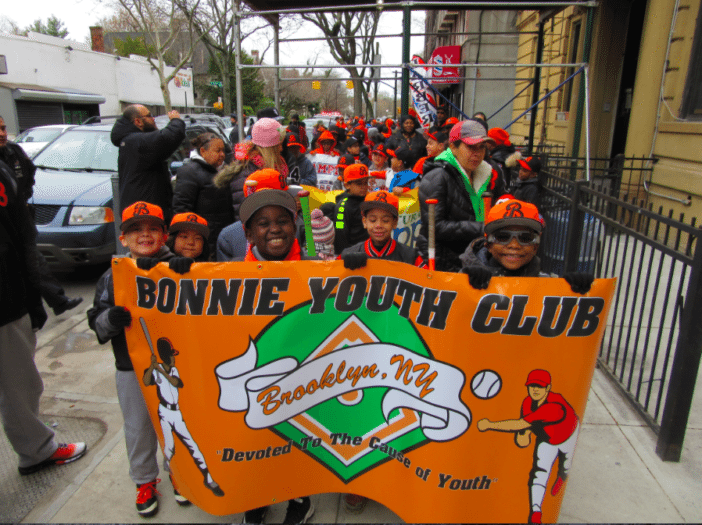 The Bonnie Bulls and the Seals are ready for the challenge — both teams won the 2015 Borough Cup Championship, earning the title "City Champions."
"Our teams have been playing together since the boys were 5 years old, coming from The Bonnies instructional league," said Alberto Ariza from the Bonnie's Youth Club. "They worked hard over the years through the sweat, tears and the dedication from our coaches, who volunteer their time at long summer and winter practices."
As the Bonnies explain on their website, the club, which is headquartered at 1221 Church Avenue, "is dedicated to developing youth, most of whom are from minority and economically disadvantaged backgrounds" and uses "baseball as a means of communicating to those who might not otherwise be engaged."
Don't wait — the fundraiser ends Thursday, and the Bonnies are still far from their $15K goal. To learn more about donating to help the Bonnie Bulls and Seals get to the championship in Chicago, you can go here to help.
You can also learn more about the Bonnie Youth Club at their Church Avenue storefront this Thursday between 3pm and 6pm at the Lure Party Flatbush.
A huge congratulations to all the Bonnies — you've made your neighborhood incredibly proud!
[Additional reporting by Anna Gustafson]