Bon-Bons For 35 Cents, A Satin-Lined Staircase & More Memories Of The Soon-To-Reopen Loew's Kings Theatre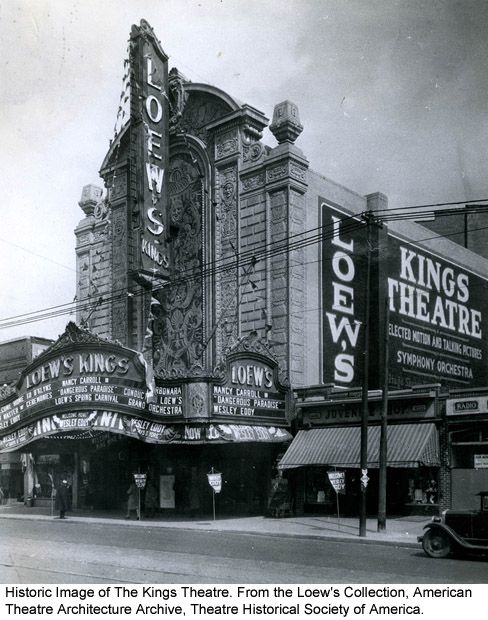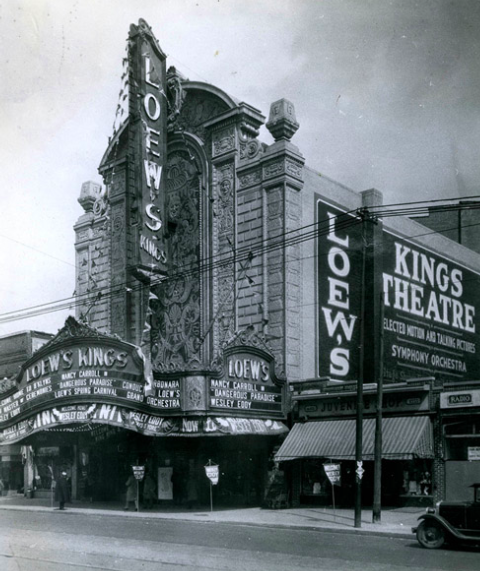 Photo via the Theatre Historical Society of America
After we wrote about the Kings Theatre asking neighbors for their memories of the visually stunning arts space that is now undergoing a $94 million renovation project and is slated to reopen to the public in January, we received a wonderful email from Edward Osler, who grew up at 580 E. 17th Street from 1949 to 1977, when he moved to Florida.
Edward, who attended PS 217 and Erasmus Hall High School and lived in the area at a time when there was the Chadish Grocery Store, Ebinger's Bakery ("if you remember the  bakery," Edward said, "you remember the Blackout Cakes, Othello chocolate and mocha eggs, fresh bread, and all sorts of baked goods), the Casa Del Rey Bar and Grill, Grillo's Seafood, Augie's Barber Shop, and Jerry's Luncheonette (which he noted had a soda counter, three booths, and a comic book stand),  remembered the Loew's Kings Theatre as a place that has "always been the center of my universe."
Photo via the Kings Theatre
Edward writes:
Every good and bad memory that I have of Brooklyn, New York revolves around the Loew's Kings. The oldest memory that I have is as a seven year old child. The Kings was the only movie theater I went to in the company of my mother AND father. I know that sounds a bit peculiar. My dad passed away when I was 9 years old. The Kings theater was a one of a kind movie theater. It was a large and lavish building. I remember the satin-lined grand staircase that seemed to be always closed "until 6:00 pm." But the one thing that has stuck in my memory was the $.35 cent box of bon-bons. It stands out for two distinct reasons: One, because this ice cream treat was SO cold in my mouth and two, because I could never afford the $.35 cents. My parents were middle-class parents who scrimped in order to make sure that their only child was able to get everything he wanted. Although I always wanted to know what bon-bons tasted like, it was always out of my reach and when I was able to finally lay down my change, it was a treat that was always appreciated. And that appreciation has stayed with me throughout my entire life.
Opening at the tail end of our country's Jazz Age in 1929, the palatial Kings Theatre operated until 1977, when it shuttered and fell into disrepair, sustaining decades of water damage and vandalism. After it closed, the city acquired it in 1983 because of the owner's failure to pay taxes, and a number of people tried, but failed, to resuscitate it (including Magic Johnson). Along with attempts to revitalize it over the decades, there were those who wanted to demolish it and put in its place a shopping center, or another movie theater.
Ultimately, former Brooklyn Borough President Marty Markowitz spearheaded efforts to save the theatre from the wrecking ball, and, in 2008,  the city Economic Development Corporation launched a search for an entity to undertake a major renovation of the architecturally breaktaking site, with the goal of reviving it as an economic engine and cultural hub. The Kings Theatre Redevelopment Company – a consortium of ACE Theatrical Group, the Goldman Sachs Urban Investment Group, and the National Development Council – was tapped to lead this effort in 2013.
When the project's architects, Martinez+Johnson Architecture and EverGreene Architectural Arts, first saw the theatre after years of standing dormant, it was a mess. (You can see a video of how the groups conducted a "historic finishes investigation" at the Kings Theatre here.)
"The ceiling was caved in, vandals had come in – anything that was worth anything, they stole," EverGreene President Jeff Greene told us when we took a tour of the theatre in September. "It was an urban wreck."
At the beginning of the project, there was a long period of "forensic investigation to see how the building was built in the first place," Gary Martinez, the president and CEO of Martinez+Johnson ArchitectureMartinez, said during the same tour, noting that they uncovered many details about the theatre from old photos and articles, as well as from interviews with Dorothy Solomon Panzica, the manager of the Loew's Kings Theatre from 1961-1975.
When the theatre reopens in January, the 93,000-square-foot building (which is larger than its original 86,000 square feet) will include 3,000 seats, restored original chandeliers (which weigh about 2,000 pounds each and were, thankfully, too high up for vandals to swipe), recreated decor, new carpeting and tapestries that were created from remnant samples and historic photographs, a restoration and recreation of the original terra cotta facade and marquee, and an upgraded front-of-house amenities, including restrooms and concession areas. Plus, it is slated to offer about 200 annual performances, from popular music to comedy and dance.
You can find out more about the Kings Theatre at the space's website, on its Facebook page, or through its Twitter account. You can also see a video from the EDC about the theatre's restoration project here.
And, we'd love to hear more of your memories about the Kings Theatre! You can share them with us in the comments below, or by emailing editor@ditmasparkercorner.com.