Bomb Threat Against Mosque Spurs Demand For Investigation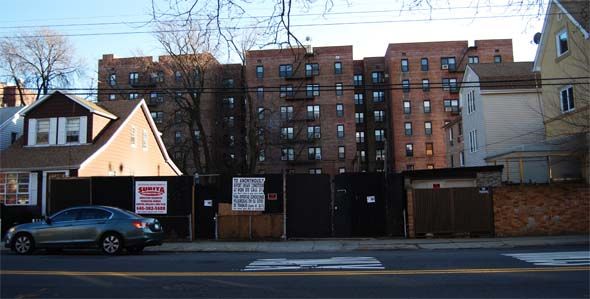 (UPDATE [12:18 p.m.]: NYPD investigators have interviewed neighbors about the alleged bomb threat.)
The New York chapter of the Council on American-Islamic Relations (CAIR-NY) is calling for the FBI and local law enforcement agencies to investigate a man who said he would bomb the Voorhies Avenue mosque if the proposal moved forward.
The man made his comments to Brooklyn Paper reporter Tom Tracy at Sunday's anti-mosque rally, organized by Bay People, Inc. Here's the relevant excerpt from Brooklyn Paper:
"If they build a mosque there, I'm going to bomb the mosque," said one outraged resident who lives across the street from the proposed house of worship between East 28th and East 29th streets on Voorhies Avenue. The resident, who refused to give his name, identified himself as a former Israeli soldier who had lived on Voorhies Avenue for eight years.
"I will give them a lot of trouble," he added. "They're not going to stay here alive."
According to a press release, CAIR-NY has reached out to the FBI, the New York Police Department (NYPD), New York Mayor Michael Bloomberg, and the Brooklyn Borough President's office about the threat. The group says it parallels a mosque in Jacksonville, Fla., that was recently the target of a bomb attack, as well as an incident in which a Houston radio host called for the bombing of a proposed mosque and community center in New York City.
The group's Community Affairs Director Faiza Ali is also requesting that local politicians take a vocal stance against intolerance. Anything less, she said, shows support for the bigotry.
"The silence from elected officials in the face of such outrageously racist and violent remarks is tacit approval of hatred against an entire religious minority," said Ali.
Locals involved in the mosque project are similarly shocked by the audacity of the comment.
"It is not acceptable to be threatened, and now all Muslims in New York will be aware of it," said Ibrahim Anse, a board member and assistant project manager behind the mosque. "[The threat] also reveals the amount of hate and prejudice among [the mosque critics] and their claims … Such threats do not scare us as long as we are not violating the law."
Anse said he fully expects law enforcement and local officials to react to the threat like any security issue. He also likened the anonymous thug to violent extremists abroad.
"[There's] no diffence between these minds and terrorists," said Anse.