A Bold & Delightful Thai Restaurant Opens On Cortelyou Road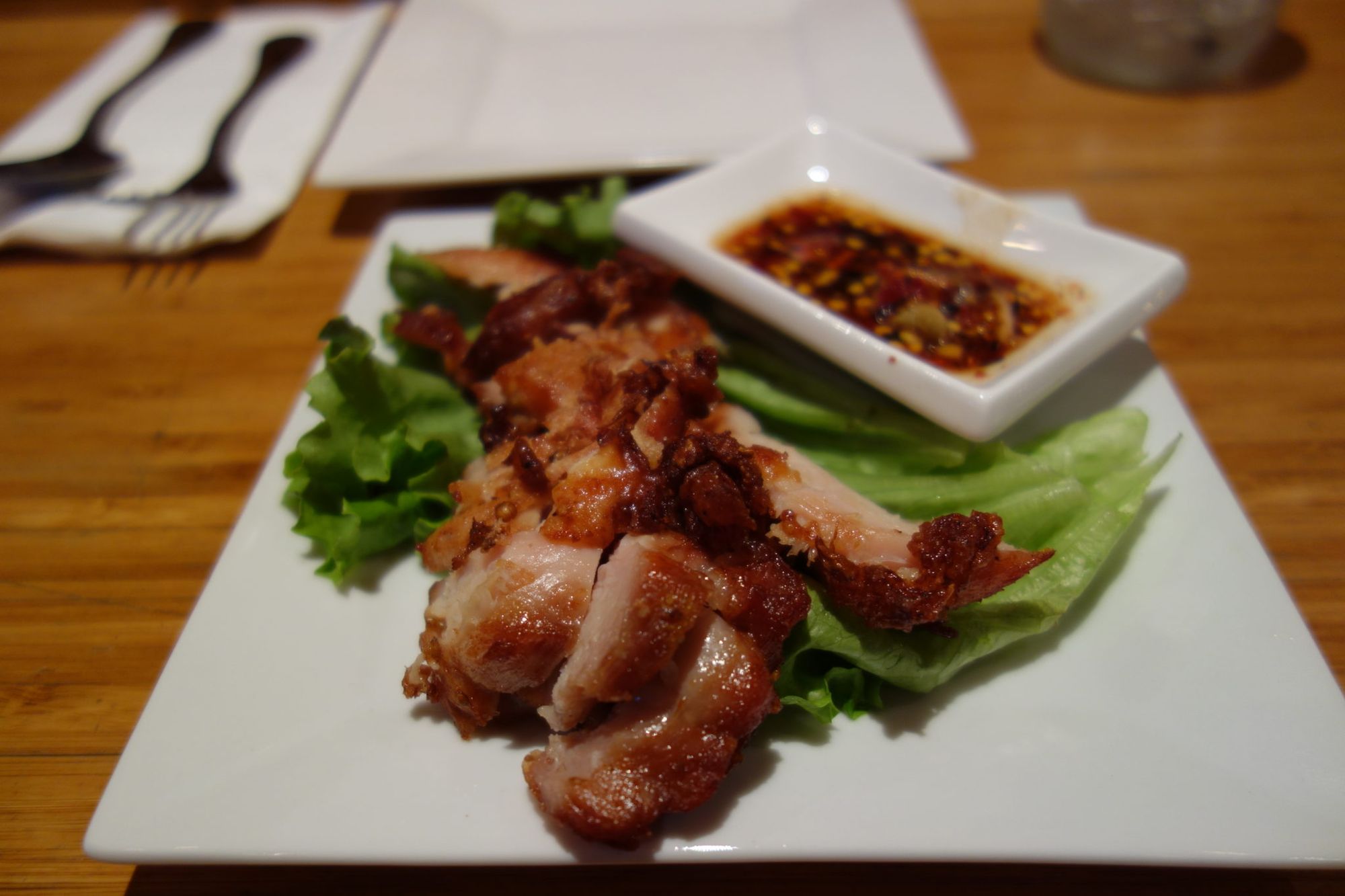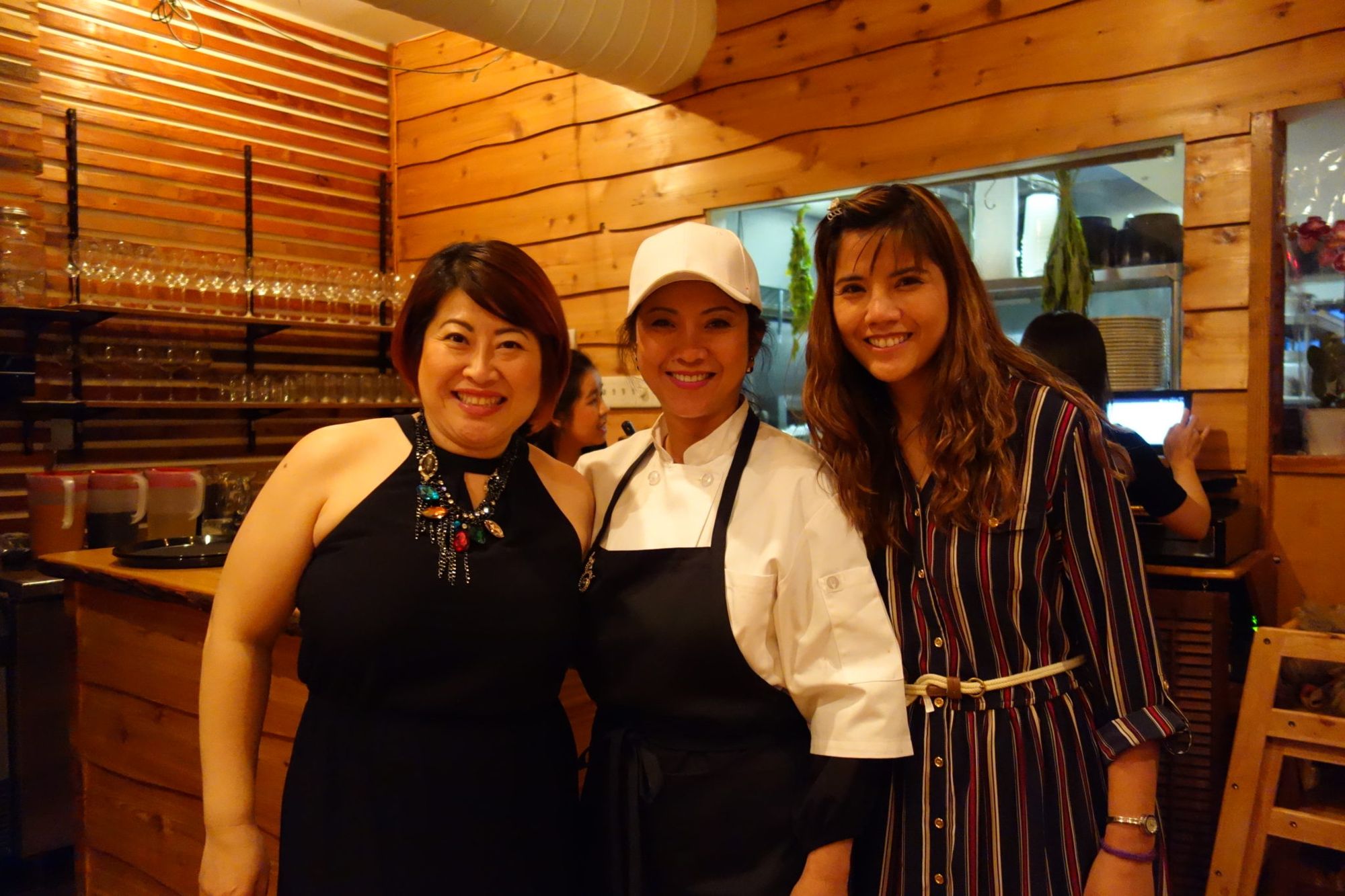 The three partners at Corthaiyou, Ditmas Park's new Thai restaurant, are ready to unveil something different than the typical pad thai haven.
Corthaiyou, which opens tonight in the former home of Asya and Picket Fence at 1310 Cortelyou Road, harkens to the Isaan region of Northeastern Thailand where Chef Nid was raised on her grandmother's home cooking.
The restaurant is the brainchild of three women — Angie, Chef Jintana "Nid" Kumsiri, and Alina, who all looked delighted last night as they hopped from table to table during the soft opening last night.
And they're not newbies to the Brooklyn restaurant scene: Angie is also an owner at Thai Tony's on Fort Hamilton Parkway, and Chef Nid is a longtime fixture in professional kitchens.
For years, Angie turned to Chef Nid for her authentic Isaan food — a bold, fermented fish sauce and chili based menu that she wasn't quite ready to introduce to her own customers. But now, the food climate in Brooklyn has grown. "Thai curries have gained a wider audience," said Angie. "It's the right time."
And now, they're finally ready to serve up food that's closer to what they grew up eating — and they chose the vibrant, Cortelyou Road restaurant row to make their debut.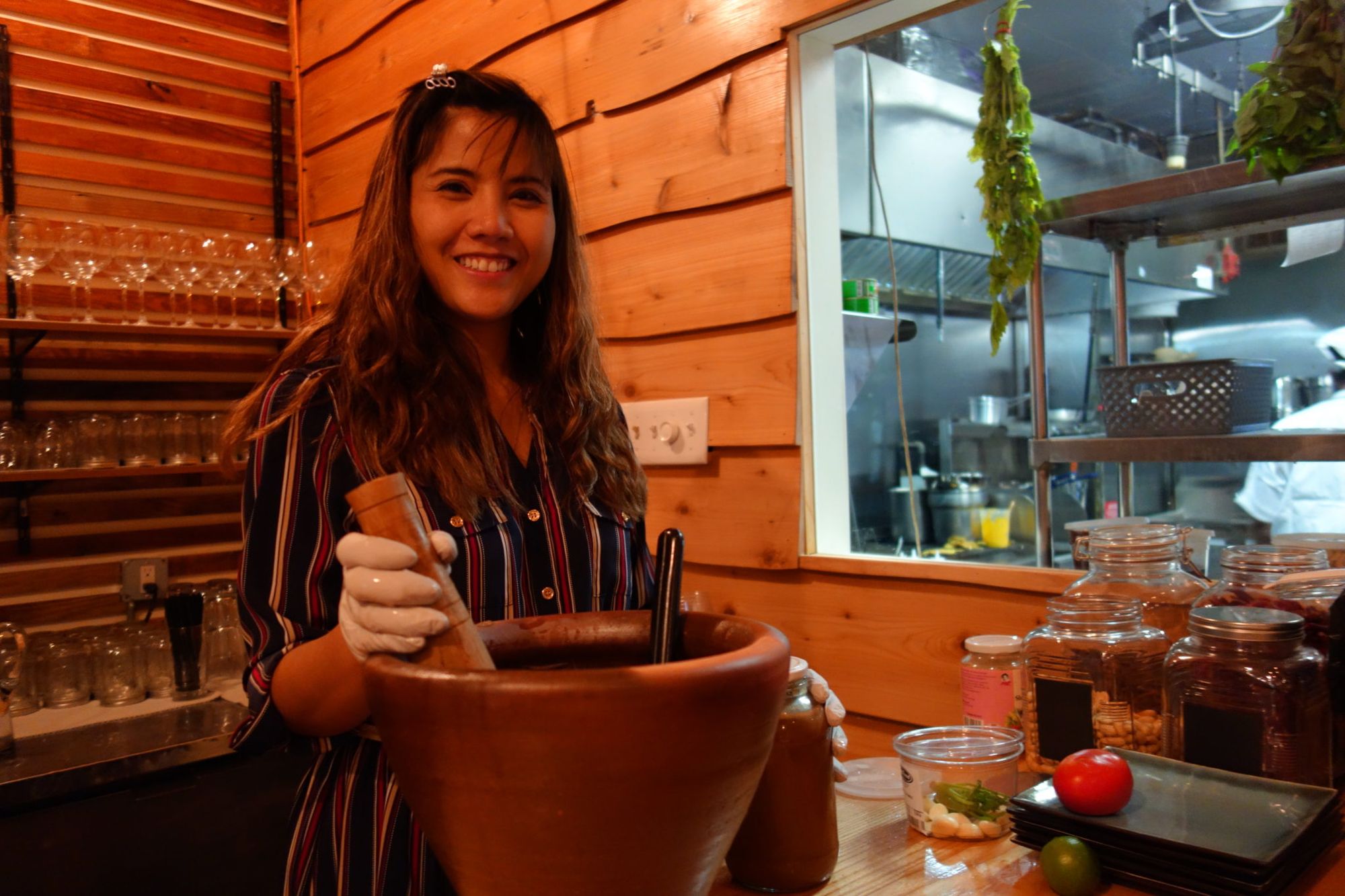 Ditmas Park is already buzzing about the opening, evidenced by the steady stream of neighbors that walked in during the soft opening dinner last night.
"I had to turn away 74 people today," said Angie, who lovingly explained to each guest that they're perfecting the menu so they can open with confidence on Monday evening.
The owners took a full four months to renovate the place, gutting everything in the kitchen and dining area but the floors. And the decor is transformative, with thatched wooden panels lining the walls and shingled room dividers with cut-out windows resembling a traditional hut. There's even a riverboat sculpture out front.
"We're trying to represent rural Thailand," Angie said, who was skirting through the crowd of family and friends, doling out hugs and appetizer samples.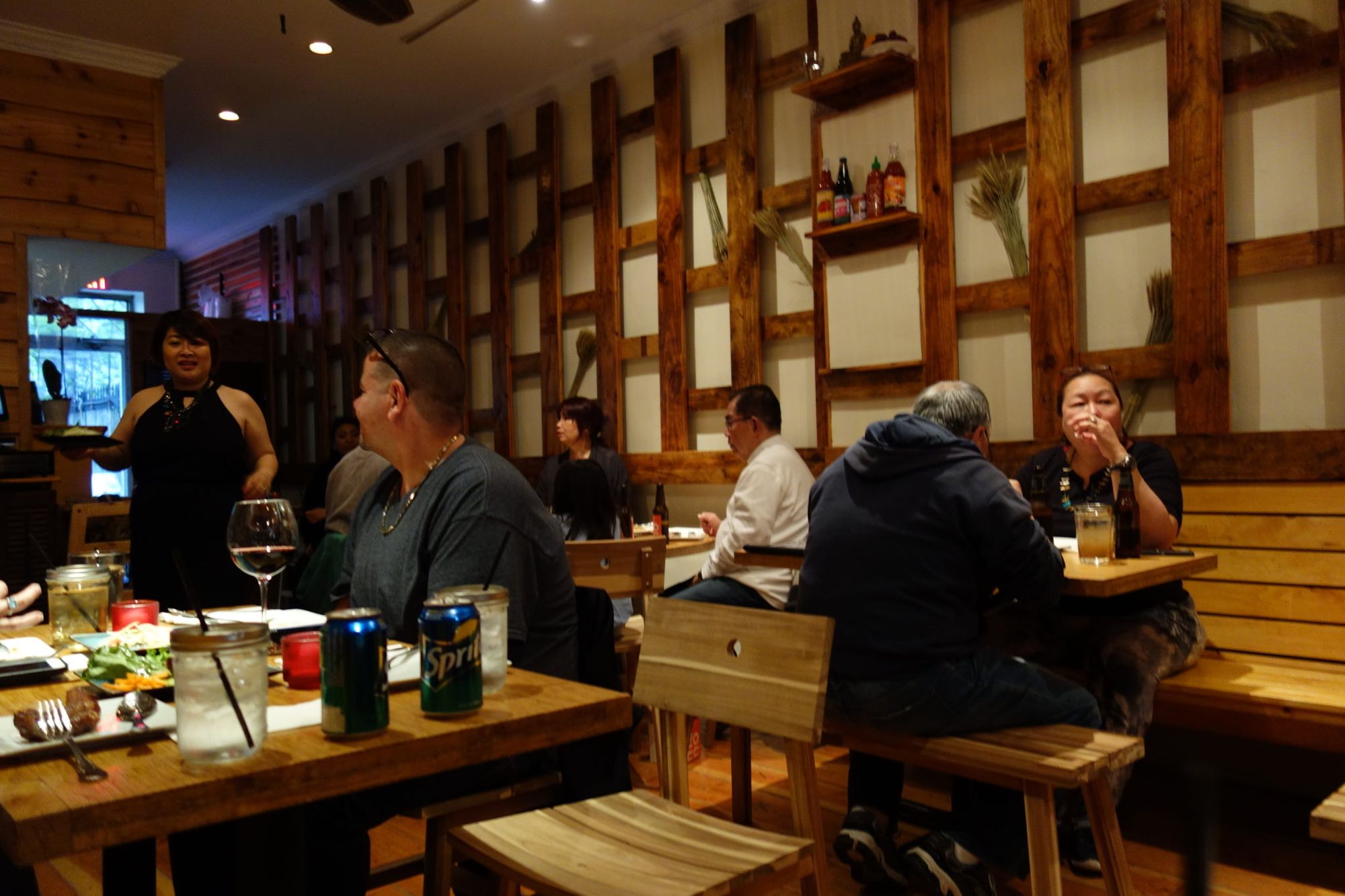 Diving right into the multi-page menu, we started with a delicious and refreshing lemongrass drink, which was both sweet and tart, and more subtle than lemonade; and Thai iced coffee which was sweet (of course) but also retained the dark coffee bitterness that can sometimes get drowned out in the saccharine concoction.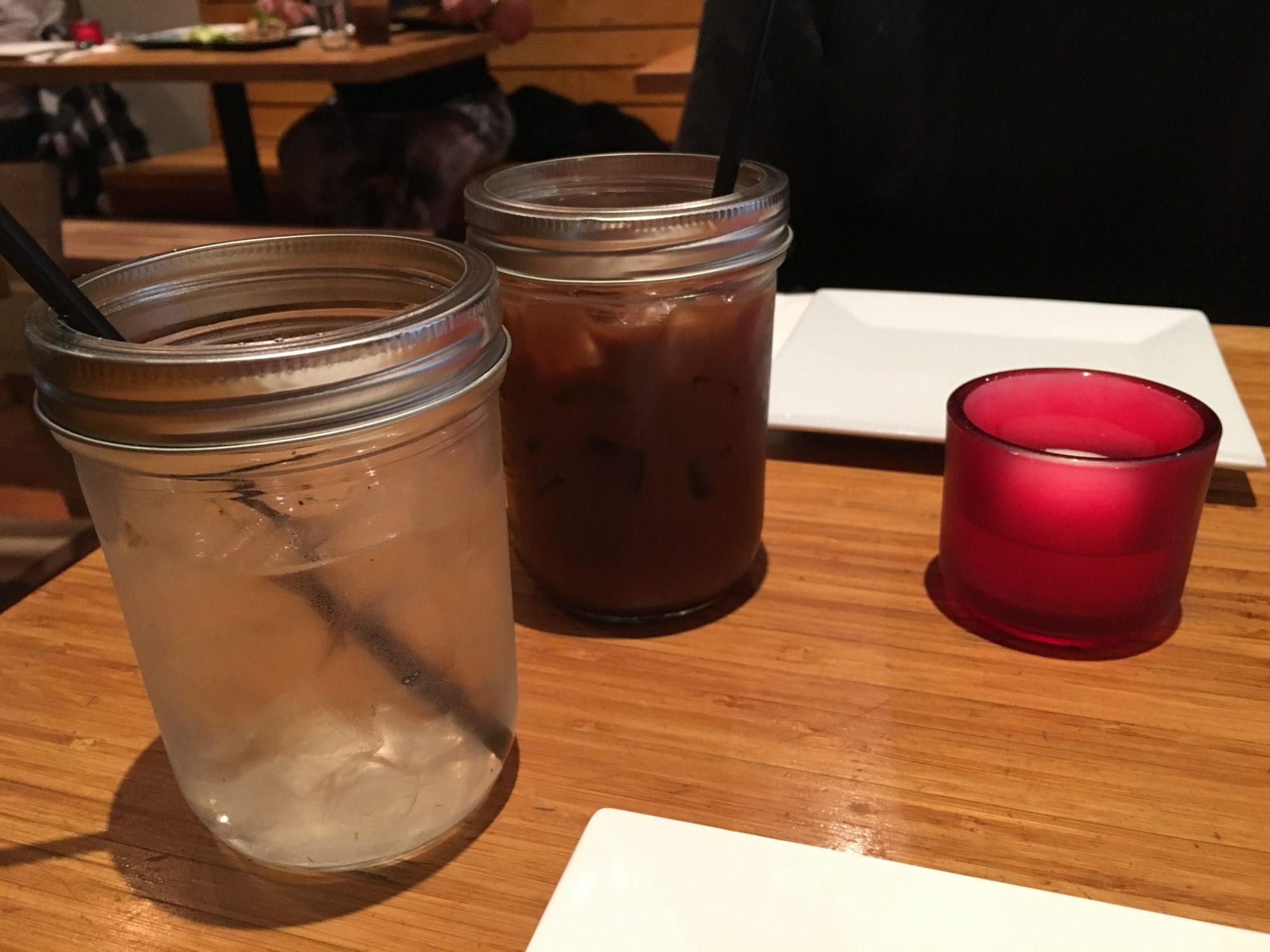 The first appetizer that arrived might have been my favorite course of the night (though there are serious contenders) — a tender chicken thigh appetizer served with a spicy tamarind sauce and a ball of sticky rice for dipping.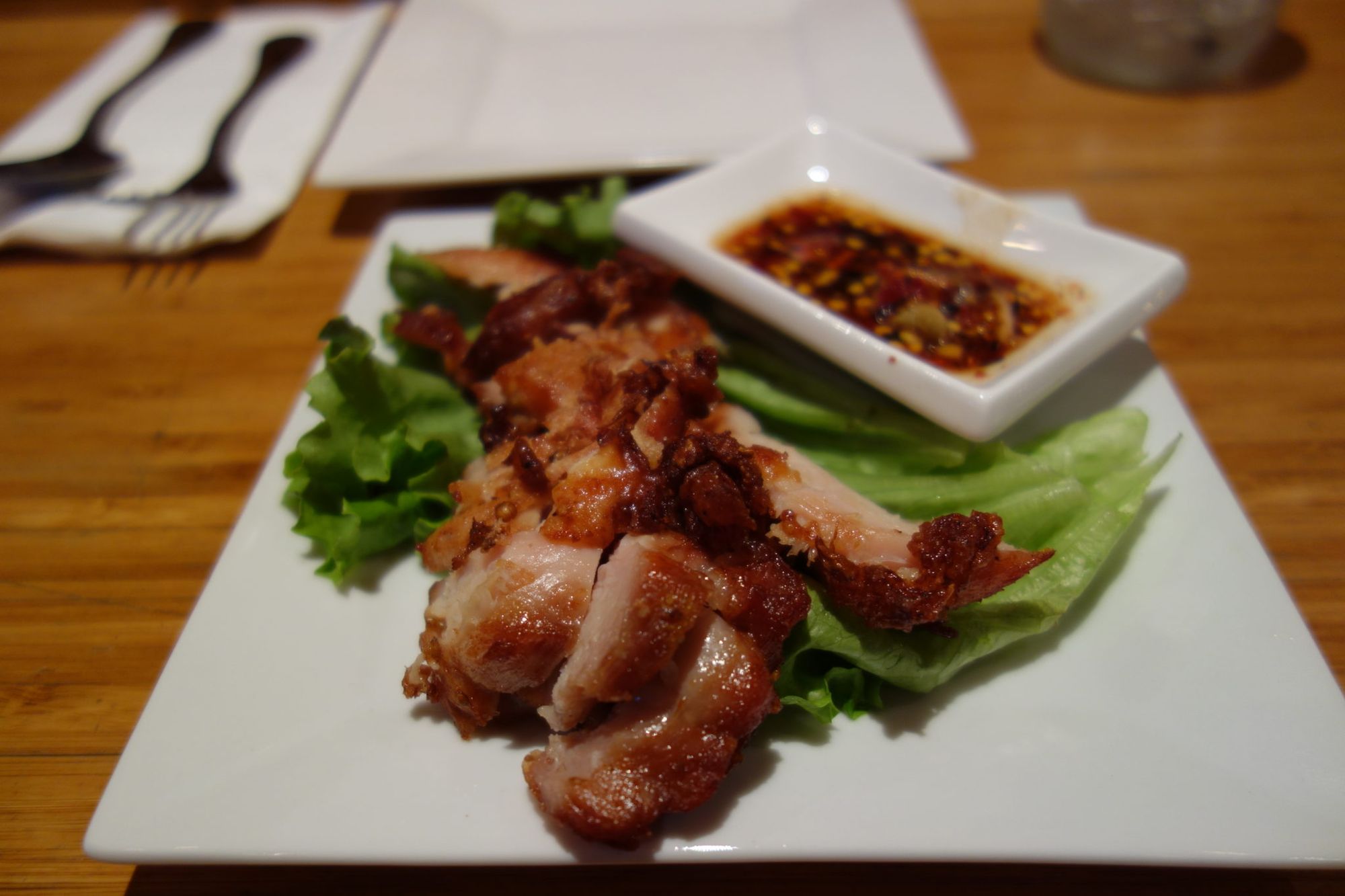 The fish-based sauce had layers of flavor, filled with chili peppers, seeds, and tamarind flecks, which perfectly complemented the juicy slices of glazed dark meat.
Next, Angie surprised us with a regional staple, Som Tham or green papaya salad. The salad came with thin slices of papaya, which crunched more like a vegetable than a fruit, tomato, string beans, chili peppers, a garlic clove, and plum sugar.
Everything on the plate was raw, which added a refreshing variety of texture and a palate cleanser between the cooked meat courses. "We're talking about healthy eating right here," said Angie, serving up the plates with a grin.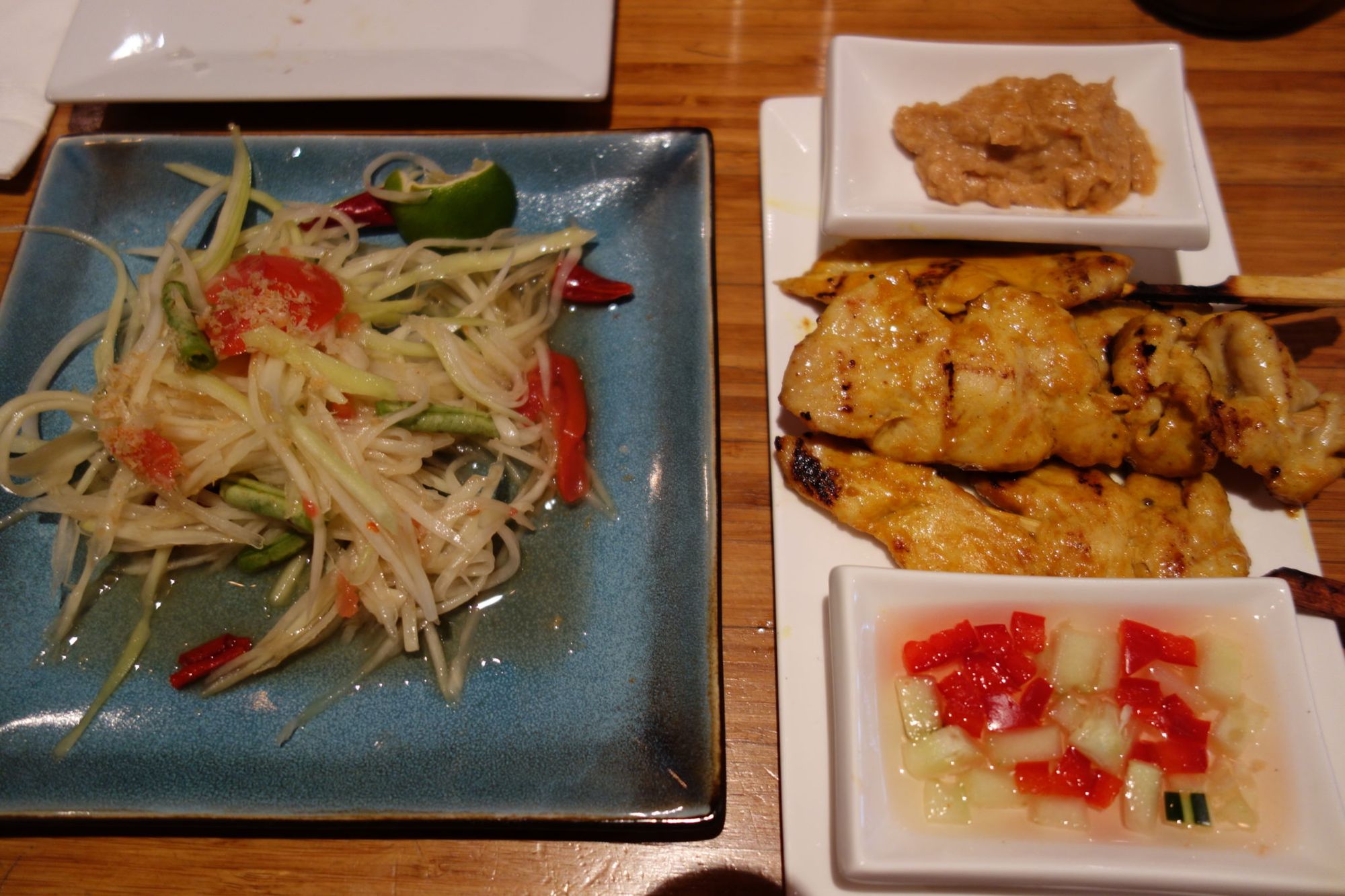 The Chicken Skewers were thinly sliced but juicy all the same, marinated in a yellow curry coconut milk, sandwiched between two dipping sauces — a thick peanut sauce and a thin cucumber sauce.
The sauces were so good that we scooped up the leftovers with our remaining sticky rice.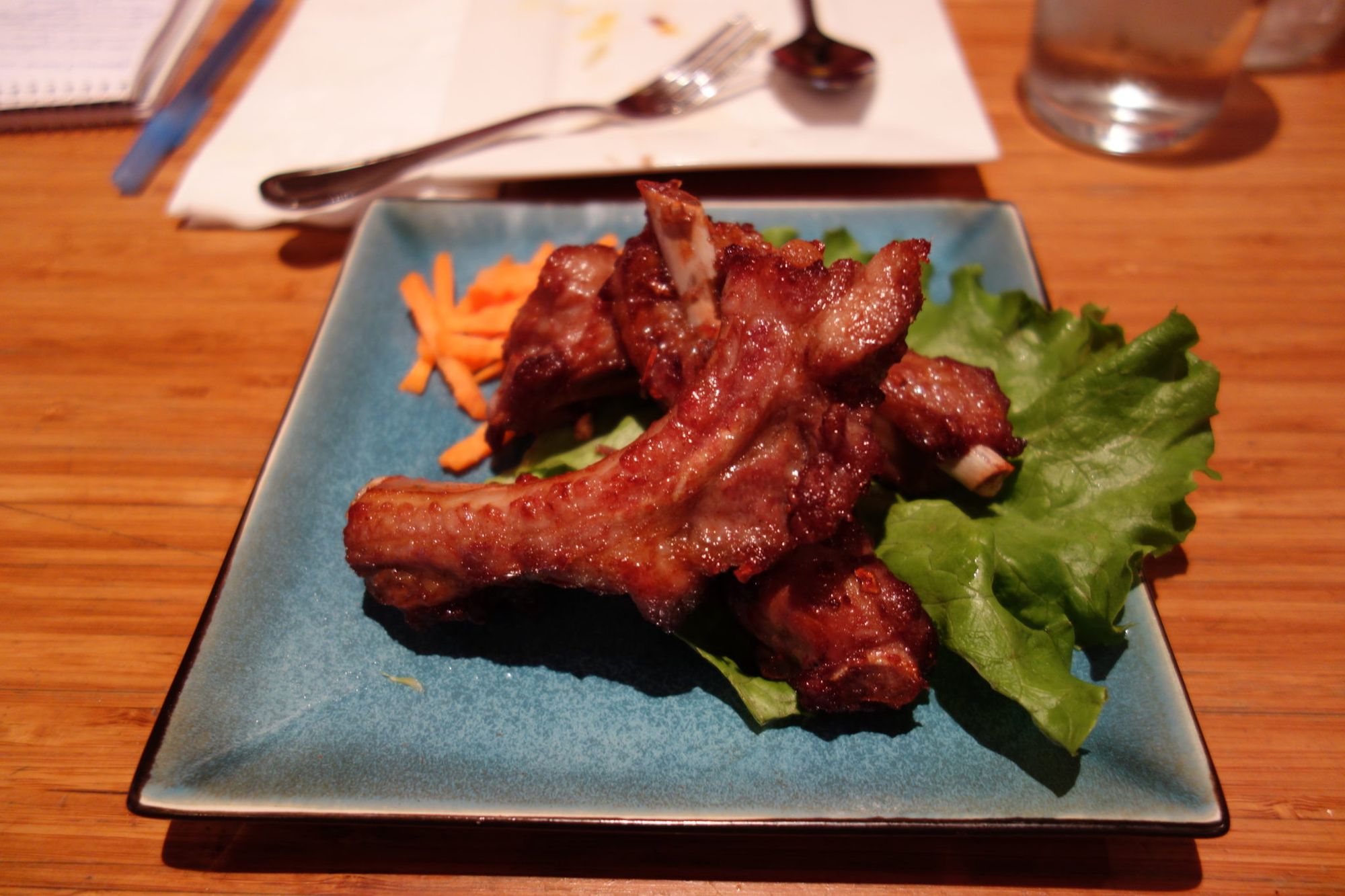 The short ribs appetizer (okay, you caught me — we went a little crazy) was the carnivorous diva dish of the night. Angie brought it to every table with the same introduction, "you must try this."
The ribs were drenched in a savory ginger-garlic glaze, the meat was fatty and succulent — just as ribs should be.
Then, and after a nice digestion break, the generously portioned entrees consumed our small table.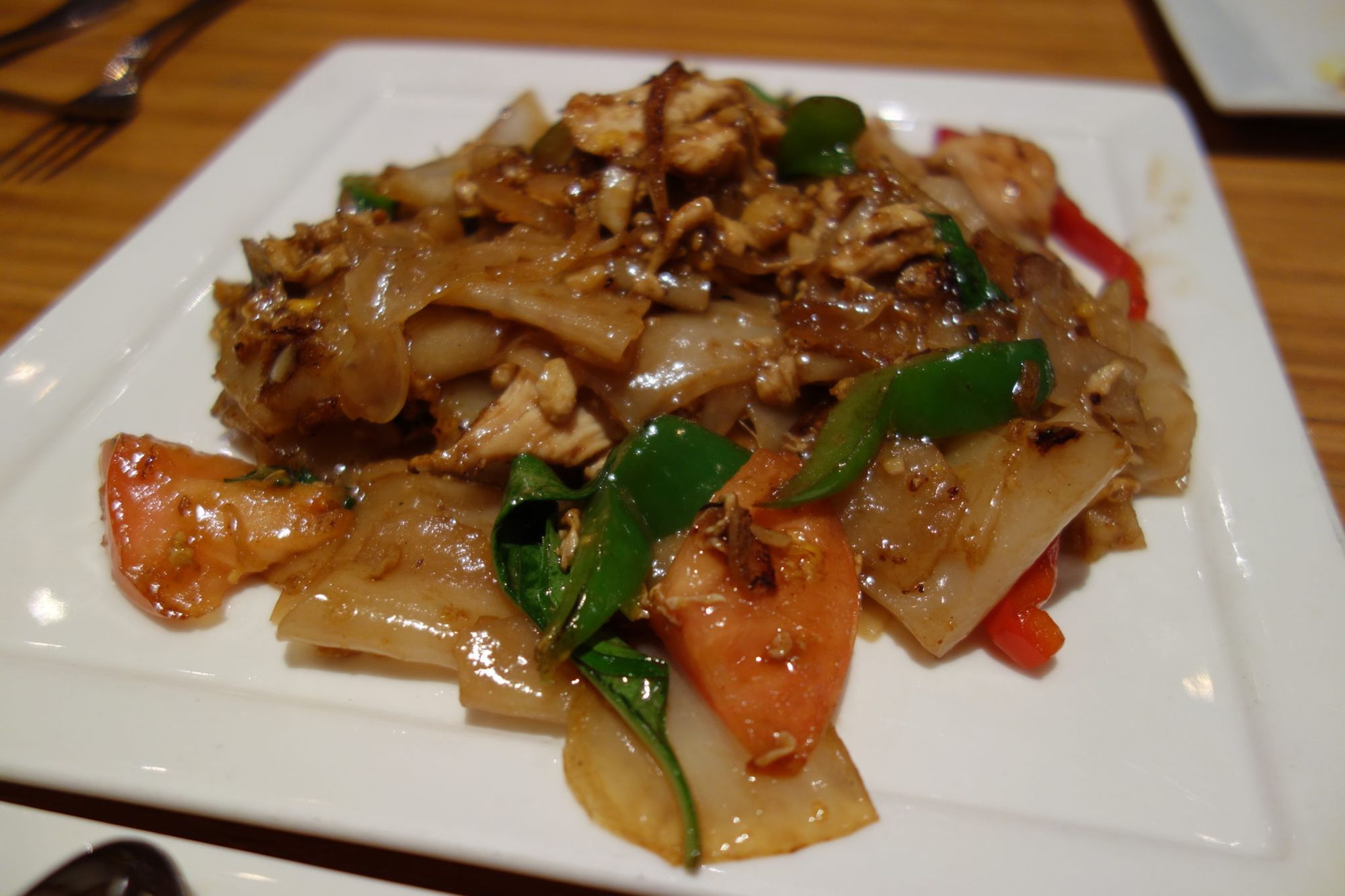 The Pad Ki Mow was dotted with fresh peppers, tomatoes, and basil. The vegetables were fresh and flavorful, held together by wide, sticky noodles and a lingering pepper kick.
Though the noodle dish was listed as 1 out of 3 on the spice scale, spicy food lovers will be pleased to know that the scale must go up really high because this mild dish had a smooth, even spiciness.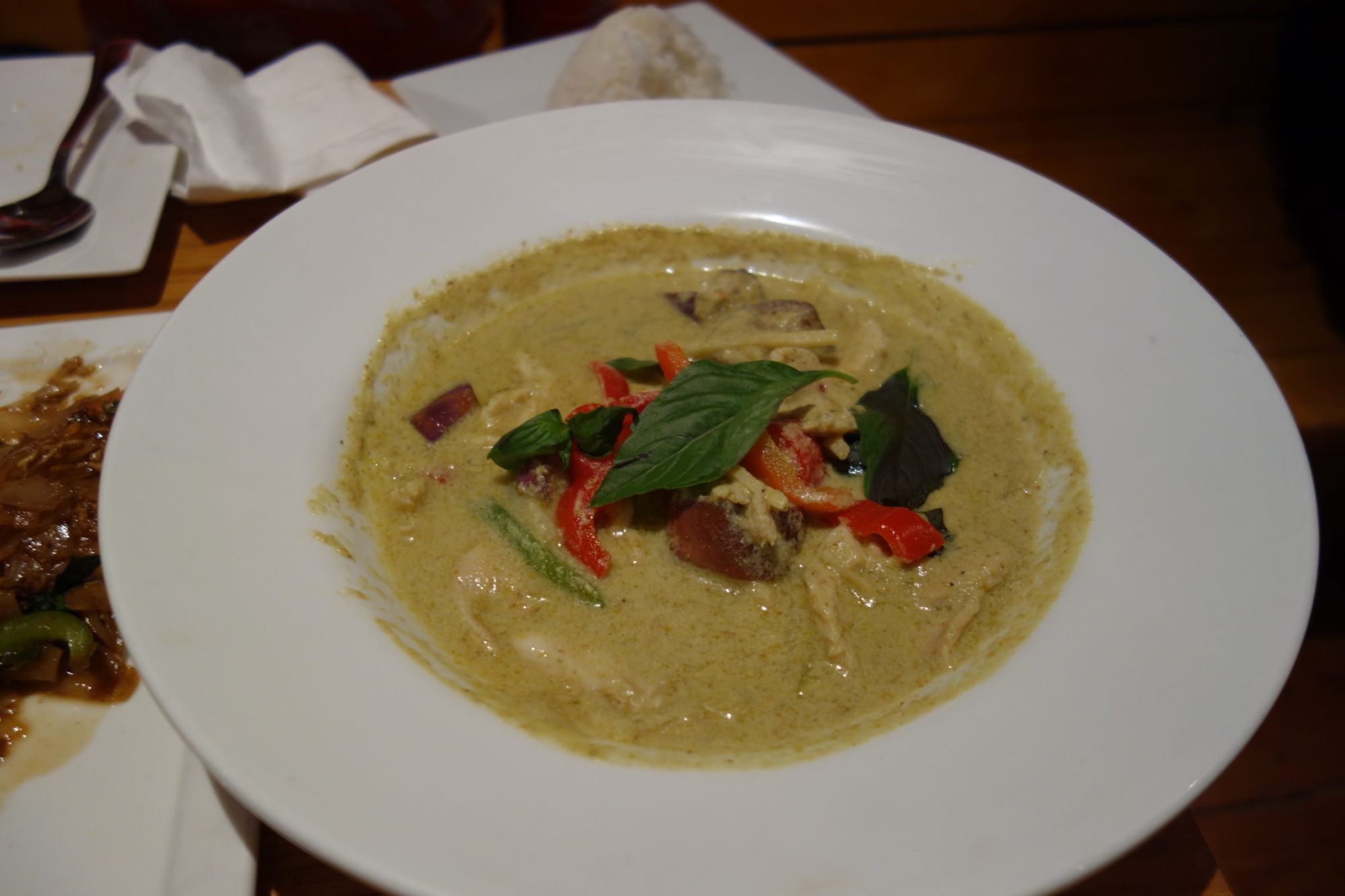 The Green Curry was textured and flavorful, with fresh peppers, eggplant, basil, and bamboo slices. The spice level was stronger than the noodles, but not so much that it drowned out any flavor.
In fact, the dish was bursting with flavor and the spice was more of a slow burn that lingered on my tongue after each bite.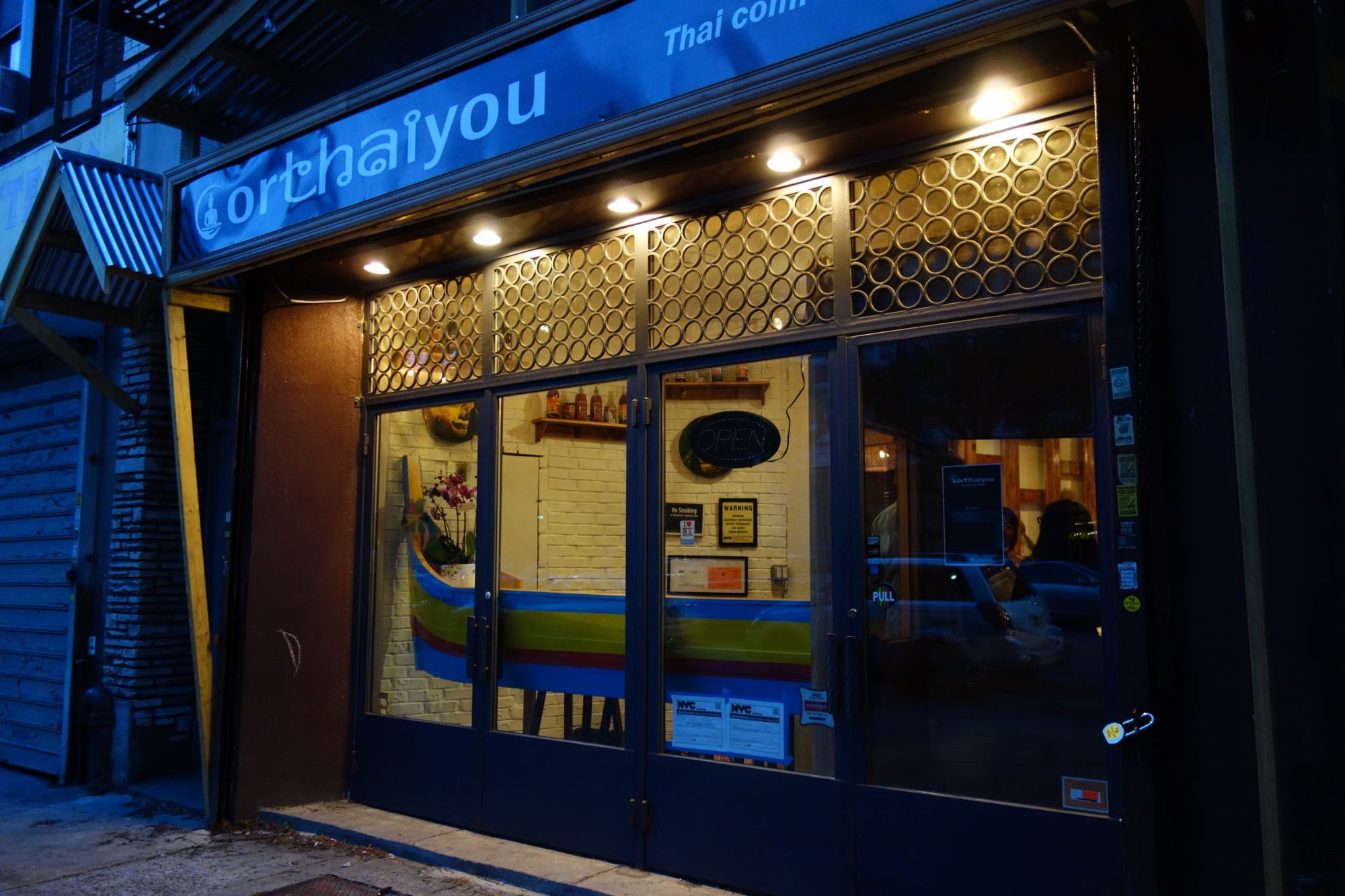 Check out Corthaiyou Thai comfort home cooking, opening tonight, May 8, starting at 5pm. Take-out will be available, with delivery coming very soon.
And stay tuned for a new summer hangout — in about one month, they're opening an outdoor Thai beer garden in their spacious, fenced-in backyard.