Bob Turner Opens Sheepshead Bay Office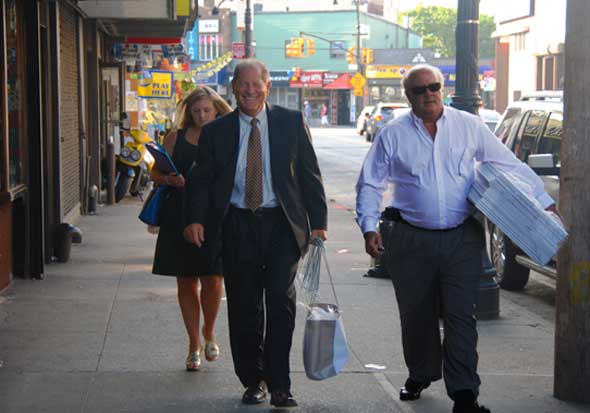 The following is a press release from the offices of Congressman Bob Turner:
Congressman Bob Turner (NY-09) today opened the doors of his Brooklyn district office.
"Since being elected to office, ensuring the residents of the 9th congressional district are provided with the best representation has been my top priority," Turner said. "I have been working towards opening a Brooklyn district office to better serve my Kings County constituents for some time. Unfortunately, since it is a new building, it took longer than we had hoped. However, that hasn't stopped us from providing top notch constituent services to Brooklyn residents through our Queens office, and by holding satellite field office events."
Even though these alternatives have enabled Congressman Turner's office to provide great service for the residents of Brooklyn, he still felt that Brooklyn deserved the special attention they warrant at a convenient location.
"My office's constituent services staff are a team of professionals that have been working on behalf of the residents of the 9th district out of my Middle Village office. Today, this team is bringing the same level of professionalism and enthusiasm for constituent services to our new office. I am pleased to have a dedicated staff ready, willing, and able to serve the people of Brooklyn."
Congressman Turner's Brooklyn office, located at 1733 Sheepshead Bay Road, Suite 47, Brooklyn, NY 11235, will serve as a Brooklyn hub for constituent services. His staff can serve as a liaison between constituents and agencies such as the Internal Revenue Service (IRS), Social Security Administration (SSA), and the Department of Veterans Affairs (VA).
"Working through the bureaucratic red tape of large federal agencies to recoup money owed, receive overdue benefits, or find out simple information that can improve one's quality of life can be a daunting task. This office will make it easier for my staff to assist Brooklynites with the process," he said. "If you're in the area, feel free to stop in and see how we can be of service or provide us with your feedback."
The office is open Monday through Friday from 9:00 A.M. to 5:00 P.M. You can reach the office by phone at 718-934-0672 and via fax at 718-332-1210.