Campaign Finance Board Flubs Parolee Right to Vote Information
The New York City Campaign Finance Board posted regrets Wednesday after not updating their Voter Guide to reflect an executive order restoring the voting rights of some previously incarcerated voters.
On page 15 of the 2018 Voter Guide (English), a response to whether a convicted felon can vote reads, "If you have been convicted of a felony, you can register and vote after you complete your sentence and/or parole."
However, on April 18, 2018, Gov. Cuomo signed an executive order to restore voting rights to certain individuals on parole. The measure is meant to level the disproportionate impact the voting restriction has on African-American and Hispanic voters. Fourteen other states practice a similar policy on formerly incarcerated people.
"The damage has been done," said a Legal Aid spokesperson. "The city has to do a better job of getting this information correct and getting it to the right people."
"We take re-infranchising these folks very seriously, as should the city," he added.
The CFB responded to the matter a little after 1:00 pm Wednesday on Twitter. The post detailing the state's new mandate on recent parolees.
"You have the right to vote! If you were previously registered to vote, your voter record should still be active. To check if you're registered, go to voting.nyc.  in a separate post, BOE said they've been working closely with the Center of Law and Social Justice at Medgar Evers which includes a trip to Rikers Island — although parolees won't be at the facility.
The CFB hasn't updated their website since 2016 with regards to voting with a criminal record. See the office's instructions on voting after spending time in prison here.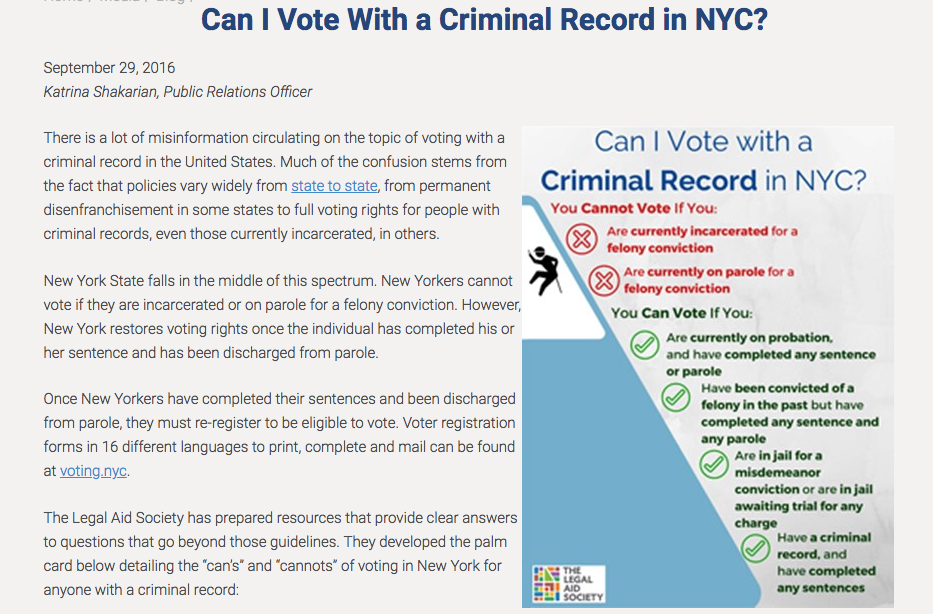 A previous version of this story cited the Board of Elections instead of the Campaign Finance Board. It has since been corrected.
Bklyner is participating in the Electionland coalition of newsrooms around the country covering problems that prevent eligible voters from casting their ballots during the 2018 elections. If you see or have a problem, please notify Electionland through:
SMS: Send the word VOTE, VOTA (for Spanish) or 投票 (for Chinese) to 81380 (standard text message rates apply).
WhatsApp: Send the word VOTE, VOTA (for Spanish) or 投票 (for Chinese) to 1-850-909-8683.
Facebook Messenger: Go to m.me/electionland.