Blood-Splatter Victim Identified: Playwright David Henry Hwang Is Recuperating After Seemingly Random Slashing
It turns out that the mysterious blood splatter trail on South Portland Avenue between Lafayette and DeKalb Avenues was the remnants of an attack on neighbor and noted playwright David Henry Hwang, who neighbors say nearly died from loss of blood but who managed to receive treatment and is now home recuperating.
The "M. Butterfly," "Flower Drum Song," and "Aida" playwright/co-playwright was carrying groceries home at 8:50pm Sunday, November 29, when he felt pain in his neck and realized he was bleeding out. He saw no attacker fleeing, but an artery was cut and he lost a lot of blood. Fortunately, the 58-year-old managed to walk himself over to Brooklyn Hospital in time for help and treatment.
"Thanks to the excellent work of the doctors at Brooklyn Hospital and Mount Sinai, I'm now home and expected to make a full recovery," Hwang told the Daily News.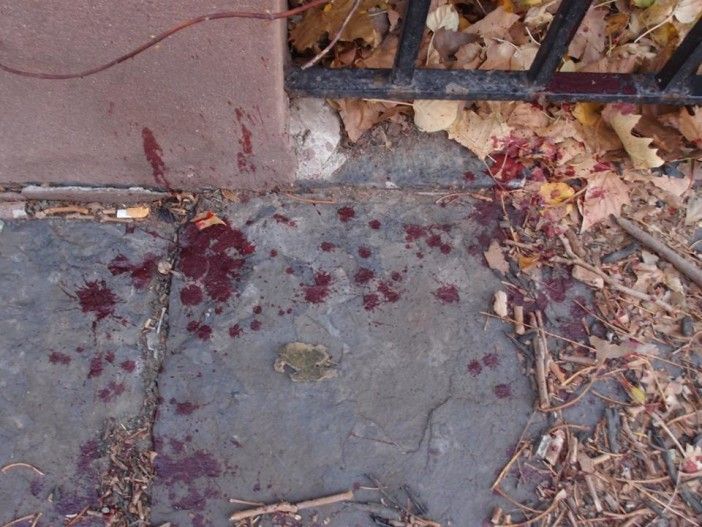 A police spokeswoman said that the attacker is still at large and the incident is "still under investigation." Hwang wasn't robbed — the police report notes him stating that he was "not the victim of a crime" — and didn't see or hear anything from whoever attacked him, but the incident is still categorized as an assault.
Thus far there has been no surveillance footage found from the area, so it seems there are no leads yet.
[UPDATE: Surveillance photos have led to a Wanted Poster being released by the NYPD. See it here.]
But neighbors are still on alert, warning one another of what "appears to have been a random, senseless crime, and the criminal is still at large."
Did you see or hear anything that night at that location? Let us and the police know at 1-800-577-TIPS.