An Ode To The Hummus At Black Iris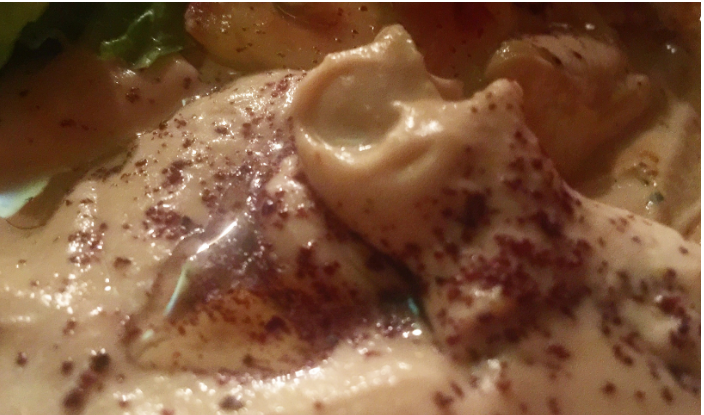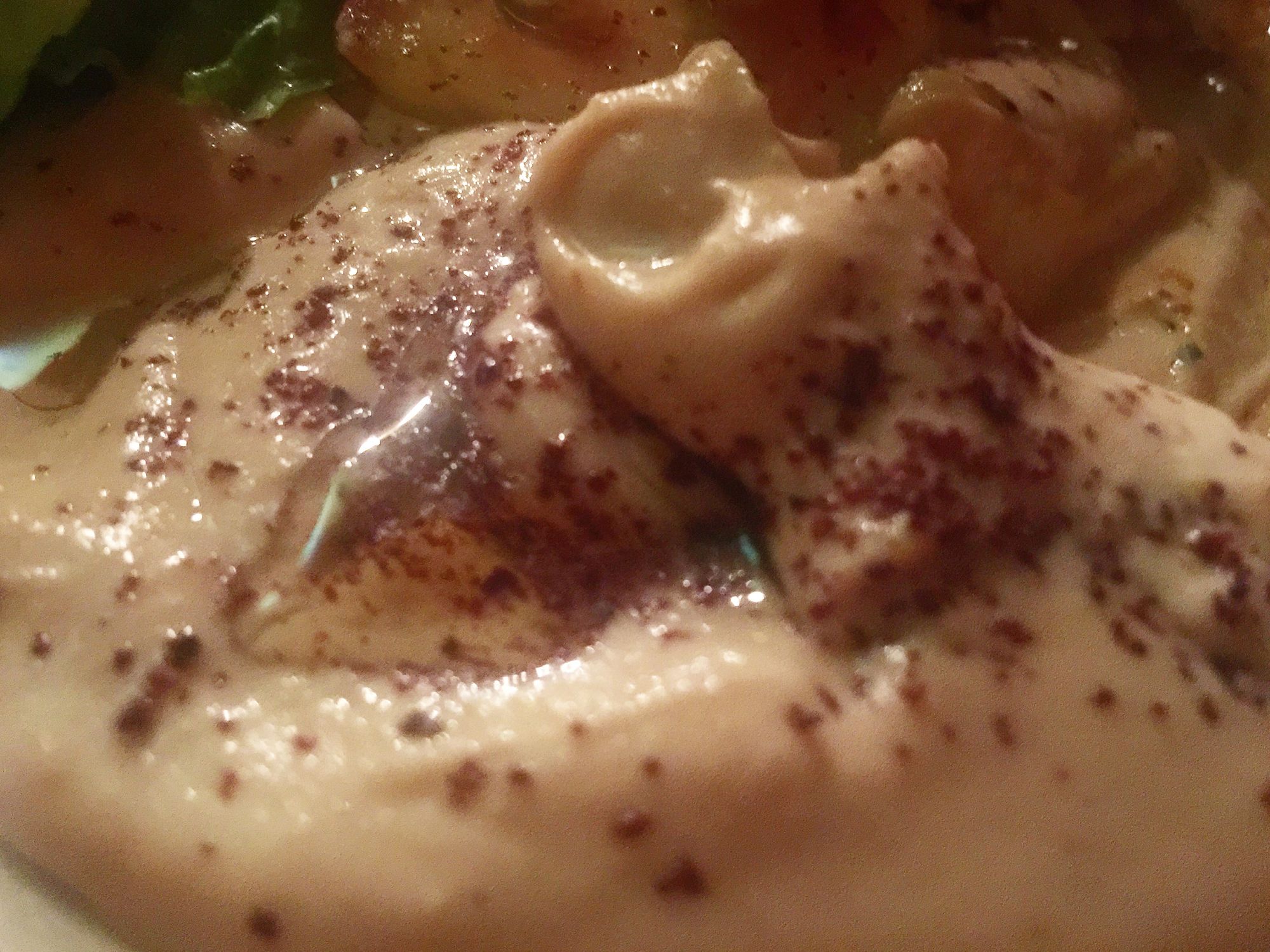 Shall I compare great hummus to a summer's day? It is more lovely and more temperate.
Black Iris, a cash-only Mediterranean restaurant at 228 DeKalb Avenue (on the corner of Clermont Avenue), is where I found this hummus. It's B.Y.O.B., but I was buzzing from the sheer joy of their hummus.
Black Iris' ownership has quite a bit on their plate. Olive Vine, a sister restaurant in Park Slope, just closed. Park Slope Stoop's intrepid Donny Levit has some on the ground reporting on why that might be. Meanwhile, ownership recently added a new location at 293 Greene Avenue, just off Classon Avenue.
"They're going to have a very big delivery area," said my server, Natalya, of the new location on Greene Avenue.
Like the recently departed Olive Vine, Black Iris' menu is primarily Lebanese but borrows freely from Iraqi and Egyptian traditions. Everything is homemade and made to order, including the pita bread.
Popular dishes include the pitzas, which are personal pizzas with middle eastern toppings served atop the house made pita, and the chicken ouzi, which is phyllo dough stuffed with grilled chicken, rice, and veggies.
Natalya prodded me to order the chicken kebab platter ($13), because it was both the most popular dish and her personal favorite. I placed my trust in her and it was well rewarded.
My dish took a few minutes to come, which I took as a good thing because it meant that my food was being freshly prepared.
A tremendous helping of chicken kebab, salad, yogurt sauce, and hummus greeted me. It was accompanied by a freshly baked pita that stood about three or four inches tall. The plate varied significantly in quality.
The hummus stood above the rest of the plate. It was very fresh and wonderfully creamy, without any one component like the tahini or lemon dominating the flavor as is too often the case.
The chicken was grilled over charcoal and tasted the part. It was very moist and well seasoned, though occasionally a bit too salty.
The accompaniments were very strong. The olives were fresh and not too salty. The yogurt sauce was really light and refreshing. The pita was great while it was hot, and less so as it cooled. It was very thin, perfectly suited to accompany the chicken and yogurt sauce.
The salad was the weakest part of the dish, owing to terrible tomatoes and otherwise middling lettuce and onions. However, that could well be a seasonal issue or maybe a one-off experience. Ultimately, a little bit of mediocre salad is a small price to pay for transcendent hummus.
Black Iris is a wonderful spot to take a date, with its dim lighting and outdoor seating. However, I don't need any special occasion to return and I'd suggest that you don't need one to venture over. Just be sure to get the hummus, because it's that good.
Black Iris (228 DeKalb Avenue, between Waverly Avenue and Clinton Avenue.)
Telephone:(718) 852-9800
Hours: 12p – 11pm.
Try: the hummus. Also, the chicken ouzi, the pitzas, and the loomi. Avoid the honey cake.
Kids: Why not?
CASH ONLY.