Bite Of The Day: Old-World Polish Cuisine In Bensonhurst
On the prowl for some filling, meat-and-potatoes-style dinner, my dining partner and I wandered into a staple for the Polish community: Chris's Polish-American restaurant in Bensonhurst.
The unassuming storefront, at 1866 86th Street near Bay 20th Street, was immediately inviting from the street with several diners were already filling up tables.
This is the kind of restaurant where the waiters are so friendly they encourage lingering for hours over drinks and multi-course meals. During our stay at the table, the place filled up with a diverse mix of groups of young and old — friends, couples, and even elderly patrons enjoying heaping entree plates solo.
The place has an upscale but old-world tavern feel, with low-lighting, dark brick walls, wooden tables, and small murals dotting the interior. There was a bar tucked into the back of the restaurant, with countertop seating to enjoy a full wine and beer menu.
Though we were definitely the only ones speaking English, we felt welcomed.
After spending a while with the large menu, I started with the cup of Chicken soup ($3.50) since it's never the wrong time for a comforting bowl of salty-sweet broth. This cup tended toward the sweeter side, with a clear broth, pieces of dark meat, gobs of noodles, and tiny carrot cubes. This soup even made our neighborhood top 5 best chicken soups list in 2015, and I would vote to keep its ranking.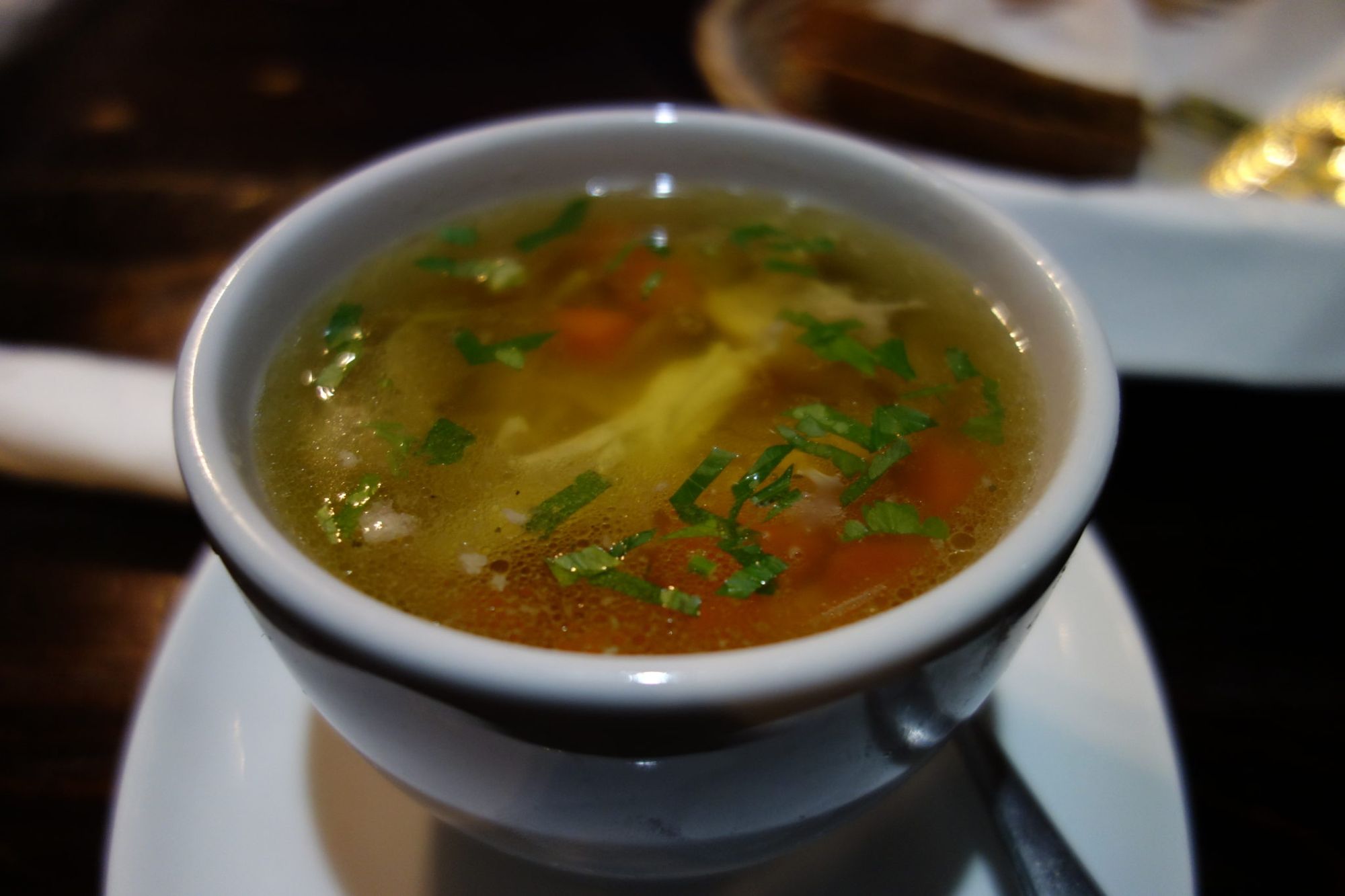 Deciding to try the classics, I ordered boiled pierogies (spinach, potato & cheese, $5.75). And I couldn't have been happier: they were among the best polish-style dumplings I've ever had. The spinach filling included tiny pieces of feta cheese, which added flavor and bite, and the potato and cheese filling was extra hearty.
Each bite was complemented by caramelized onion and fresh scallion, which made the dish even more tasty.
Luckily I had a dining partner to help on this mission since I was pretty full after the appetizer.
But I was glad to have pushed on, especially when the Kielbasa entree came out. The entree included two sides — we chose baked potato slices and cucumber salad ($9.95).
For sausage lovers, this dish is a must-order. The Kielbasa was a delicious combination of juicy, plump, and smokey, drizzled with dark mustard for an extra kick.
The cucumber salad was a cooling dip, with sliced cucumbers swimming in a rich, yogurty-creamy dill sauce, perfect for pierogi-dipping.
Check out Chris's Restaurant for a cozy atmosphere and comforting meal Monday through Friday 10am to 11pm; Saturday and Sunday 9am until "2am or as late as needed."