Bite Of The Day: Emily's "Colony" & "Baby D" Pizzas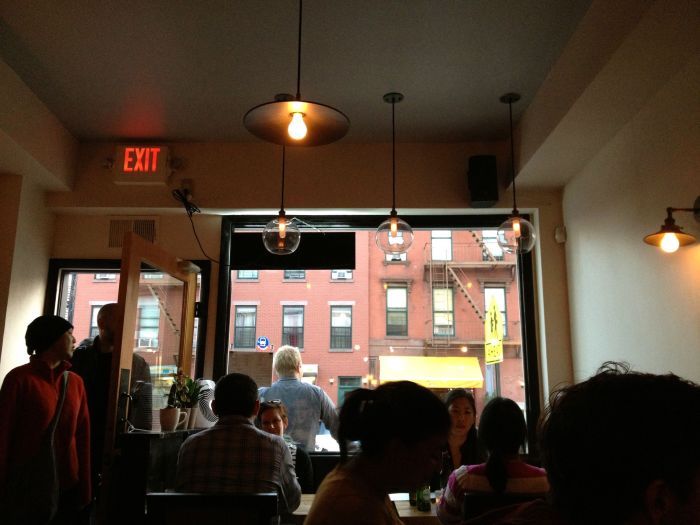 It feels like every time we turn around recently, Emily (919 Fulton Street between Clinton and Waverly Avenues) has racked up more acclaim in some publication or other–and their constant stream of good publicity is reflected in the masses of voracious diners who seem to fill the space as soon as they're allowed through the door.
By the time we arrived  Saturday evening, maybe 20 minutes after opening, the restaurant had already sold out of its "Amazeballs" pie–but that didn't keep us from enjoying an ample amount of slices. Behold: The Colony and the Baby D.

Omnivores and spice devotees will likely fall for The Colony ($17), which features traditional tomato sauce and mozzarella topped with pepperoni, pickled chili peppers, and sweet honey for some extra depth of flavor. You might want to pack your Zantac for this one. You might also find it's still totally worth it if you don't.
The Baby D ($16), on the other hand, is like the little angel on your shoulder opposite The Colony's devil. It's vegetarian, completely devoid of chili peppers, and, in general, perfectly suited for those who've forgotten their heartburn medicine. The Baby D is actually sort of the deluxe version of Emily's "Q," with both sharing mozzarella, ricotta, fontina, and pecorino, but with the Baby D enjoying a generous sprinkling of basil and garlic, too.

The truth is, both pies are smoky, crusty, bubbly, and fantastic–and neither made it through a whole night in our box of leftovers. As if that wasn't enough, Emily's warm service and regular participation with charity initiatives (see Slice Out Hunger and ongoing partnership with City Harvest) make us feel even better about trying to crowd in alongside everyone else. It seems lucky to have such a restaurant in Clinton Hill–and we can only selfishly hope, fast as their name is growing, that we won't end up waiting hours in line (like at some of New York's longer standing well-hyped pizza destinations) before too much more time has passed.
If you'd like to stop into Emily for their pies, burger (dinner service only), s'mores calzone, or other scrumptious offerings, you may do so Monday, Wednesday, or Thursday from 5:30-11pm; Friday from 12-3pm and 5:30pm-12am; Saturday from 5-12pm; or Sunday from 12-3pm and 5-11pm (the restaurant is closed on Tuesdays). Just get there early (or make a reservation for parties of 6-7) if you actually want a seat.
EMILY
919 Fulton Street (between Clinton and Waverly Avenues)
347-844-9588
Monday, Wednesday-Thursday: 5:30-11pm
Friday: 5:30-11:30pm
Saturday: 5-11:30pm
Sunday: 12-3pm, 5-11pm