Bite Of The Day: Curry & Garlic Naan Feast At Anarkali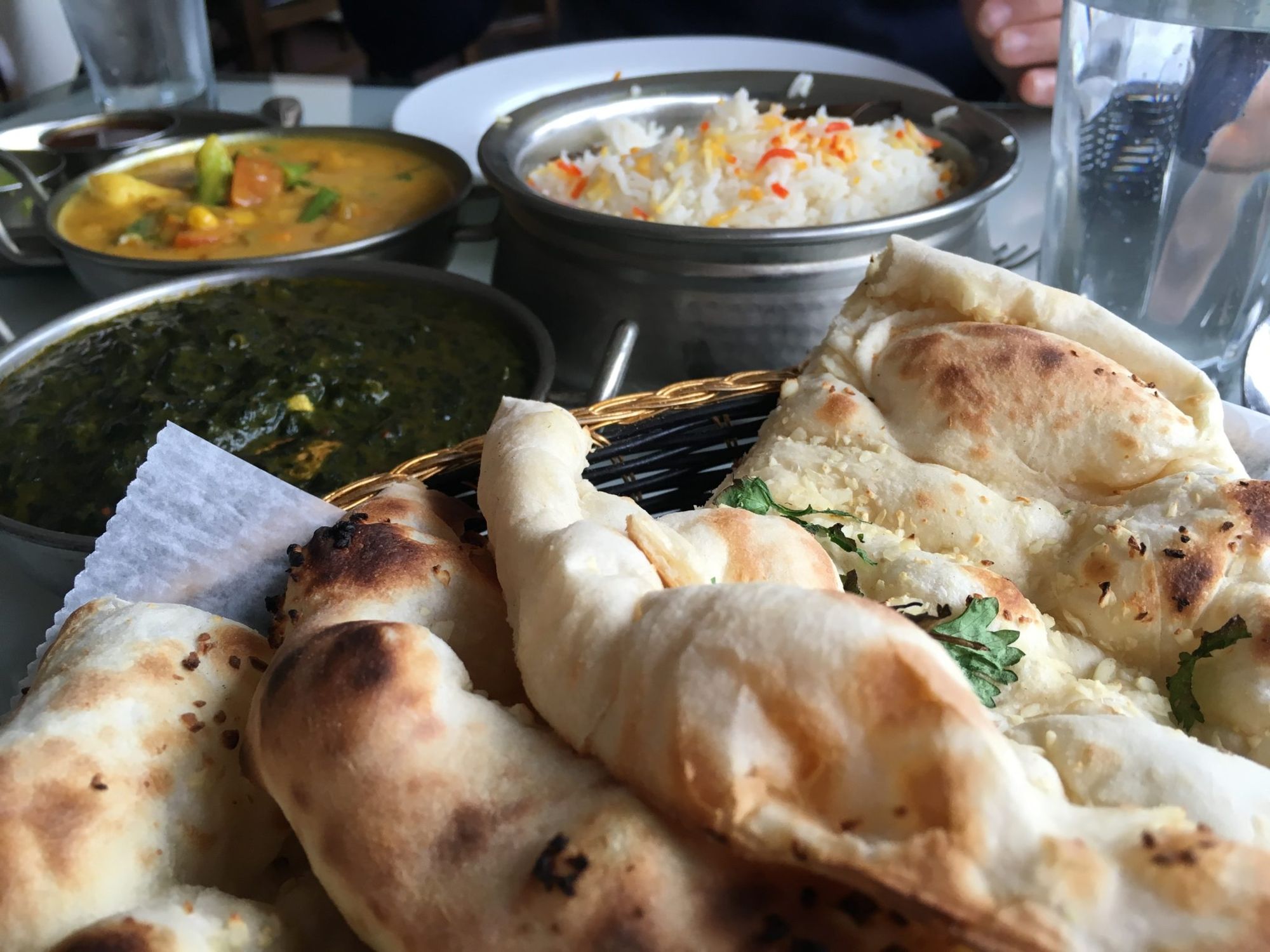 I don't understand why Anarkali Indian Restaurant, my favorite sit-down Indian spot, is always empty.
The waiters are friendly, the menu is extensive, and everything I order comes out with fresh ingredients that retain their color and crunch.
Plus, the lunch special until 2:30pm every day, is an unbelievable steal at 50 percent off everything on the menu. But it's not just an enticing offer of cheap food; it's unique and delicious food at a cheap price. (Note: the lunch special only applies to in-house orders, no take-out.)
Though some menu items overlap, Anarkali offers a different kind of dining experience from the buffet-style South Asian food lining Coney Island Avenue. And despite the single song that seems to play on a loop most days, sitting at Anarkali is relaxing.
We visited when Anarkali opened in 2013, on Church Avenue at Westminster Road, but the kitchen was hardly four hours old and the food came in takeaway plastic. Now, I'm a regular — and they've switched over to white ceramic dishware — so I thought it deserved a fresh look.
We start our meal with Papadam, a thin, spicy lentil-flour cracker speckled with cumin seeds. The basket comes with a variety of sweet and spicy chutneys. Though it's a free appetizer during dinner, you have to ask for it special during lunch hours.
As someone who loves Indian curries but can't handle the heat, I'm a sucker for the Navratan Korma and Saag Paneer (each $10 during dinner).
The Korma is creamy and sweet, and the vegetables and golden raisins lend a satisfying crunch to the thick, slow-cooked stew. The curry spices add a complexity to each spoonful, but the cream dulls the heat and makes it a mild dish. For a meaty option, try the Lamb Korma which comes with chunks of chewy dark meat.
I've never eaten at Anarkali without ordering the Saag Paneer. Unlike its buffet-style cousin, this Saag actually tastes like fresh, bitter greens (with lots of clarified butter, of course). The spongy, browned paneer pieces give the dish a hearty flavor that goes perfectly with spiced rice.
Spice-lovers, try the Shrimp Curry, which comes flecked with hot red pepper in a thin, tomato-based sauce.
The other can't-miss item is the garlic naan, easily my favorite in the neighborhood. It's a perfect blend of soft and crunchy, with a browned bottom and doughy puffs on top. It comes cut into neat slices, perfect for scooping curry and rice. It's also noticeably not greasy, with toasted pieces of garlic and parsley baked on top.
My lunch partner and I regularly order two curries, garlic naan, and a samosa, and the bill always comes to around $14. If you can't make it for lunch, dinner is still worth it — with curries at $10 to $14 per dish.
I always leave Anarkali feeling ecstatic, whether it's from the ingredients, healthful spices or the great deal, I'll never know.
Anarkali Indian Cuisine is located at 1125 Church Avenue at the corner of Westminster Road. They're open 7 days a week from 12pm to 10:30pm (Saturdays and Sundays they open at 1pm). Call (718) 282-2200 for delivery.
(All photos by Ditmas Park Corner)