Bishmallah Halal Food: Lamb Gyro – The Bite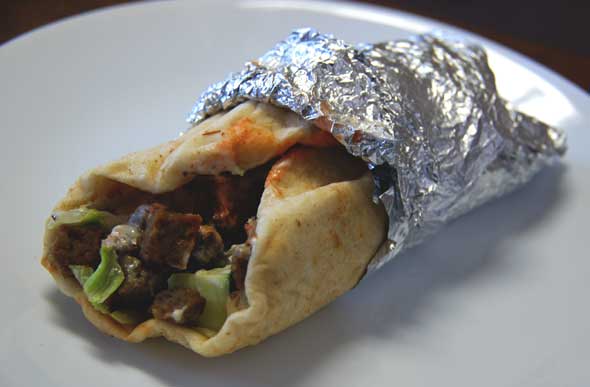 Welcome back to The Bite, Sheepshead Bites' weekly column where we explore the foodstuffs of Sheepshead Bay. Each week we check out a different offering from one of the many restaurants, delis, food carts, bakeries, butchers, fish mongers, or grocers in our neighborhood. If it's edible, we'll take a bite.
For a foodie, living in our neck of the woods can be a bit frustrating. Don't get me wrong. I know of no other neighborhood that offers so many different types of cuisine, but our neighborhood is slow to adopt to the trends that shape the culinary culture in other parts of the city.
One food trend that I watched closely was the emergence of the food truck. Quick, well prepared, filling and cheap food, all out of the back of a truck – who could ask for more? I was really hoping that some smart entrepreneur would look out over the bay and say, "Hey, we need a food truck in Sheepshead!" But alas, it has not come to pass.
Instead, over the last couple of years, a very old standard of Manhattan dining started to appear; the food cart. In these recessionary times, I welcome them with open arms.
Located at the intersection of Avenue Z and Sheepshead Bay Road, the Bishmallah Halal Food cart offers up a tasty lamb gyro sandwich. For $3.50 you are served grilled pita stuffed with chunks of flat-top-grilled lamb gyro meat, lettuce, tomatoes, onions and cucumbers.
Unlike many of the gyro carts in the city, or the brick and mortar restaurants in the area, Bishmallah does not have a rotisserie with a massive cone of gyro meat spinning in the corner. Here the cone is cut in slices and grilled on the flat top. The slices are then cut into chunks and stored for serving when a customer orders.
Quick, filling, tasty and cheap food is what my wallet has been dictating as of late and the cart delivered. It is a good meal, but not the best.
While tasty, these chunks of meat can't compare to the thinly sliced strips of crisp-edged meat served by places like Anatolian Gyro, just a few steps up the road.  But, Anatolian Gyro charges $5.75 for a gyro on pita sandwich. The cart – $3.50.
But is that a fair comparison? Should a gyro from a cart be compared to a gyro from a brick and mortar restaurant?  You tell me.
And to add to the  debate, are the food carts hurting business at the restaurants and delis in the area? Do you find yourself ditching the deli, bypassing Mickey D's and spending your food dollars at the carts?
I welcome your thoughts.
Bismallah Halal Food Cart, Intersection of Avenue Z and Sheepshead Bay Road, No phone