Biggest Brush Fire In Half-Decade Scorches Plumb Beach & Marine Park
The biggest New York City brush fire in more than half a decade ripped through Plumb Beach and the Marine Park Salt Marsh Sunday — forcing authorities to close part of the Belt Parkway for several hours while firefighters tried to keep the flames from overtaking a local marina.
Smoke could be seen curling over the horizon throughout the day while ladder companies from as far away as Staten Island worked to combat the blaze. FDNY officials said they believe the fire started in Plumb Beach around noon and was carried by strong winds across Shell Bank Creek.
It took almost six hours for more than 200 firefighters and 44 pieces of equipment — including two NYPD helicopters and three FDNY boats — to bring the fire under control. One firefighter was taken to Coney Island Hospital for smoke inhalation and heat exhaustion, an FDNY spokesman said.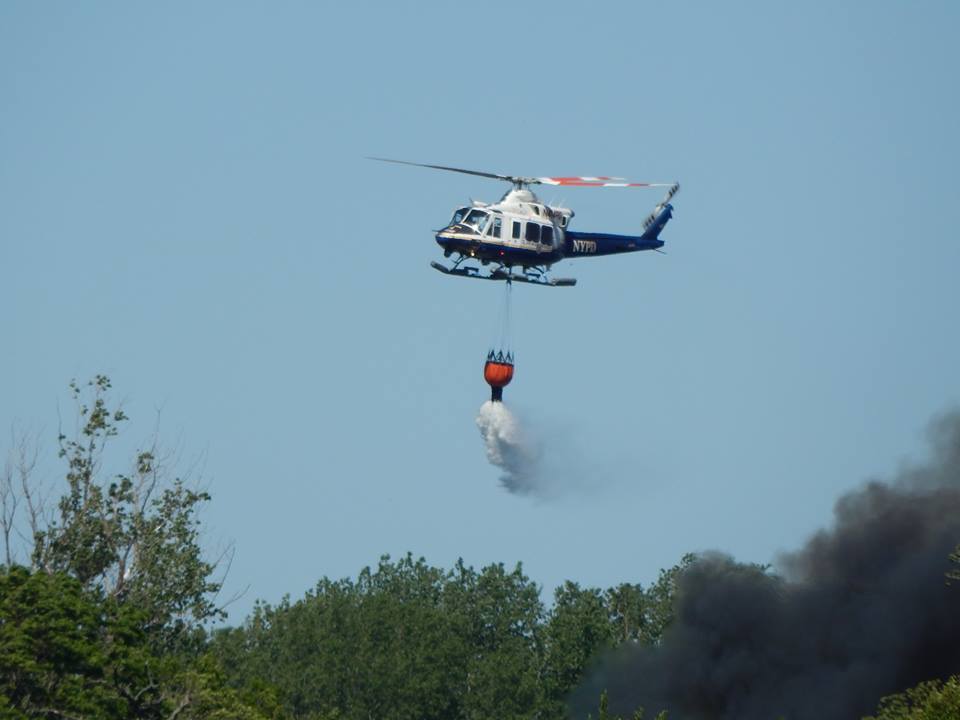 The FDNY's Chief of Department James Leonard said it was the biggest brush fire since a similar blaze broke out in Staten Island on Easter Sunday in 2009. He explained the greatest priority was protecting the nearby Gateway Marina and keeping the fire from crossing Flatbush Avenue into Floyd Bennett Field.
"We attacked this from the land, sea and air," he said. "Our main concern was protecting the millions of dollars worth of property in the marina."
Officials closed Long Island-bound lanes of the Belt Parkway at Knapp Street, as well as a section of Flatbush Avenue, in order to allow first responders to quickly reach the scene, an FDNY spokesman said. The road closures caused severe congestion on streets around Sheepshead Bay and Marine Park as drivers tried to find an alternative route around the highway.
Gusts of wind as strong as 25 miles-per-hour frustrated firefighters efforts to combat the flames. The location of the fire, deep inside a wooded area, required a lot of manpower to haul hoses in from the road, according to FDNY officials.
Firefighters — their faces smeared with soot — began carrying gear out of the woods around 6pm, when there were just a few smoldering pockets of smoke left to be extinguished. Fire trucks crowded around parts of the Belt Parkway and the Marine Park golf course, which also functioned as the command center during the operation.
The FDNY is still investigating the cause of the fire. Leonard said the winds, low humidity, and high heat, created the perfect conditions for an explosive brush fire. He said FDNY will be monitoring the area for the next few days to make sure the flames don't return.